Kids are always so excited for summer vacation from school and then the summer boredom sets in.
I made some fun summer word search printables to help them get through those times when they can't find anything exciting to do.
These summer word searches are also great to use for summer programs or on the last day of school.
Take them with you on your summer vacation if you're going on a road trip or plane ride to give kids something to do to keep them entertained.
***These summer word search worksheets are for personal or classroom use and no part of them may be altered or resold.
BE SURE TO CHECK OUT MY OTHER SUMMER POSTS
IF YOU LOVE THESE, YOU'LL LOVE MY OTHER WORD SEARCHES
How To Print The Summer Word Search Puzzles
Click the link for the summer word search you'd like to print out.
A PDF file will open. Please note that I share my files through Google Drive. Some school or work networks may block file sharing of this type. If you have trouble downloading them, try a different network.
Once the summer word search PDF has opened, use the printer icon in the top right corner to print or the down arrow to download.
IF YOU WANT TO KEEP YOUR KIDS ENTERTAINED THIS SUMMER, I'VE MADE A SUMMER ACTIVITY BOOK FOR YOU AND RIGHT NOW IT'S ONLY $1.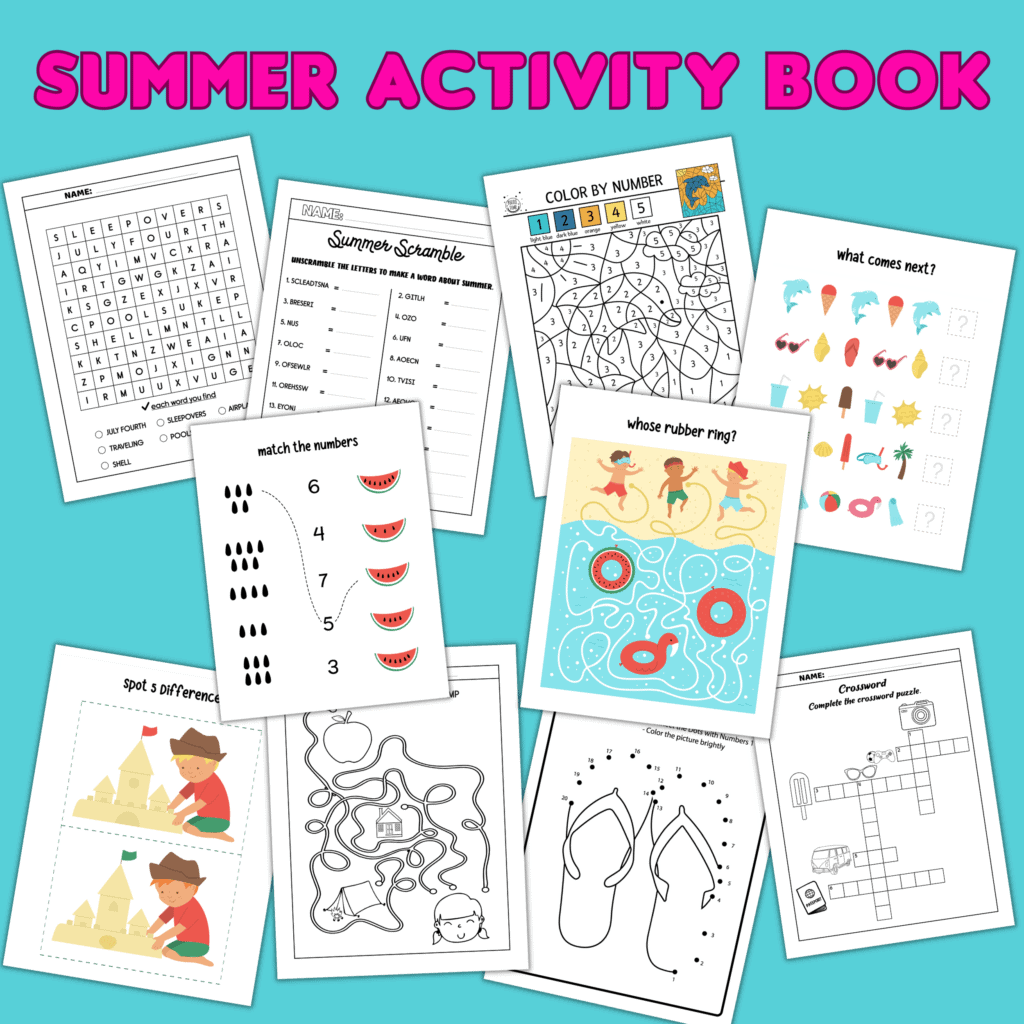 Summer Word Search
This summer word search has longer words and a lot of words to keep older elementary kids busy.
The bright and sunny graphics are fun to get in the spirit of summertime.
DOWNLOAD THE PRINTABLE SUMMER WORD SEARCH

Summer Word Search Printable
There are lots of words to find in this summer word search printable.
The summer words are fairly long too, making them best for older kids.
This summer word find will be too challenging for kindergarten or 1st grade, but will work great for 2nd grade, 3rd grade, and 4th grade.
PRINT OUT THE SUMMER WORD SEARCH PRINTABLE

Summertime Word Search
Here's another summer word search with longer words for older kids.
They'll enjoy the cute ice cream graphics on this one.
And the words to find really bring out the feeling of summertime.
GET THE SUMMERTIME WORD SEARCH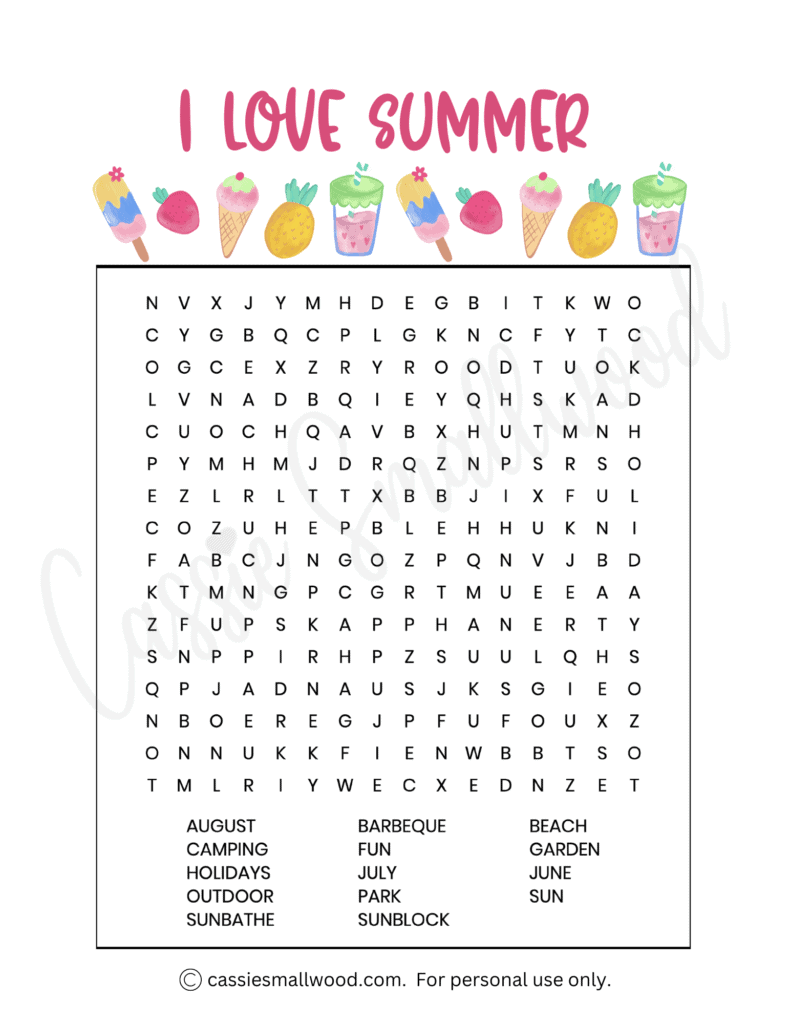 Free Printable Summer Word Search
Grab your flip flops and get ready for summer with this free printable summer word search.
This one is perfect to take on your beach vacation.
It has lots of beach themed words that kids will have fun finding.
DOWNLOAD THE FREE PRINTABLE SUMMER WORD SEARCH

Summer Vacation Word Search
This summer vacation word search has less words, but the words are still a little longer.
It's also a coloring page so kids can have fun coloring in the ice cream treats and "Summer".
This would be a fun activity to give kids on the 4th of July.
PRINT OUT THE SUMMER VACATION WORD SEARCH

Summer Word Find Coloring Page
Kids will love coloring in the cute summer pictures on this summer word find coloring page.
Many of the words on this one are a little shorter, but still challenging enough to keep kids engaged.
The words to find in this summer word search really bring the feeling of summertime to me when I read them.
This is a fun word search for summer camp.
PRINT THE SUMMER WORD FIND COLORING PAGE

Elementary Easy Summer Word Search
This easy summer word search is great for younger elementary students.
The words are shorter and there are less words to find.
They'll also love coloring in the cute lemonade and flip flops.
DOWNLOAD THE EASY SUMMER WORD SEARCH COLORING PAGE