I've had so much fun making these cute sun coloring pages for you. I hope you find the perfect sun coloring picture for your project or coloring activity.
All of the sun coloring pages below are free printables that I made. You won't be directed to any other websites.
There are some very simple sun coloring sheets as well as some more detailed ones. Some of the sun coloring images are realistic and others are smiley face suns.
A few are full page blank sun pictures to color which makes them easy to use for many different crafts and activities.
DON'T MISS MY OTHER FREE PRINTABLE COLORING PAGES TOO!
How To Print The Cute Sun Coloring Pages
To print the cute sun coloring pages, just click the link or image of the coloring sheet you want to print out.
Once the PDF has opened, click the print icon in the top right corner.
If you have any problems with images getting cut off around the edge, you can change your print settings when the print menu pops up. Go to "More Settings" and choose "Fit To Printable Area". This will make the image slightly smaller to fit the margins set for your paper.
WANT TO KEEP YOUR KIDS BUSY THIS SUMMER?! I MADE A FUN SUMMER ACTIVITY BOOK THAT'S ONLY $1 IN MY SHOP RIGHT NOW!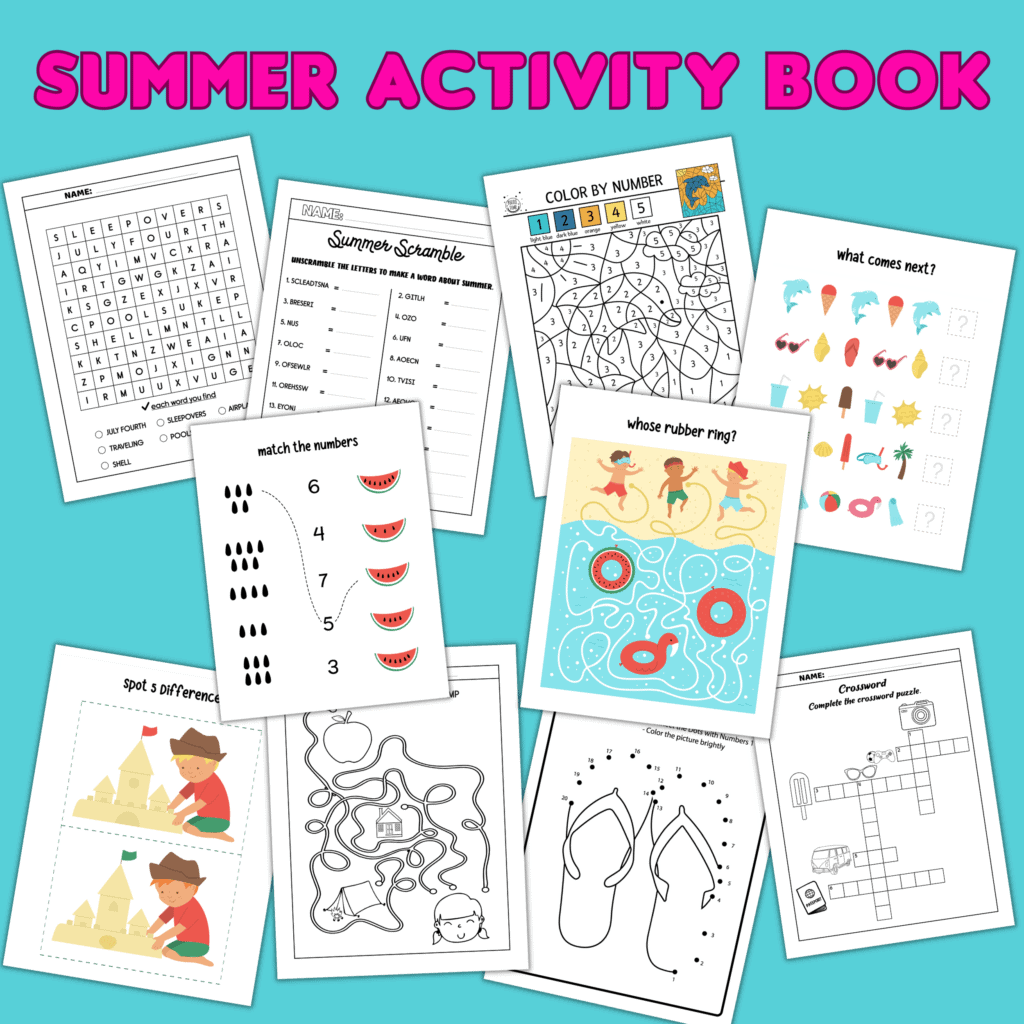 ALSO CHECK OUT MY OTHER SUMMER POSTS
This sun and moon coloring page also has some small stars around the image. The sun and moon coloring image both have smiley faces and eyelashes.
This cute rainbow and sun coloring sheet has a bit more detail and would be suited to a little older children.
This sun and Earth picture to color is great if kids are learning about the solar system or how the sun works.
This is a simple summer sun coloring picture with a happy face.

This sunshine coloring sheet has a cool sun with sunglasses and a hat plus Earth and hearts. There's quite a bit of detail on this sun picture to color for kids that are more advanced at coloring.
This full page cool sun coloring page is a fun way to start summer or spring.
This easy sun coloring picture is great for preschool or kindergarten because there aren't many details. The sun has cute heart eyes and a smiley face.
This blank sun coloring sheet has a detailed edge.
A happy sun coloring picture with Earth, a heart and clouds with smiley faces.
This blank tangled sun coloring picture can be used for many different crafts and projects.
This adorable smiley sun coloring page drawing has very little detail making it great for toddlers or younger school age kids.
This super simple sun picture to color has only basic shapes with a blank center to draw or color inside.
An adorable sun and cloud coloring picture with very little detail making it suitable for toddlers and preschoolers.
A fun sun, moon and stars coloring image that's a little different from the typical.
This blank pretty sun coloring page has beautiful sun rays that are fun to color in.
This cute sun coloring picture has a smiley face and a little detail around the edges.
A simple sun coloring picture with a blank center.