Meet Cassie
Hi there! I'm Cassie and I'm so excited that you've found my little piece of the internet! I have always had a creative mind. As a nail technician for 19 years, I was able to put that creativity to good use. In 2014 my boyfriend and I moved from Phoenix to New Mexico. I decided not to continue doing nails, but I found myself a bit lost.
I knew I had to find a new career, but I had no idea what I wanted to do. I've always loved crafting, but didn't really know what to sell or how to sell crafts. In 2016 I got my first Cricut machine and something just clicked. I immediately knew I could find a way to make money with this amazing machine.
I started my Etsy shop and slowly started making sales. It started to snowball and I've made more money than I ever could have imagined while working at home in my pajamas.
I realized that starting an Etsy business was amazing, but I also had to make sure this was a business that I could continue to run for years to come without relying on Etsy. This is when I really started focusing on creating a lasting craft business that can support me for the rest of my life.
I've made a lot of money from my craft business, but I also made a lot of mistakes along the way. I created this website to help you avoid making so many mistakes so you can start making money with your crafts much faster and easier.
I've created some FREE resources to help you with your craft business.
FREE BEGINNER'S GUIDE TO MAKING ETSY SALES
FREE ETSY SHOP SETUP CHECKLIST

FREE PRODUCT PLANNING WORKSHEET

FREE PRODUCT PACKAGING CHECKLIST

What you'll find on this site
I have owned my own small business since I was 19 years old. I was a self-employed nail technician for 18 years as well as owning a salon for 4 years. During that time, I learned creative ways for marketing my business and realized my passion for marketing.
With my love of crafts, I decided to start this blog and start my own handmade business and sell my items on Etsy. I enjoy sharing my tips on how I make money blogging, on YouTube and selling on Etsy to inspire others to create their own business and make money online from home.
I don't only share my business successes though. I also share what didn't work, so you can avoid the same mistakes. My goal is to inspire people who want to make an income working from home whether it's a mom who just wants to make a little extra cash or an entrepreneur who wants to make a full time or part time income online.
A Few Things You Probably Don't Know About Me
I love emojis 😃❤. They're just so cute! What's not to love?!
I've had a lot of different hair colors…brunette, blonde, black with bright red, and black with purple. I'm currently brunette, but that probably won't last long! By the way, blondes do have more fun!

Me as a blonde

I met my boyfriend John 17 years ago on a blind date set up by my friend's husband and we've been inseparable since!
I'm a dog mom to 2 crazy Pomeranians. My little girl is Pumpkin (the light colored one) and my little boy is Romeo (the dark one). They are totally nuts, but they bring me so much joy! My neighbors probably think I'm crazy because I talk to them like they are my children. 😜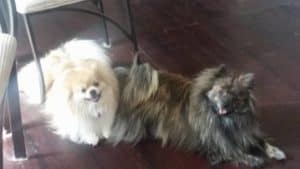 I have one younger sister who is so amazing! My best friend for life. And she's crafty too! Did I mention we love photo booths?!
I love cold weather!!! This girl was not made for the heat. Don't even ask why I spent almost 30 years in Phoenix. I'm still trying to figure that out myself! Who knows, I may end up in Alaska one day.
What Now?
Now that you know way more about me than you probably ever wanted to, where do we go from here?
How To Start An Etsy Shop On A Budget

Free Handmade Product Brainstorming Worksheet

Printable Cards, Stickers, Tags And More For Handmade Sellers

I look forward to connecting with you! Please follow me on your favorite social media platform.