It's hot outside, your kids are out of school and I know you're looking for things to keep them occupied. This easy summer flip flop wreath DIY project is a simple fun summer craft you can make with them to fancy up your front door and entertain them for a little while. And who doesn't want to be greeted at your door with a cute and colorful flip flop door wreath?!
This is actually my mom's project but I thought my readers would totally love it. So my mom and I made it together when she came out for a visit so I could share it with you all. This is also the project I made for this month's DIY Blog Challenge with my fellow blogger friends. Our theme was summer festival this month. Be sure you check out their posts that are listed at the end.
CHECK OUT MY OTHER SUMMER POSTS
IF YOU WANT TO KEEP YOUR KIDDOS BUSY THIS SUMMER, I MADE A CUTE SUMMER ACTIVITY BOOK WITH LOTS OF FUN SUMMER PUZZLES AND IT'S ONLY $1 RIGHT NOW!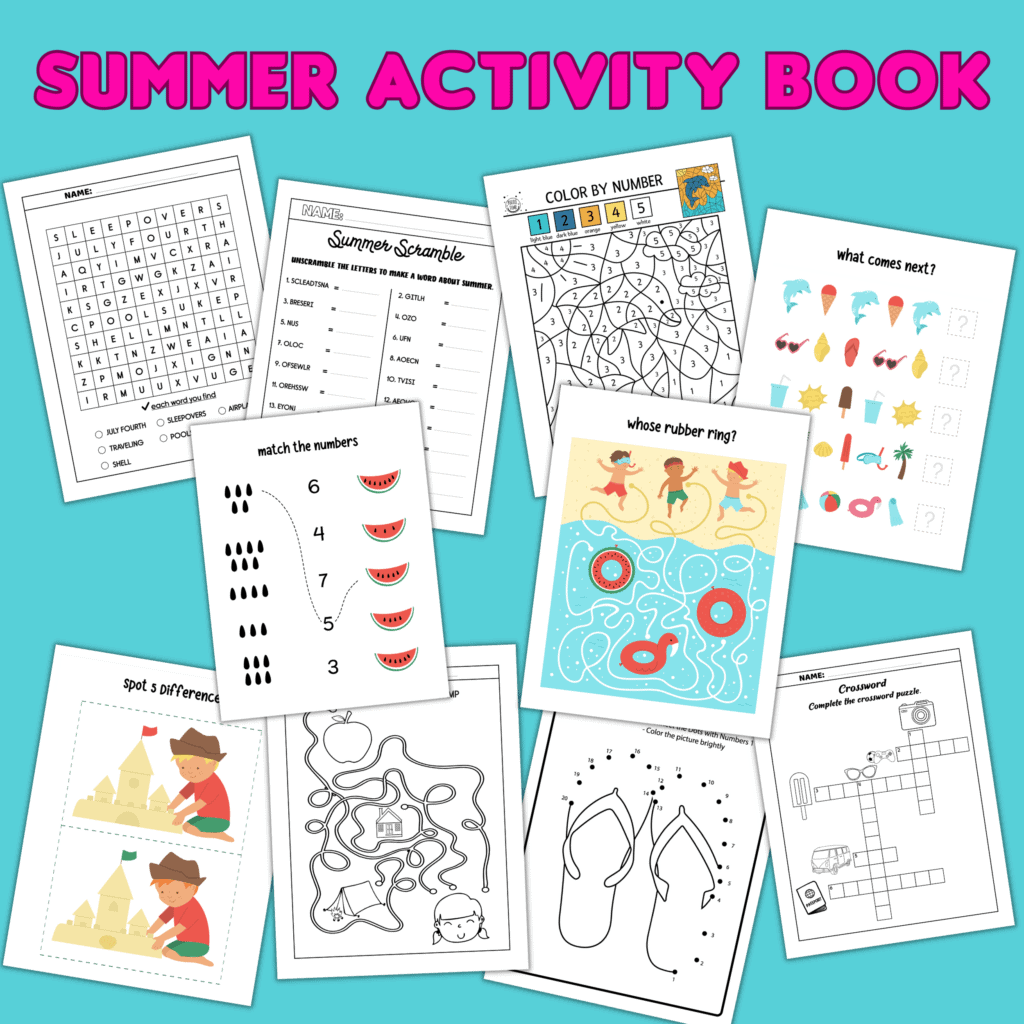 Here's how you can make this easy summer flip flop wreath yourself!
This post contains affiliate links. See my disclosure here

.
Here's what you need to make your summer flip flop door wreath:
Now that you have all your supplies, you can make this diy summer wreath!
First, decorate your flip flops with your adhesive rhinestones and tiny bows. You can tie the bows on to the top or hot glue them.
Lay out your flip flops on your wreath form to get them lined up and spaced evenly. There will be small spaces in between where the foam shows, but you'll fill that in with flowers so don't worry.
Pick up a flip flop and put hot glue under it and then press it down firmly until it's stuck really well. I found that it worked better to put the glue on the foam rather than the flip flop. For some reason it stuck better that way. Continue on until you have all the flip flops attached.
Now you'll want to fill in the spaces between the flip flops with the artificial flowers. Just hot glue them to the foam and, if necessary, to the flip flops.
Last put a couple of flowers in the middle to fill in the center hole. You'll probably have to glue these to the edges of the flip flops.
That's all there is to it! Be prepared, you might get some requests from your friends and family to make them one.
I hope you enjoy your new summer flip flop wreath front door decoration!
For another easy summer craft for kids, you'll love these DIY custom light switch covers

. It's an easy and inexpensive craft kids can make to personalize their bedroom.
Other summer craft ideas you might like:
Don't forget to check out the projects my friends made for our DIY Blog Challenge!
From Evija With Love

Makes Bakes and Decor

Vicky Myers Creations

Makings of Mine

Gifts and Blab

Doodle and Stitch

Ravenwould

Hapiness Wherever