These cute pineapple templates are perfect for those summer crafts, bulletin boards, summer activities or even to use as coloring pages.
I made small and large pineapple templates for you to print out.
There are black and white pineapple outlines as well as some full color pineapple cut outs to use.
Many of the pineapple stencils have thick lines that make them great for preschool and kindergarten to be able to color in the lines or cut around the lines.
You'll find blank pineapple templates as well as detailed ones and even a separate pineapple leaf template if you need the pineapple top for a project.
These files may be used to personal use or classroom use, but may not be sold, shared, or used anywhere else in full or in part.
How To Print The Pineapple Templates
Click the link of the pineapple template you'd like to print out.
A PDF file will open. I share my printable files through Google Drive. I fyou're on a school network, they may block file sharing. You can try a different network if you have any problems due to that.
Once the pineapple template PDF has opened, use the printer icon or down arrow icon in the top right corner to download or print.
KEEP YOUR KIDS BUSY WITH MY SUMMER ACTIVITY BOOK. IT HAS 28 FUN SUMMER PUZZLES AND IT'S ONLY $1 RIGHT NOW!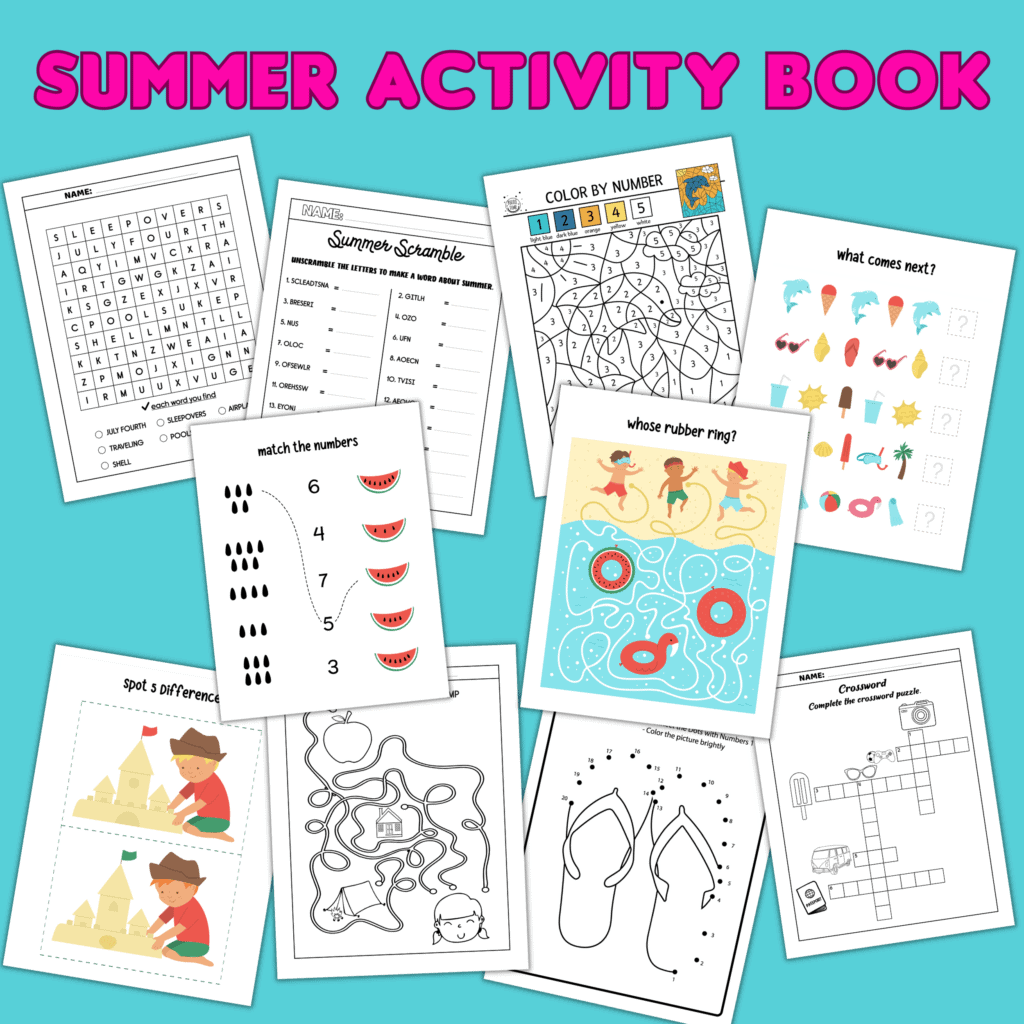 BE SURE TO CHECK OUT MY OTHER SUMMER POSTS TOO!
Large Blank Pineapple Template
This large blank black and white pineapple outline template is great if you want to be able to fill in your own details.
It makes a fun coloring sheet for kids to add their own design to the pineapple.
This one has thick lines so younger kids like preschool and kindergarten will be able to color within the lines or cut around the lines more easily.
PRINT OUT THE LARGE BLANK PINEAPPLE TEMPLATE

Simple Pineapple Templates
These small simple blank black and white pineapple templates can be used for lots of fun summer craft projects.
Make your own fun pineapple designs using other paper or use markers, colored pencils, or crayons to draw colorful designs on these little pineapple cutouts.
DOWNLOAD THE SMALL SIMPLE PINEAPPLE STENCILS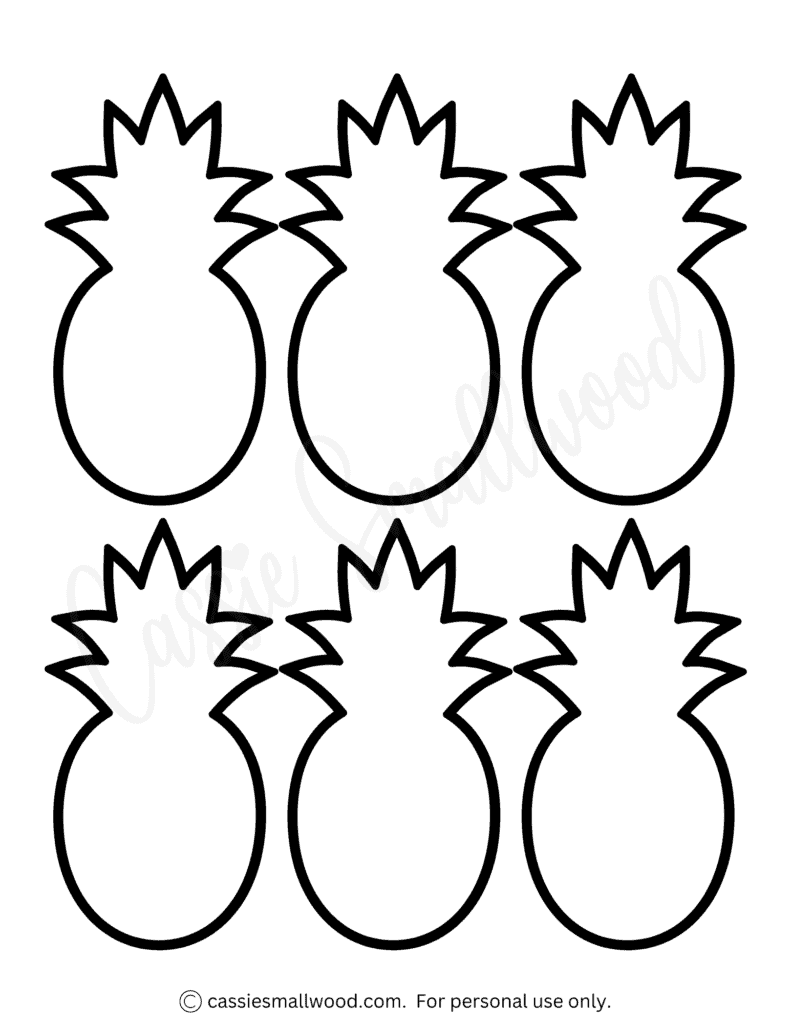 Preschool Pineapple Template
Here's another pineapple stencil that's perfect for preschool or kindergarten kids.
The lines are nice and dark which make it easy to color within them and cut around them.
This one already has the design for you.
Use it to decorate a bulletin board or classroom door.
PRINT OUT THE LARGE PRESCHOOL PINEAPPLE TEMPLATE

Cute Pineapple Templates
This is a cute smaller version of the pineapple template above.
These pineapple outlines are great for smaller craft projects.
The lines are still pretty thick so younger kids like preschool and kindergarten can enjoy them.
PRINT OUT THE SMALL CUTE PINEAPPLE TEMPLATES
Big Printable Pineapple Outline
This large pineapple outline is a bit more decorative and more appropriate for older kids or adults to use.
It has thinner lines and more details for a more realistic vibe.
It's a full page pineapple template for those bigger craft projects.
You can use it as a fun pineapple coloring page too!
PRINT OUT THE BIG PRINTABLE PINEAPPLE OUTLINE

Free Printable Pineapple Cut Outs
These small pineapple templates are perfect for smaller summer crafts.
You can have kids color these pineapples to match in pairs of two and then make a pineapple matching game out of them.
DOWNLOAD THE SMALL PINEAPPLE CUT OUTS

Pineapple Template Coloring Page
This is another easy pineapple template for little kids like preschool and kindergarten.
It's a very basic shape that you can use as a preschool pineapple coloring page or template that's easy to cut out.
PRINT OUT THE PINEAPPLE TEMPLATE COLORING PAGE

Free Printable Pineapple Stencils
This smaller version of the simple pineapple template above can be used for small crafts or as a coloring page.
The basic shapes and dark lines make these pineapple templates perfect for the little ones who have less developed fine motor skills.
DOWNLOAD THE FREE PRINTABLE PINEAPPLE STENCILS

Large Pineapple Craft Template
If you want a colorful large pineapple cut out for your decorations or crafts, this is a cute one.
It's a full page pineapple for those larger arts and crafts or to use as a wall or door decoration.
PRINT OUT THE LARGE PINEAPPLE CRAFT TEMPLATE

Paper Pineapple Templates
If you're needing some smaller pineapple templates in full color, this is the one for you.
These cute pineapples will be awesome to use for any crafts or decorating when you need a colorful pop.
PRINT OUT THE SMALL PAPER PINEAPPLE TEMPLATES

Large Pineapple Leaf Template
This full page pineapple top stencil can be used as a coloring page or as a craft template when you only need the pineapple leaves.
It has quite a few leaves and is probably best suited for kids above kindergarten.
DOWNLOAD THE LARGE PINEAPPLE LEAF TEMPLATE

Small Pineapple Top Templates
Here are some smaller pineapple leaf templates.
Kids can have fun coloring them in or use them to cut out a pineapple top from colored paper.
PRINT OUT THE SMALL PINEAPPLE TOP TEMPLATES