I'm super excited about sharing my cute free printable Tooth Fairy letters with you today.
I put my heart into making all 5 of these Tooth Fairy letter templates and I hope you think they're adorable.
Each link will take you to my post where that printable Tooth Fairy note lives on my site.
Once you're on the post of the Tooth Fairy letter you want to print out, there will be instructions for printing and even instructions for printing a tiny Tooth Fairy letter if you want a mini fairy sized version.
I hope you love the Tooth Fairy messages that I wrote in these notes. I tried to keep them simple and general to avoid any conflicts of stories in your Tooth Fairy traditions.
If your little one has swallowed their tooth or misplaced it, I have an editable swallowed tooth letter in my shop.

The free Tooth Fairy letters below are cute and will surprise your little one that the Tooth Fairy left them a special letter, but if you want to make it really special, a custom letter with their name a message just for them from the Tooth Fairy is the way to go. Plus you can change the message for any situation like first tooth, swallowed tooth or an apology. You can use it over and over again year after year and tooth after tooth.
You can get an editable tiny tooth shaped Tooth Fairy letter here if you want to leave a special customized message from the Tooth Fairy for your little one.

It's great for boys and girls both.
If you want a tooth receipt from the Tooth Fairy to add to the magic, I made free printable ones to match these letters.

For some super cute Tooth Fairy gift ideas, see my list of unique Tooth Fairy gifts.

If you don't have any cash on hand and need an emergency last minute gift from the Tooth Fairy, this editable money envelope and printable play money

will help alleviate the stress on you and your little one will be over the moon excited to get something so special from the Tooth Fairy.
This note from the Tooth Fairy is for your child's first tooth lost. It's a cute tooth shape with a special message for losing their first tooth.
You can get my editable first tooth letter here

if you want to change the message or add your child's name for a more personalized feel.
If the Tooth Fairy forgot to come she has some explaining to do. This Tooth Fairy apology letter will help smooth things over with your little one who is probably feeling very disappointed.
If you'd like a personalized Tooth Fairy apology letter, I have one of those here.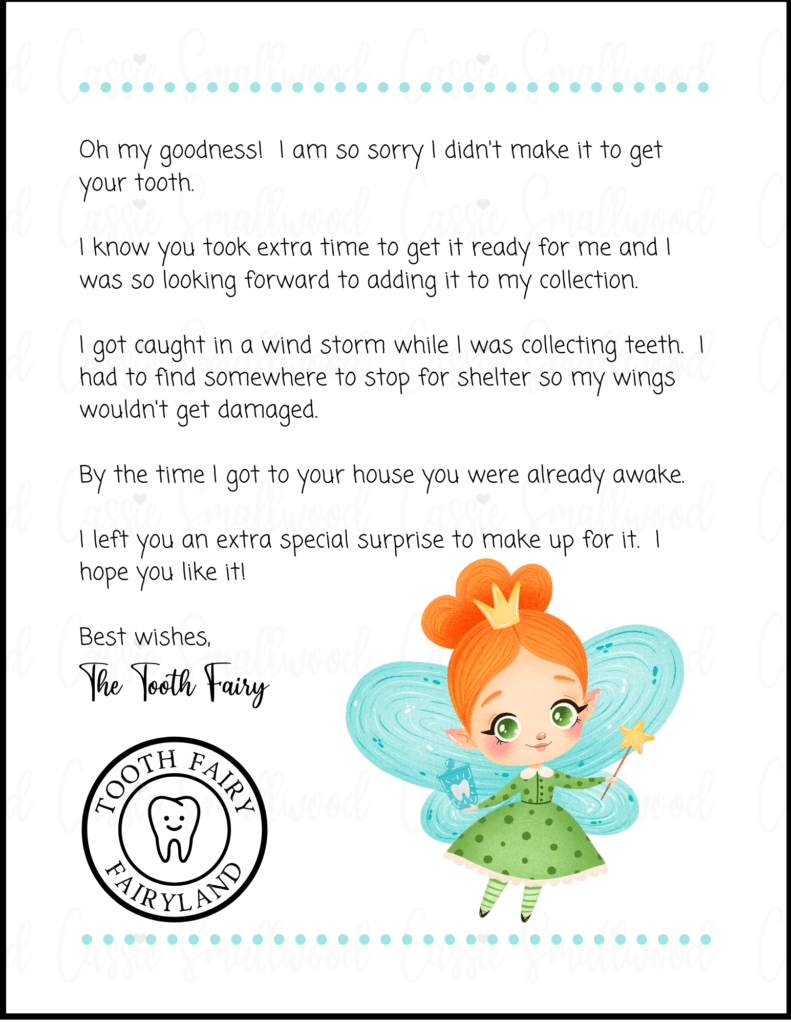 Sometimes the whole Tooth Fairy thing can feel a bit girly. This note from the Tooth Fairy for boys is just perfect for your little guy.
If your little girl loves pretty pink things, then this message from the Tooth Fairy for girls is going to be right up her alley. It has a cute pink background and an adorable Tooth Fairy.
This cute custom mini Tooth Fairy wand is an adorable way to make your little lady smile.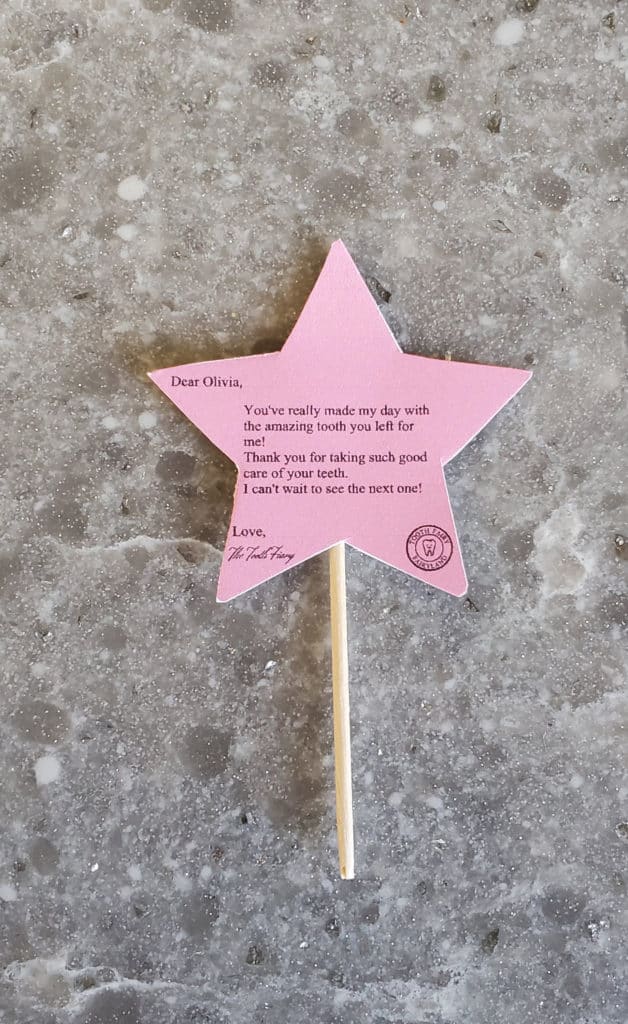 Here's the free Tooth Fairy letter for girls.
This note from the Tooth Fairy template is great for girls or boys. It has a blue background with clouds and a cute Tooth Fairy.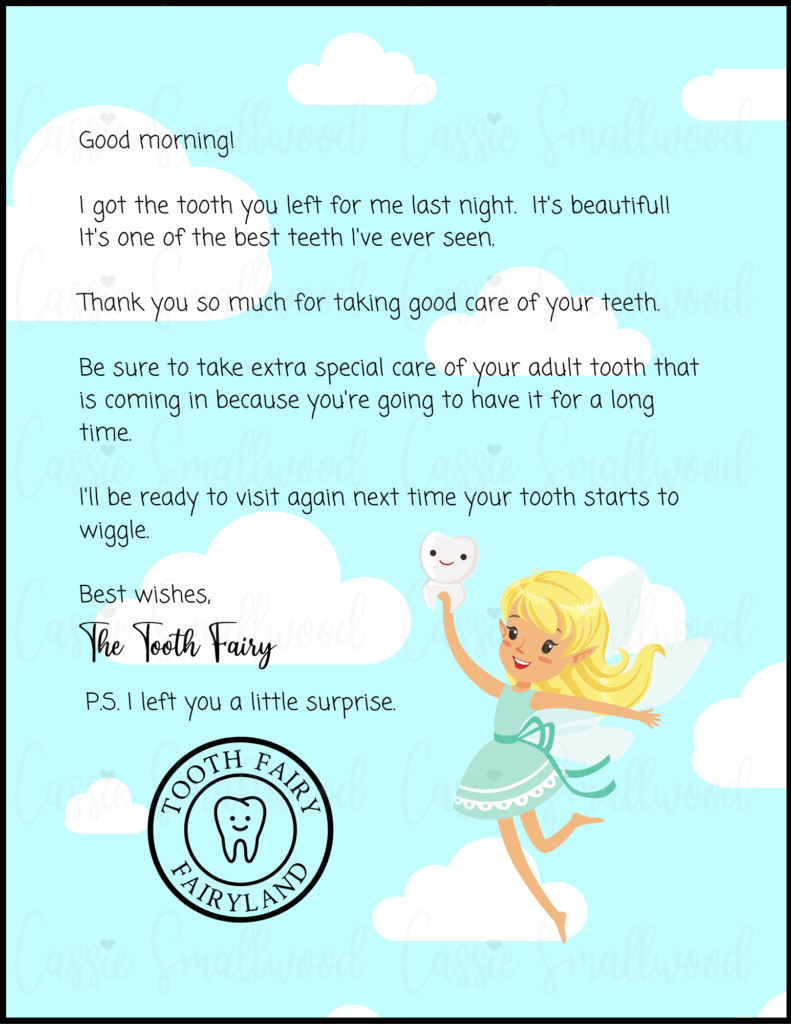 I hope you find the perfect letter from the Tooth Fairy for your child on this list. I tried to make these as cute and believable as possible. Most even have the official stamp of the Tooth Fairy at the bottom so your child will know it's official Tooth Fairy mail.
If you want a cute Tooth Fairy coloring sheet to add to the gifts that the Tooth Fairy leaves,

you can grab my free printable. It also works great as an extra gift if the Tooth Fairy forgot to come. Or you can just print it out as a fun activity to do in anticipation of the Tooth Fairy's arrival.