I've always loved to challenge myself mentally with word searches and other word puzzles.
Since Christmas is my favorite season, I decided to make my own fun Christmas word searches.
And because you're the best, I wanted to share them with you so you can challenge yourself or your kids to solve these Christmas word searches during the holiday season.
Word searches help with focus and concentration as well as improving memory and vocabulary.
As you move through this post, you'll find a Christmas tree shaped word search, an easy Christmas word search, a difficult Christmas word search that's also a word scramble, and some in between difficulty so you can find just the right Xmas word search to fit your needs.
I've tried to give an idea of the age range for each word find, but you'll have to take a look and make sure it's appropriate for your child.
IF YOU WANT MORE CHRISTMAS PUZZLES AND GAMES, CHECK OUT MY PRINTABLE CHRISTMAS ACTIVITY BOOK!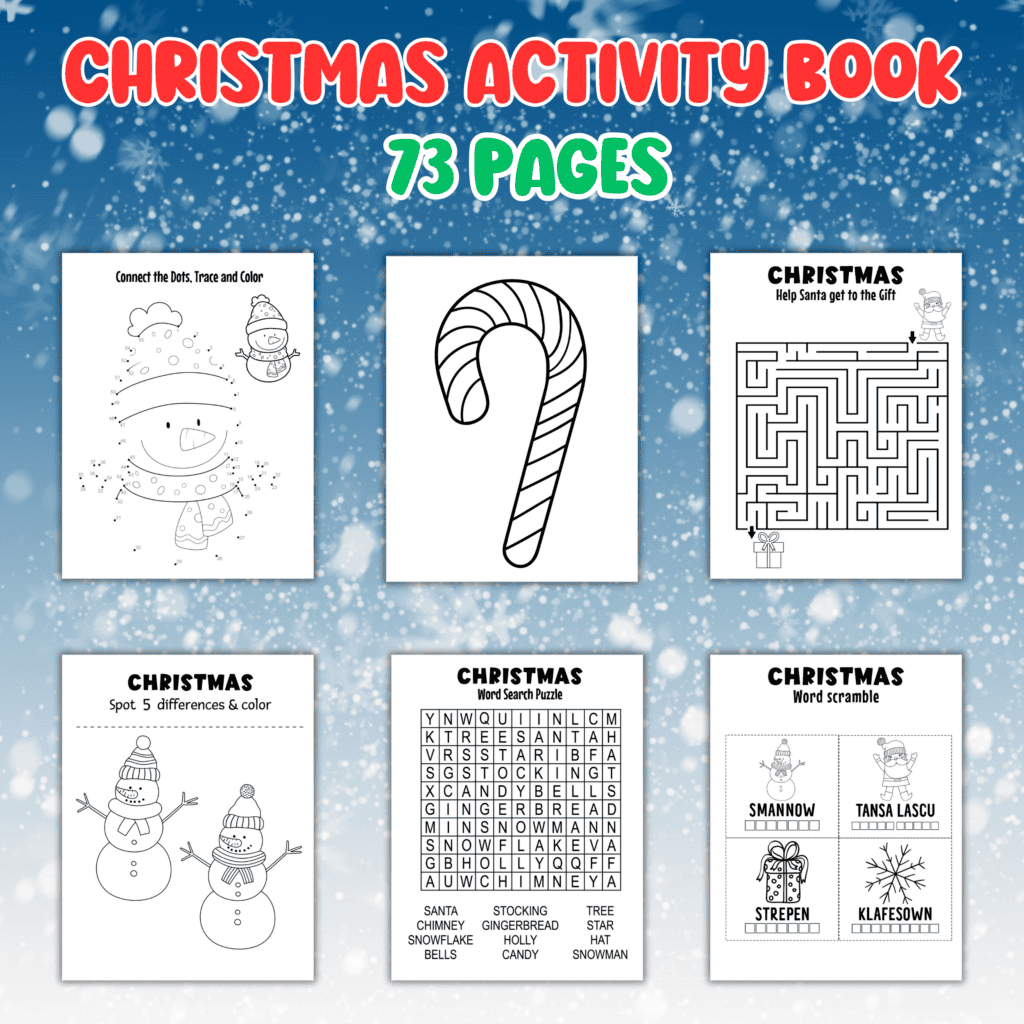 BE SURE TO ALSO CHECK OUT MY OTHER WORD SEARCHES:
Ideas To Use Christmas Word Search Puzzles
These make a fun activity for Christmas Eve when the kids are too excited to go to sleep before Santa comes. Having them use their brain for the Christmas word searches will help calm them down so they can get to sleep.
You can also use these Christmas word finds as a classroom activity at school or for homeschool as part of a vocabulary lesson.
Print them out and add them to a party favor bag for Christmas parties.
Cozy up next to the fire during the holiday season and work on one of these Christmas word searches to relax.
Have your kids work on one of these Christmas word search puzzles for a quiet time activity.
Use them as a kid's activity at your Christmas party to keep the little ones occupied.
This is the easiest holiday word search in this post. All of the words are three or four letters and it's a fairly small puzzle.
This one should be appropriate for kindergarten and 1st grade.
None of the words are backwards or diagonal. They only go vertically or horizontally.
Surprise your kids this year with a special delivery from the North Pole with these editable North Pole shipping labels from Santa, reindeer, and elf. They'll be so shocked to get a personalized gift in the mail from the North Pole!
This Christmas word search is still fairly simple, but the words are a bit longer and some are backwards and diagonal making it more difficult.
This one is good for 1st, 2nd grade and 3rd grade depending on the child's reading level.
It's a large print Christmas word search with a grid which makes it a little easier to find the words.
HAVING AN UGLY SWEATER PARTY THIS YEAR? GRAB THIS UGLY SWEATER AWARD AND VOTING SET!
This Xmas word search celebrates Santa's reindeer.
It's still pretty easy, but the reindeer names are a little longer words to find. Words will also be found backwards on this one.
This Christmas word search is probably best for 2nd grade, 3rd grade, or 4th grade.
We get into a more difficult Christmas word search with this one.
This Christmas tree shaped word search has some pretty long words. The shape of the puzzle makes it more challenging to spot the words.
This word find is fun for 3rd grade up to adults.
If you want to challenge your kids a little more, this Christmas word search is perfect.
They have to decide what each picture is and then find that word in the word find.
The words are pretty simple, but the fact that the words are not given in a list makes this one more difficult.
This is the most difficult Christmas word search on the page.
It's not only a word search, but a Christmas word scramble as well.
The words are longer and have to be unscrambled before they can be found in the holiday word search puzzle.
I would recommend this for more advanced readers up to adults.
Other Christmas Printables You'll Enjoy
FREE PRINTABLE LETTERS TO SANTA

FREE PRINTABLE LETTER FROM SANTA

PRINTABLE CHRISTMAS STENCILS