I've been really into recreating non-edible forms of food lately. I've been working on some new creations for my Etsy shop using faux food.
This also inspired me to make these cute ice cream coloring pages for you so you can have fun with ice cream too.
Some of these are simple ice cream coloring pages, some are more detailed ice cream coloring sheets and others are ice cream coloring pictures that can be used as a template for crafts or bulletin boards.
I always try to make pictures to color in that will fit different age ranges. So I hope you're able to find just the right ice cream coloring page to fit your needs.
To print out an ice cream coloring sheet, just click the link for the one you want to print and a PDF will open and you can print from there.
IF YOU NEED TO COMBAT THE SUMMER BOREDOM FOR YOUR KIDS, MY PRINTABLE SUMMER ACTIVITY BOOK WILL KEEP KIDS BUSY FOR HOURS AND IT'S ONLY $1 RIGHT NOW!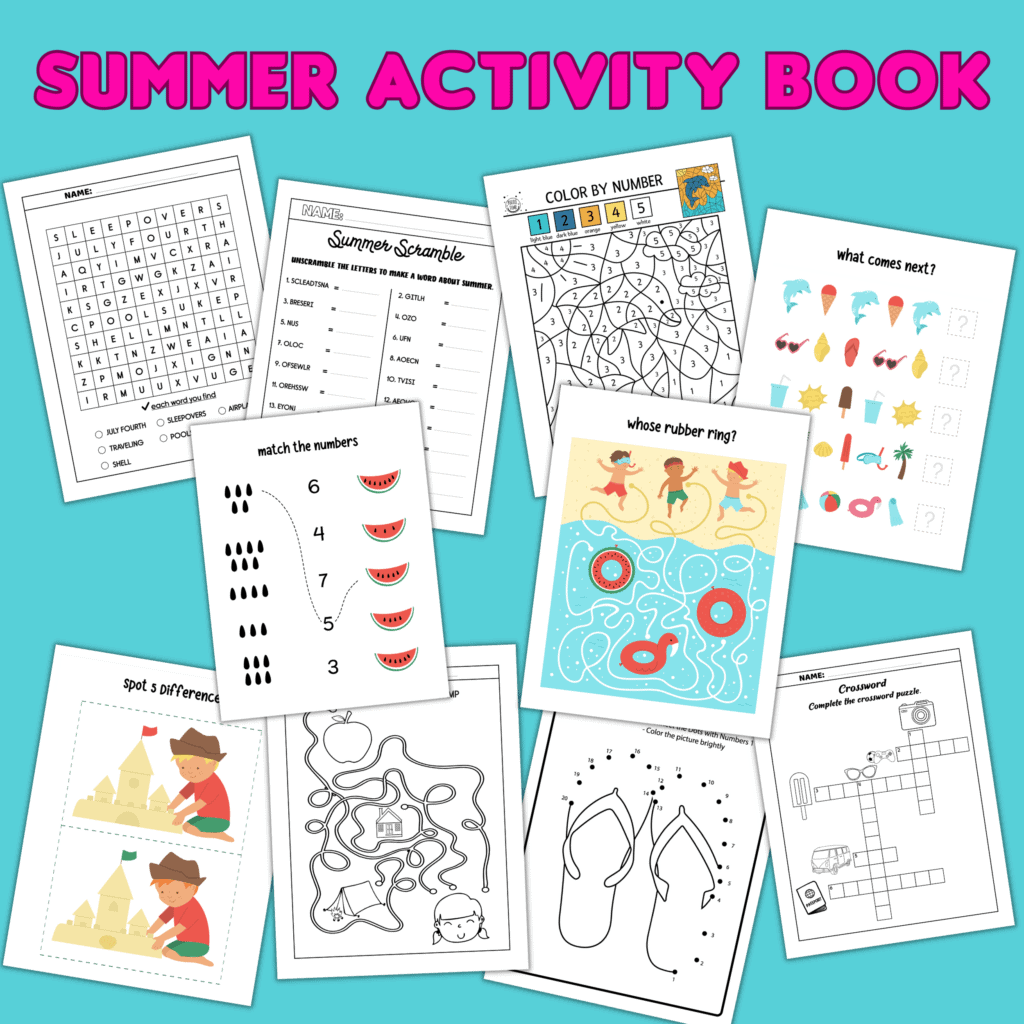 YOU MIGHT ALSO LIKE THESE POSTS
DON'T MISS MY OTHER FREE PRINTABLE COLORING PAGES TOO!
This cute coloring sheet has sprinkle donuts and an ice cream cone picture to color in. The ice cream is melting a little around the edge.
I also have a full collection of donut coloring pages here.

This kawaii ice cream and popsicle picture to color is just too cute. The coloring sheet has a soft serve ice cream cone, an ice cream sundae and a popsicle all with the cutest kawaii faces.
This is a simple kawaii popsicle coloring sheet that is easy enough for little kids to color in.
This ice cream truck picture to color has quite a bit of detail which makes it great for older kids with better fine motor skills.
Little girls will love this unicorn ice cream coloring picture. You can use it for birthday parties or just for fun coloring time at home or school.
If your child loves unicorns, be sure to check out my unicorn cupcake coloring pages

and my Christmas unicorn coloring pages

.
This cute ice cream coloring page is simple and easy for young kids to color in. It has nice thick lines to help little ones stay within the lines.
This fancy ice cream coloring page looks like a beautiful sundae you want to dig into.
This ice cream sundae coloring sheet also has an ice cream cone to color in.
This is a simple and easy ice cream sundae coloring sheet that is great for kids of all ages, especially toddlers, preschoolers, and kindergarteners.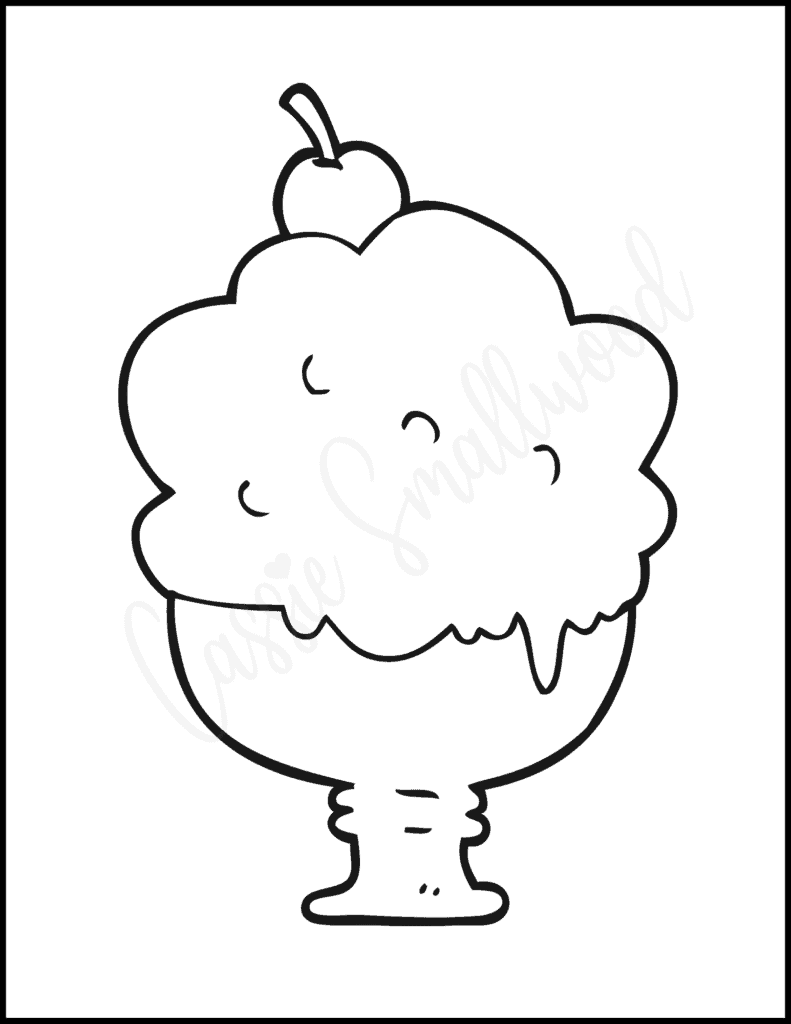 This coloring sheet is a simple blank ice cream scoop that can be used as an ice cream scoop template to cut out your own ice cream scoop shapes for a bulletin board or other decoration.
If you want more ice cream scoop, ice cream cone, Ice cream sundae and popsicle templates that you can print and cut out, be sure to check out this post where I share 10 different ice cream craft templates.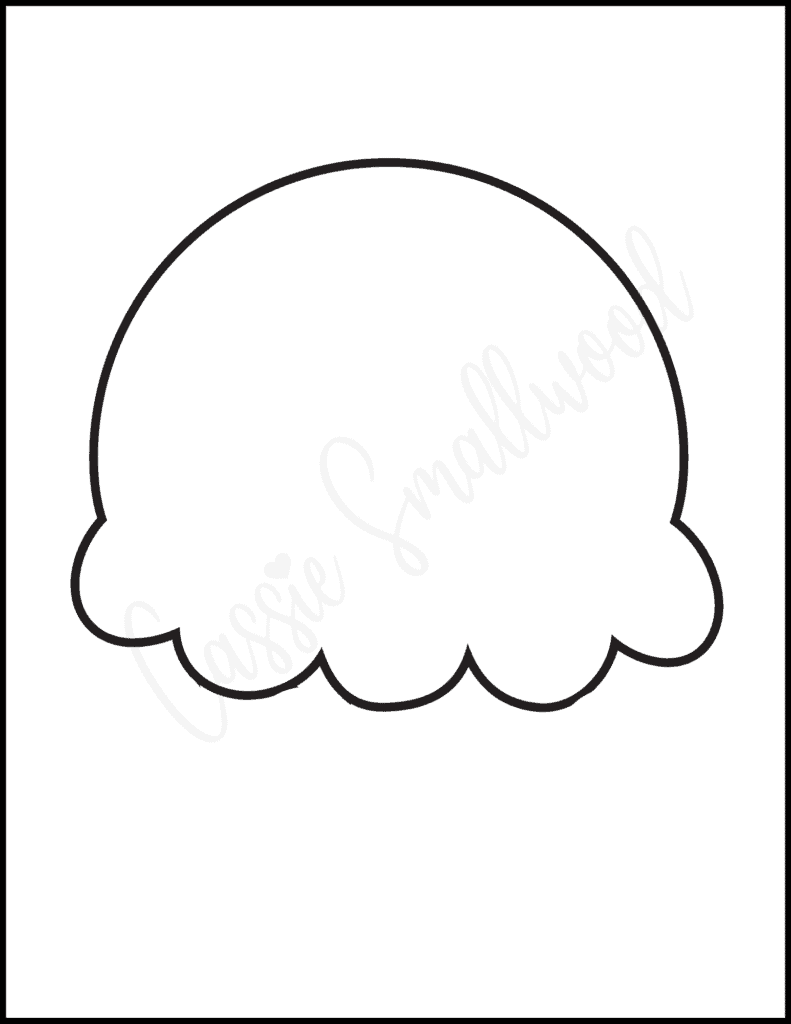 This ice cream shop picture to color in has a little more detail and will be better suited for older children.
This kawaii ice cream coloring sheet has the cutest face with tiny eyelashes on soft serve ice cream sitting inside a waffle cone. Kids will have fun coloring this picture in.
Who doesn't love a good ice cream sandwich?! This ice cream sandwich to color in looks like a chocolate chip cookie with ice cream inside.
This is a super easy and basic ice cream coloring sheet that will be great for little kids who have trouble coloring in the lines.
These free summer coloring bookmarks are another fun way to celebrate the warm weather.

This ice cream sundae coloring page is a very simple coloring sheet that is easy to color in.
Preschoolers will have fun coloring in this simple ice cream coloring sheet. There's not much detail which makes it easy for them to color.
This blank ice cream coloring sheet is perfect to use as an ice cream cone template and ice cream scoop template that can be colored in or used to cut out your own ice cream cones.
This ice cream picture to color in is melting. Ice cream drips are running down the sides of the ice cream cone.
Kids are going to love coloring in this banana split coloring picture with cherries on top.