Summer is always fun, but sometimes kids get bored. I made these cute summer maze worksheets to keep kids busy when they need something fun to entertain them.
These summer mazes are also great activity sheets for summer programs and day care classes.
You'll find summer mazes for all different ages and levels from easy to difficult mazes.
They're organized into sections starting with the easiest and moving to the most difficult.
If you want even more fun summer activity pages to keep kids busy this summer, I made a cute summer puzzle book and it's only $1 right now!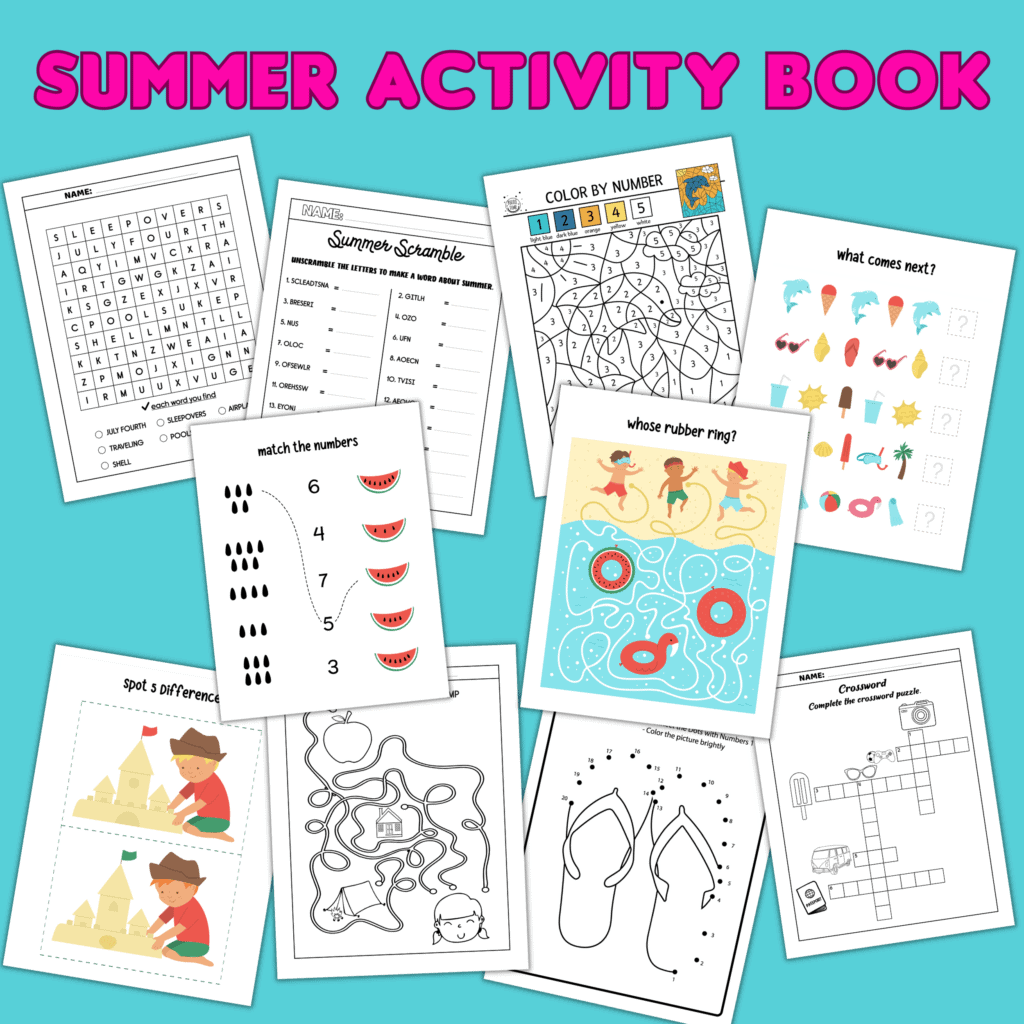 How To Print The Summer Maze Worksheets
Click on the link of the summer maze you'd like to print out.
A PDF file will open. I share my files through Google Drive. Schools and some workplaces will block file sharing of this type. If you have trouble downloading, try using a different network away from school or the office.
Once the summer maze PDF has opened, use the icons in the top right corner to print or download.
BE SURE TO CHECK OUT MY OTHER SUMMER POSTS
Easy Summer Mazes For Preschool and Kindergarten
These are easy summer mazes for younger children like toddlers, preschool, and kindergarten.
The spaces between lines are much larger and the path from the beginning to the end of the maze is much shorter and easier to identify.
Bee Easy Maze Printable For Summer
This cute bee is trying to find its way to the hive through this honeycomb maze for summer.
This is an easy summer maze that little kids will enjoy.
The path is fairly simple to follow for preschool or kindergarten kids.
PRINT OUT THE EASY SUMMER BEE MAZE

Summer Easy Maze For Kids
Kids will have so much fun with this sun summer maze!
The path is very easy to follow.
And the bright colors on this maze make it perfect for summertime.
I also have some cute sun coloring pages

and sun templates

to use for summer activities too.
PRINT OUT THE SUMMER EASY MAZE

Summer Easy Printable Maze For Preschoolers
This summer maze is very easy and has large openings to draw the path.
This is a great summer activity worksheet for toddlers and preschoolers.
DOWNLOAD THE EASY SUMMER MAZE FOR PRESCHOOLERS

Maze Summer Worksheet For Kindergarten
These cute gnomes are ready for a day at the beach!
This maze puzzle is very simple with large openings to draw the path.
It's an easy summer puzzle that toddlers, preschoolers, and kindergarteners will enjoy.
PRINT OUT THE KINDERGARTEN MAZE SUMMER WORKSHEET

Easy Summer Maze For Children
This easy summer maze is also a coloring page to give kids a fun activity to do.
It's a simple maze with large openings for the path and fun summer pictures to color.
DOWNLOAD THE EASY SUMMER MAZE COLORING SHEET

Medium Difficulty Summer Maze Worksheets
These summer mazes are a bit more difficult with smaller spaces for drawing a path and a more difficult pathway to find.
Beach Maze Summer Worksheet For Kids
Kids will enjoy all the beach vibes on this beach maze for summer as they make their way from the shells and flip flops to the beach chair.
This summer maze is best for kids in first grade and above.
I also have beach umbrella templates in this post

if you're doing a beach themed bulletin board or activity for summer.
PRINT OUT HE BEACH MAZE SUMMER WORKSHEET

Ice Cream Free Printable Maze For Summer
Kids will love these cute kawaii ice cream treats on this summer maze.
The shape and smaller path on this maze make it a bit more difficult to figure out.
You can get my ice cream coloring pages

and ice cream templates

for more fun summer activities.
DOWNLOAD THE ICE CREAM MAZE FOR SUMMER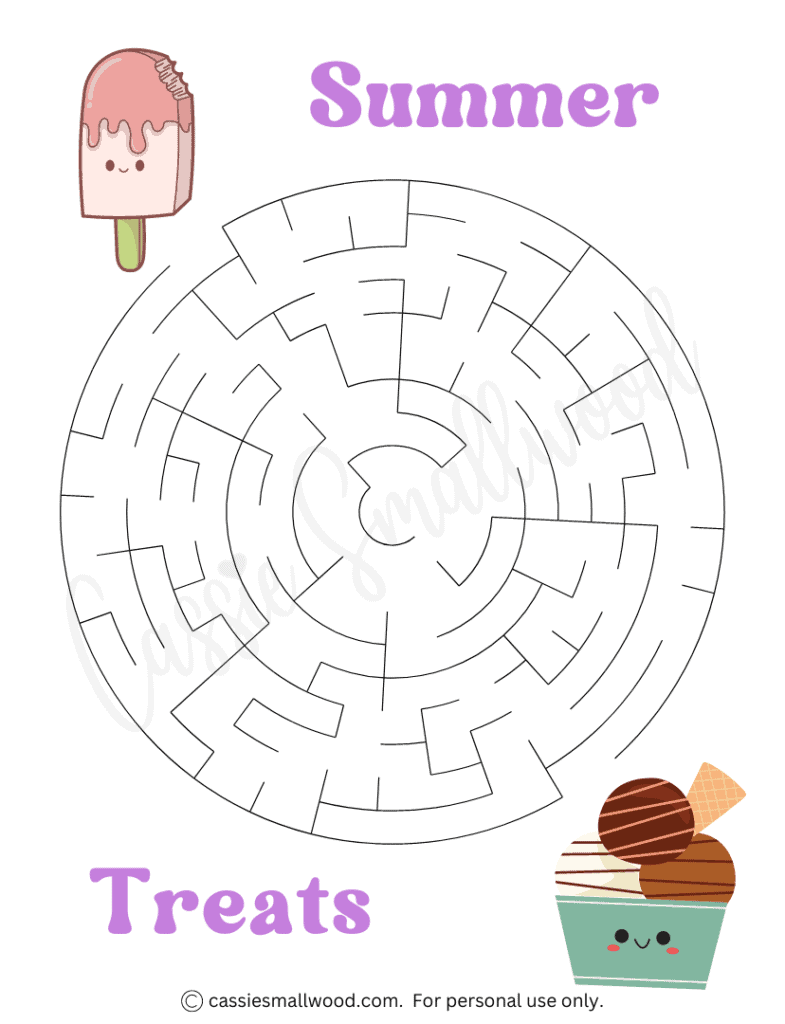 Under The Sea Summer Maze Coloring Sheet
Kids will have fun coloring in the ocean animals on this summer maze coloring sheet.
They can help the cute crab find the seahorse.
The round maze and smaller details makes this one a medium difficulty maze puzzle.
I also have some cute mermaid coloring pages

and mermaid templates

for some other ocean or under the sea themed summer activities.
PRINT THE OCEAN SUMMER MAZE COLORING PAGE

Free Printable Summer Coloring Maze For Kids
These cute gnomes are ready for a day of snorkeling and surfing at the beach!
Kids can help them find each other for their day of fun in the sun.
They'll also enjoy coloring in the pictures on this summer coloring maze.
PRINT OUT THE GNOMES SUMMER COLORING MAZE

Difficult Summer Mazes For Children
Difficult Summer Maze Puzzle For Kids
This fun summer maze is high difficulty for older kids or even adults.
The shapes for the path inside the maze make this puzzle more difficult to work.
The pathways are smaller and there are lots of dead ends.
PRINT OUT THE DIFFICULT SUMMER MAZE PUZZLE

Hard Summer Printable Maze Puzzle
Older kids will love trying to work this hard summer maze puzzle.
They have to get the surfboard to the waves.
It's a long and winding path to get there.
DOWNLOAD THE HARD SUMMER MAZE PUZZLE

Difficult Bee Maze Summer Activity Worksheet
This bee is trying to make it to the hive through this very difficult honeycomb maze.
These are very small spaces for the path in this summer maze.
The maze puzzle will keep older kids busy for quite some time. Plus it's a coloring page too!
PRINT THE DIFFICULT BEE MAZE SUMMER WORKSHEET