Today I have a super cute DIY light switch covers project to share with  you that only takes a few minutes and makes your room look awesome!  I'm always looking for a way to fancy things up around the house.  Did I ever mention how much I love glitter?  The best part about these light switch covers is that you can customize them to match any room.  Our master bathroom has a glitter counter top that we made ourselves.  I chose a matching glitter for those light switch covers.  In our bedroom, we have black and white chevron.  So I chose that print for our bedroom ones.  I used red and white polka dot for our guest room.  They all look so cute and really spice up the rooms.  These would also be perfect for kid's rooms to match their theme or color scheme.
There are only a few things you need to make these DIY light switch covers and the cost is really cheap.
This post contains affiliate links.  See my disclosure

.
Here's what you need:
Light switch covers (You can also do this with outlet covers!)
Glitter, fabric, tissue paper, or wrapping paper, scrapbook paper
Mod Podge
X-ACTO Knife
Small Paint Brush or Sponge
Measuring Tape
Cover your work surface with newspaper or plastic.  If you're using glitter for your DIY light switch covers, newspaper is best so you can put the excess glitter back into your container.
If you are using fabric or paper, cut it to fit your light switch cover.  I cut mine to 3.25″ x 6.5″ but your measurements will be different for a double or triple switch.  You can always cut off the extra later if it's a little too big.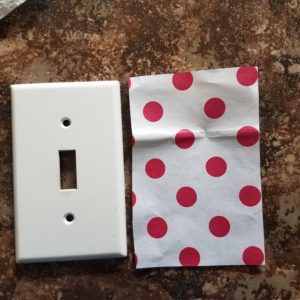 Brush a coat of Mod Podge onto the front and edges of your light switch cover.
Sprinkle glitter to cover completely if using glitter.
For fabric or paper, place the piece you cut over the Mod Podge.  Carefully press out any bubbles and press around the edges.   At the corners, I folded them over like I would at the corners for wrapping a gift.  Tissue paper will tear pretty easily.  So be extra careful when pressing out the bubbles on that.  Next, use your Exacto knife to make a hole where each screw hole is and an "I" shaped cut where the switch goes.  Press the extra paper/fabric through the hole to the back and Mod Podge it to the back of the light switch cover.  Cut off any excess that overlaps the edges.
Allow the first coat of Mod Podge to dry for a few minutes.
Once it's dry, brush a second coat over the top of your glitter/fabric/paper.  Be sure to get around the edges!
Let it dry and put it on your light switch.
Be prepared.  You'll probably love it so much you'll want to do all the rooms in your house.  I am head over heels about the chevron DIY light switch covers I made for our bedroom!  I only did three rooms and now I want to do every room.