The holiday season is approaching and it's time to get Christmas crafts listed in your Etsy and Amazon shops and ready to sell at craft fairs. 
I wanted to give you some ideas for Christmas crafts you can make and sell for profit if you need some help brainstorming projects to create for your craft business this year. 
I've tried to find the best selling Christmas craft ideas to get you started.  Use your imagination to make these ideas even better and make some extra cash for the holidays.
When To List Christmas Items In Your Etsy Shop?
It's September as I'm writing this and people are already beginning to shop for Christmas decorations and holiday gifts. 
Summer is the best time to start working on these holiday crafts to sell in your Etsy shop or Amazon Handmade store. 
But don't be discouraged if it's after summer, you can still add Christmas crafts to your Etsy shop all the way up to Thanksgiving.
Just be sure you definitely have all your Christmas crafts listed by Thanksgiving for the holiday sales after on Black Friday and Cyber Monday.
You should aim for having Christmas things to sell listed no later than the end of October, but the sooner the better. 
Listing your Christmas crafts online sooner will give them a chance to start getting views, likes and sales and build up their status in search on Etsy or Amazon Handmade so you can sell more when the Christmas season gets here.
How can I make more sales on Etsy and Amazon Handmade for Christmas?
My first year of selling crafts on Etsy at Christmas time was not as successful as I'd hoped. 
I heard all of these people online saying how great their sales were at holiday time and I only ended up making a few hundred dollars. 
One reason I didn't make very many sales for Christmas was I didn't have any products that could be given as gifts.
I've since added some items that get given as gifts all through the year. 
Don't be afraid to try adding new and different products to your shop.  You never know what people are going to love. 
If it doesn't sell well, you can always take it down later.  Just be sure that the items you add fit in with your current products in some way.
A great way to plan your products for the entire year is by using The Profitable Handmade Product Planner

.  This planner helps you brainstorm and organize products to sell by holidays, seasons, price point, and so much more. 
It's the process I use to come up with new product ideas to keep my shop busy throughout the whole year.
What Christmas Crafts Sell The Best?
Personalized items that can be Christmas gifts and personalized Christmas decorations are the Christmas crafts that sell the best and become best selling items.
Another reason I didn't make many sales my first Christmas season was that I didn't know who my customers were yet.
Creating products when you don't know who you're making them for usually leads to little to no sales.  Once I figured that out, I was able to make Christmas decorations to sell that people wanted to buy so I could make a lot more money at Christmas time.
If you already have a handmade shop, you can learn about your customers to make better craft items that they will love.  If you're just starting your craft business, you can think of your ideal customer and who might buy the products you want to sell.  I wrote this post to help you figure out who your ideal customers are for your handmade business.

This post contains affiliate links.  See my disclosure

here.
Ideas for the best Christmas crafts you can make and sell for profit.
I've included a lot of different crafts in this list including Christmas decorations, holiday gifts, and holiday clothing for the family.
These are just Christmas arts and craft ideas to sell that can get you started brainstorming.  If you see something here that catches your eye, take a look at the tutorial or idea and see how you can make your own unique version to sell in your craft business.
Making Christmas Decorations To Sell
DIY Christmas Shelf Decorations Craft To Sell
Wood blocks, small signs, and other decorations that can sit on a shelf or mantle are great Christmas craft ideas to make and sell for profit. 
This snowman from Leap Of Faith Crafting

is so adorable and is a Christmas craft that would sell well!
Think about what little knick knacks you put out for Christmas that your really love and make something like that.  One of my favorites that I have is a ceramic gingerbread house that I put on my mantle.
Easy Christmas Ornaments To Make And Sell
There are so many different kinds of Christmas ornaments you could make and sell.  I love these gnome ornaments by Ruffles & Rain Boots

. 
You could also make something more personalized like wood slice photo ornaments

or if you have a Cricut

or Silhouette, glass ball Xmas ornaments with names.
Think of special celebrations for the holiday that you could make ornaments for like baby's first Christmas, newlyweds first Christmas, first Christmas in our new house, etc.
Santa's Cookie Plates To Sell
Anyone with kids needs one of these plates which makes them a great craft idea to make and sell that will sell like crazy.  I love this cute design by The Country Chic Cottage,

but you can also create your own designs.
I would definitely personalize these with the kids' names or family last name.  Make them so adorable that people just have to buy one!  You can also make a matching milk glass.
These are a great Christmas craft to sell at Xmas bazaars too because parents will buy them to prepare for Santa's visit, but other relatives may also buy them as a gift for children or for the family.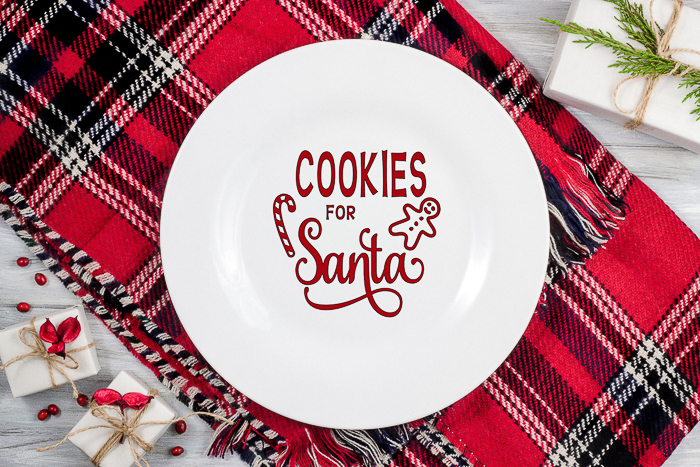 Sewing Christmas Stockings To Sell For Profit
If you sew there are so many possibilities of Christmas stockings you can make and sell for extra cash. 
You can make burlap, buffalo plaid or other plaid prints, furry, crochet,or embroidered. You can get a free pattern and tutorial on Gluesticks by Brandy Nelson

.
Don't forget to make special ones for baby's first Christmas and for doggies and kitties.  And definitely personalize the stockings if you want them to sell like crazy so you can make some extra holiday cash!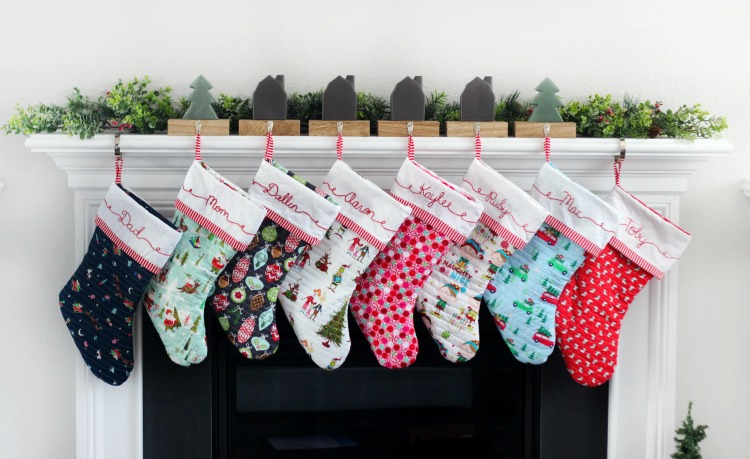 Sewing Christmas Tree Skirts To Sell
This is another idea that has endless possibilities for fabrics and prints you can use.  You can make and sell burlap tree skirts, buffalo plaid, furry, crochet or personalized with a last name.  Here's a great tutorial from 5 Little Monsters

to get you started making tree skirts from home for extra money.
Christmas Tree Stand Boxes Woodworking Craft To Sell
A lot of people are opting for a wooden crate as an alternative to tree skirts. 
If you enjoy woodworking craft projects, this is a great Christmas craft you can make and sell. 
You can make these and personalize them with paint or vinyl with some sort of saying or the family's last name.  This is a great DIY from Create and Babble

.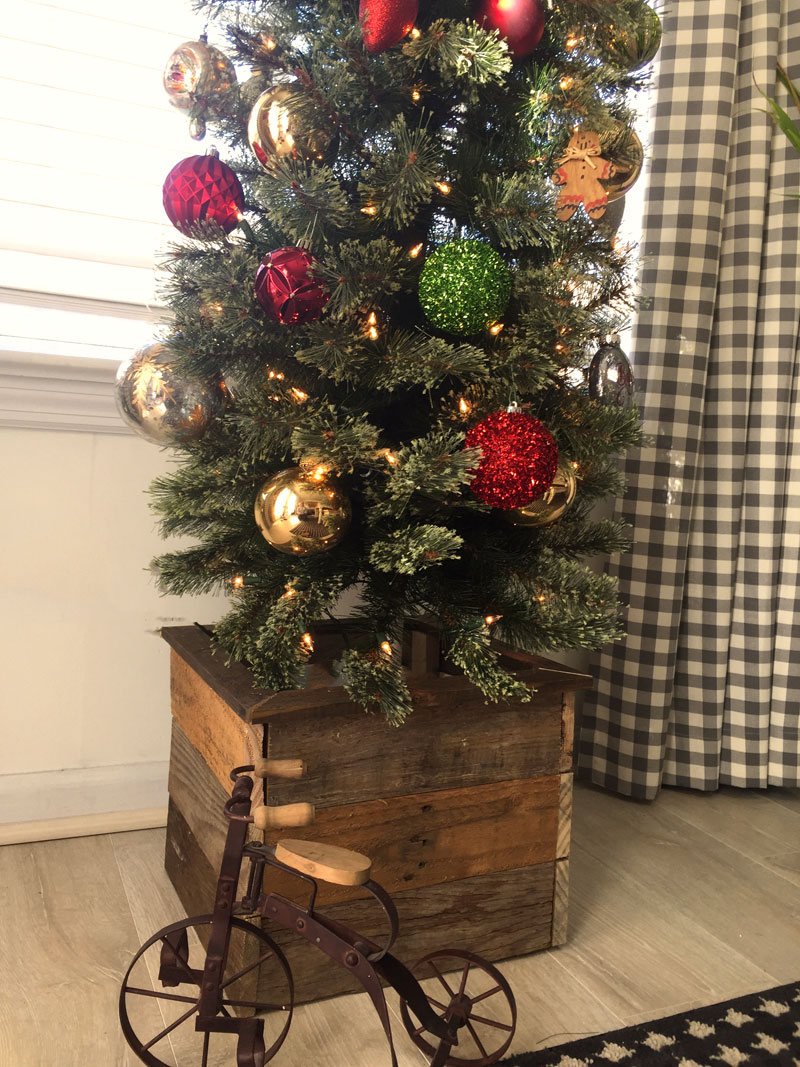 Make and Sell DIY Christmas Doormats
Doormats are a great Christmas craft to make and sell. 
The awesome thing is you can make Christmas designs for holiday decorating and you can make designs for everyday that people can buy as Christmas gifts for friends and family.
  This is a great tutorial by The Diary of a Debutante

.
This type of doormat is super popular right now and will sell well in your Etsy shop or at craft fairs. 
Look at Christmas signs on Etsy and Pinterest to find cute saying ideas that you can put on them.  Combine different fonts to make them look extra cute.
Selling Handmade Christmas Advent Calendars
There are so many different advent calendars you can make for selling in your craft shop on Etsy, Amazon Handmade or at craft fairs. 
This advent calendar idea from A Beautiful Mess

is totally adorable! 
These are a special tradition for many families at Christmas time and will be an awesome Christmas craft to make and sell for profit this holiday season.
Make and Sell Christmas Wreaths
There are so many different kinds of Christmas wreath crafts you can make and sell from burlap to mesh to traditional pine. 
Use your imagination and create some really beautiful and unique wreaths that families can hang on their front door or fireplace. 
Add the family's last name to the wreath if you want them to be a best selling item.
Christmas Tree Toppers You Can Make and Sell
You can get super creative with these. 
I tend to like the really fancy ornate Christmas tree toppers, but many people go with a simple rustic Christmas theme. 
Use your imagination and create unique and unusual toppers that can't be found in stores and your craft shop will sell them like crazy.
Outdoor Christmas Decoration Ideas To Sell
There are a lot of outdoor decorations you could make and sell for Christmas. 
So many people decorate outdoors and would love some really unique pieces to put in their yard. 
If you're good with woodworking, you could make characters and scenes for the yard. 
Another idea is kits to decorate a front door or garage door for the holidays.
Making and Selling Christmas Signs
Christmas signs can be made out of different types of wood or you could use a canvas to create something really unique for shoppers. 
Make them for outdoors on the porch or indoors. 
I like to take down all of my living room decorations and hang all Christmas things so I have my own little Christmas wonderland 🙂
Christmas Photo Props Ideas To Make and Sell
You can make and sell a lot of different things as photo props for the holidays. 
Try making photo booth props.  These could be printable or a physical product. 
If you have a Cricut, photo booth props are super easy to make.  We had a photo booth at our Christmas celebration one year and it was so much fun!
I love this Christmas chimney prop from Paging Fun Mums

!  If you make Christmas props like this to sell, you can market them to parents as well as photographers.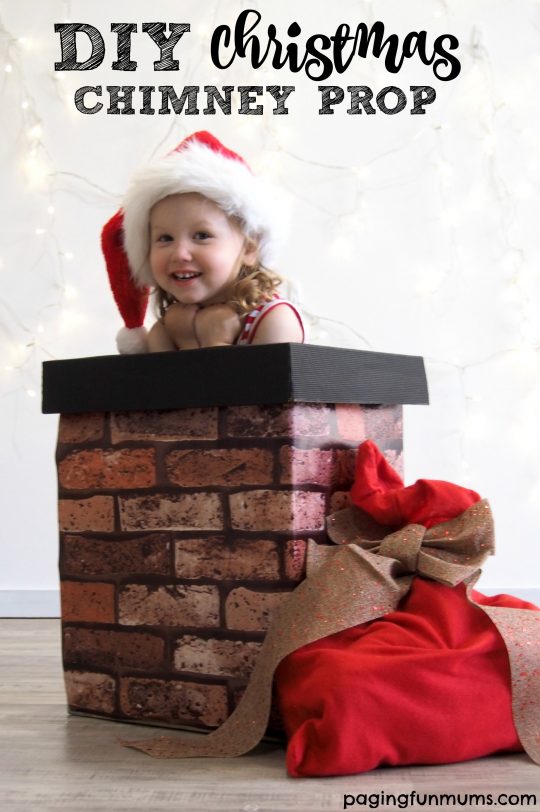 Handmade Christmas Wrapping Paper and Gift Wrap Supplies To Sell
Christmas Gift Tags Ideas To Sell
How many Christmas tags do you use each year?  I know I go through a lot! 
Everyone uses them which makes this a great Christmas craft that will sell well. 
You can make them from different materials like cardstock or wood.  Make them really unique and cute and they should really make you some extra cash this holiday season.
I'm obsessed with these gorgeous Christmas gift tags from Queen B Creations

! 
If you're great at designing printables, you could also make printable gift tags to sell on Etsy. 
A lot of people like the idea of being able to print out their own tags without having to wait for them to arrive or pay for shipping.
Make and Sell Handmade Christmas Wrapping Paper
We all use a ton of Christmas wrapping paper every holiday season. 
If you're into paper crafting or stamping, this a great Christmas project that you can add to your shop for the holiday season to make extra cash. 
The great thing about making this type of Christmas craft to sell is that you can get repeat customers every year if you create cute and elegant designs.  This is a cute tutorial from Creatiate

.
You can make these custom wrapping papers with stamps or if you have a large scale printer, you can print intricate designs. 
Allow your customers to add a personalization like "Merry Christmas from the Davis Family" to make this a really hot selling handmade Christmas item.
Gift Wrap Kits Are A Fun Christmas Craft To Make And Sell
This is taking the wrapping paper to another level. 
You can make a kit that has everything that a person needs to create the most beautiful gift possible. 
Include wrapping paper, tags, bows, cute embellishments, string, ribbon, etc. 
Some people want to wrap stunning gifts but have no idea where to start. 
Also include a tutorial for ideas of how to use all of the items.
Christmas Bow Ideas To Sell
You can make Christmas bows for gift wrapping, for Christmas trees, garland or just general Christmas decorating. 
I think just about everyone decorates with bows at Christmas which makes them a great craft item to sell for the holidays.
Selling Christmas Gift Bags
These could be Christmas treat bags or larger gift bags. 
The treat bags will sell very well because many people have Christmas parties and give out goody bags. 
And Christmas gift bags are an easy way to not have to wrap all of those gifts and make them beautiful. 
Make some really cute ones so they will be best sellers for your craft business.  I love this tutorial from Flowerbug's Inkspot!
Make these Christmas gift bags extra awesome by personalizing them with a special message of your customer's choice. 
This is really easy to set up on Etsy with the personalization option or on Amazon Handmade in the customization options.
Handmade Christmas Clothes To Make and Sell
Sewing Christmas Pajamas To Sell
If you love to sew, matching Christmas pajamas for the family is a great craft you can make and sell for extra cash this holiday season. 
Lots of families like to wear matching PJs for Christmas.  This pattern from Sweet Red Poppy

is adorable!
If you embroider or have a Cricut or Silhouette, you could make them really special by adding each person's name or the family's last name to their pajamas.
If you want to take this a step further, you could make a Christmas Eve box for families with the pajamas as well as other items for a family to celebrate the holiday. 
For example, a hot cocoa set would be a great addition to a Christmas Eve box.
Sewing Christmas Outfits To Sell
Families like to get photos for their Christmas cards or wear matching outfits to their Christmas celebrations. 
If you sew, this would be a great idea for a Christmas craft to make and sell. 
You'll want to get these in your shop early since people get their Christmas card photos taken way before the holiday.
If sewing is your craft, be sure to also check out my list of 50 sewing projects to make and sell

Best Selling DIY Christmas Gifts To Sell
Handmade Christmas Body Products Sets
If you sell bath and body products, make sure you have some packaged up in a set that can be given as a gift. 
Also make some scents that people love at Christmas like sugar cookie, gingerbread, etc.
For handmade body products, you should try to find beautiful and unique packaging to make these beauty product sets really special for gifts. 
Any special touches you can add to make them stand out from all the other body products available will help increase your sales so you can make more money during the holidays.
Make and Sell Christmas Scented Candles
I don't know about you, but I love my house to smell like the holidays. 
If you're a candle maker, make some holiday scents that are traditional but add a unique twist to them.
You can make cute holiday shaped candles that would also make great holiday decorations as well as smelling amazing. 
Personalizing your candle labels or stamping the actual candle would also make them good selling items for gift giving.
Get Your Best Selling Christmas Craft Items Added To Your Shop And Make Extra Holiday Cash!
Now that you have some ideas, grab my SIMPLE ETSY SHOP SETUP TOOLKIT

to get your Etsy shop looking professional so you can make more money.
This holiday season is the best time start selling your crafts for profit. 
People love to spend money at Christmas time.  Why not be someone who benefits from all of that spending?
List your items on Amazon Handmade to really increase sales of your Christmas crafts.
If you really want to make some serious cash this holiday season, try listing your items on Amazon Handmade.
I did pretty well on Etsy for my first year.  I added my handmade items on Amazon about one year after I started my Etsy shop and within weeks my sales on Amazon surpassed what I was making on Etsy after a whole year!
By the third month I was selling on Amazon Handmade, I was making a full time income and it has stayed consistently that way since then. 
Selling my diy crafts on Amazon changed my life.
I had heard bad things online about selling on Amazon Handmade so I never even considered it. 
One day I just decided I was tired of not making enough money on Etsy and put some of my items on Amazon.  I'm so glad I did!
If your goal is to make a full time income and quit your 9 to 5 job, give Amazon a try.  Christmas time is the perfect opportunity to get started on there and make sales right away. 
There are millions of shoppers on Amazon which makes it super easy to sell your crafts there.
Other Posts You Might Like