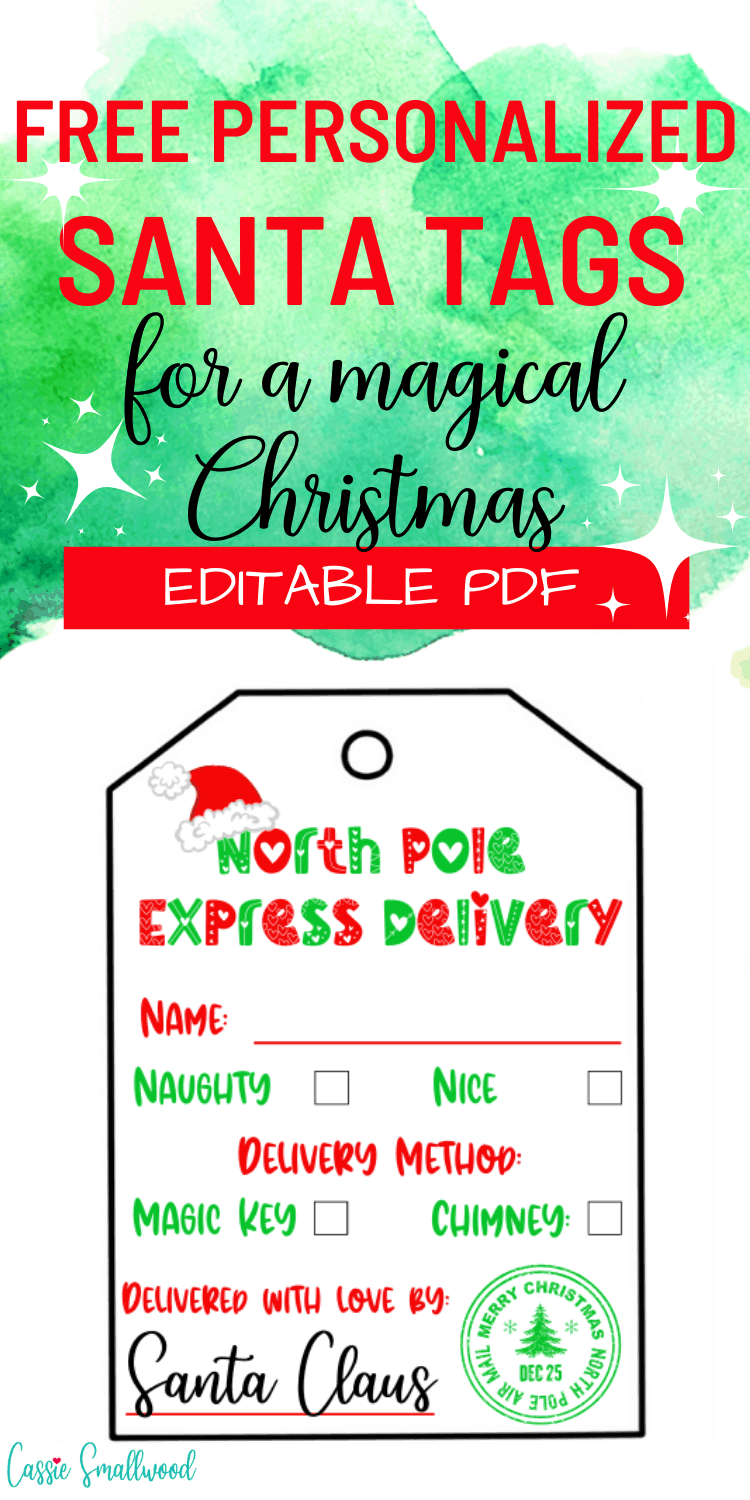 If you want to make your gifts from Santa truly special for your kids, you need these printable Santa gift tags.
I absolutely love Christmas and I loved the magic of Santa Claus when I was little.
I made these cute Santa gift tags that you can personalize to pass on a little magic to your little ones.
You can add your child's name to the PDF and mark the check boxes right on your computer (or you can write them by hand if you want).
Editing these gift tags from Santa on your computer will keep your kids from recognizing your handwriting plus it makes the tags look more official.
The Christmas tags from Santa have a space to personalize the child's name, naughty or nice check boxes, magic key or chimney checkboxes, Santa's signature and an official stamp.  It's all designed in red and green to look very festive.
P.S. If you don't have a chimney and your kids are wondering how they'll get their gifts, this magic Santa key is the perfect remedy.

If you want another idea to make Christmas morning extra special for your kids, use my FREE PRINTABLE SANTA FOOTPRINT STENCIL

to make Santa's snowy boot prints on your floor.
This post contains affiliate links.  See my disclosure here

.
How To Personalize The Free Printable Santa Gift Tags
The special gift tags from Santa are super simple to edit.
Just click the link below to access the printable Santa tags.
Once the gift tag PDF is open, you will see a light blue box next to where it says "Name".  This is where you can personalize the Christmas gift tags by typing in your child's name.
There are also light blue boxes over the check boxes for naughty or nice and magic key or chimney.  Just click on the ones you want to put a checkmark in and it will appear.
Once you've personalized your Santa gift tags, you're ready to print.
How To Print Your Personalized Santa Gift Tags
Click the print icon in the top right corner of the PDF.
If you have any trouble with the gift tags getting cut off on the edge, you'll want to change your print settings.
You can change your print settings in the menu that pops up after clicking the print icon.  Go to "More Settings" and then choose "Fit To Printable Area".  This will make the Christmas tags a little smaller so they fit within your printer's margin settings.
Print on cardstock for the best results.  If you want to make these seem even more authentic, this parchment cardstock will make these Santa gift tags seem even more like they're from the North Pole.
If you want to make these into gift labels from Santa, you can print them onto label paper.  This will make the printable Santa tags into a sticker for easier attaching to presents without a string.
Want to surprise your kids with an adorable Nice List Certificate From Santa?  I made 3 cute Santa Nice List Certificates you can get here.

Other Christmas Printables I Know You'll Love