I start preparing for Christmas early every year because I love the season so much.
I've been busy making tons of cute printable Christmas stencils for my craft projects and I wanted to share them all here in this one post for you.
Each of these printable Christmas stencil collections is right here on my site.  All you have to do is click the link for the templates you want to see and it will take you to the post where those downloadable Christmas stencils are.
Once you get to the post for that Christmas template collection, you can download the individual Christmas stencils that you want to use for your projects.
The free printable Christmas stencils you'll find below come in all shapes and sizes to work with so many Christmas craft and decorating projects.
You can use them as Christmas window stencils, holiday bulletin board stencils, or Christmas templates for your arts and crafts.
I'm always adding new stencils and templates to my blog.  So this will be a running list that I continue to add to over time so I can provide the most and best free printable Christmas stencils for you.
Cute Printable Christmas Stencils
These Christmas snow globe stencils come in 2 different sizes.  There's a large full page stencil and a small stencil that are blank snow globe templates.
There are also designed snow globe templates that can be used as coloring pages.
You'll even find one that's a writing template that can be used to make a Christmas list or as a winter writing activity.
All different shapes and sizes of Christmas lights stencils is what you'll find here.
There are full page Christmas light bulb stencils as well as medium Christmas lights on a string and small Christmas light bulb stencils.
You can cut them out to use as a Christmas stencil to make your own Christmas lights or print the colored ones to use as Christmas decorations.
There are so many different holly leaf stencils in this collection.
You'll find small, medium and large Christmas holly stencils.  Some are colored and some are black and white.
Use them as Christmas coloring pages or holiday decorations.
This Santa footprint stencil is going to make Christmas magical for your kids.
You can use this Santa shoe print stencil to make Santa's boot prints on the floor to surprise your kids on Christmas morning.
It also works great if you want to add Santa footprints to your craft projects.
I've tried to make this stencil easy to cut out without too many small details, but still super cute.
IS YOUR LITTLE ONE ON THE NAUGHTY LIST

OR NICE LIST

?  LET THEM KNOW SANTA HAS NOTICED WITH THESE PRINTABLE CERTIFICATES.  THEY'RE MINI SIZED SO YOUR ELF CAN DELIVER THEM!
You'll find the cutest gingerbread people stencils here.
They're available in small and large.  Some are black and white and some are colored.
There are gingerbread girls and boys to color in or use as a template for your craft projects.
You can also cut out the stencil and use it as a Christmas window stencil for a gingerbread scene.
Candy canes are my favorite Christmas treat.  So of course I had to make some cute candy cane stencils for you.
These Christmas candy cane stencils are available in small and large sizes.
There are full color ones as well as black and white to use as a candy cane coloring page.
I also made Christmas peppermint candy stencils and a peppermint lollipop stencil.
You'll find just the candy cane template that you need for your crafts.
These cute Christmas ornament stencils are so fun!
You'll find printable round Christmas ornament templates as well as some fun shaped ones.
There are elf leg ornaments with funny sayings for every family member.
I've also included some Santa Christmas ornaments and ornaments for coloring in.
What's a Christmas tree without a star?
You'll find every shape and size of Christmas star stencils to use for your crafts.
Use the small star stencils for mini Christmas projects and the full page large ones to top off a Christmas tree.
There are color and black and white star stencils so you can find one that is just perfect for what you need.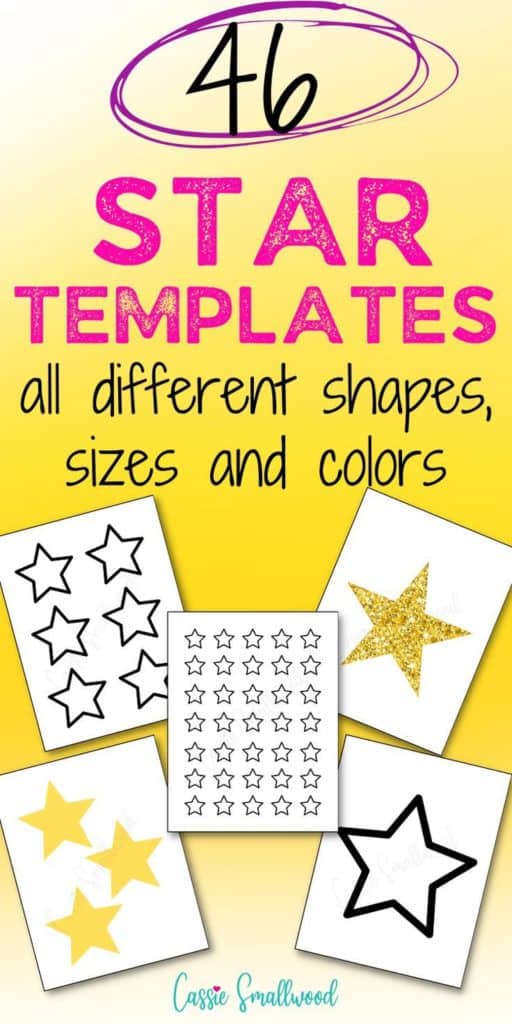 8 different sizes and designs of free printable mitten templates for your Christmas craft projects and winter decorating.
You'll find large full page mitten stencils as well as small mitten templates to fit any holiday project.
Some are blank mitten outlines and others have cute designs for coloring in.
There are 12 different ugly sweater stencils in small, medium and large sizes.
Some are blank sweater templates so you can design your own ugly sweater or use them as an outline and others have ugly Christmas sweater designs to print and cut out for holiday decorations or Christmas crafts.
HAVING AN UGLY SWEATER PARTY?  THIS UGLY SWEATER AWARD AND VOTING SET MAKES IT SIMPLE!

Lots of different polar bear templates including polar bear silhouette, face, and footprints to make the perfect crafts for the Christmas and winter season.
All different sizes and styles of winter hat templates and stencils that you can use for your winter arts and crafts.
Beanie and bobble hat stencils in several patterns plus Santa hats in three sizes and an elf hat.