Since I have so many Easter printables on my blog, I thought I would make it easy on you to find them all by collecting them in one list.
You'll find lots of cute printables to make Easter egg-stra fun!
Each of these free printables is housed on my site. You won't be taken all over the internet to different sites.
Just click the link for the one you like and you'll be taken to the page for that post where you can download or print.
This will be an ongoing post that I'll add to as I add more Easter printables on my blog. Be sure to check back each year to see what's new!
HERE ARE A COUPLE MORE EASTER POSTS YOU MIGHT ALSO LIKE:
Bunny Butt Pancakes

– Make Easter breakfast extra special with these cute bunny butt pancakes.
Easy Chocolate Covered Strawberry Easter Dessert

– You can whip up this cute Easter dessert and use it as a centerpiece for the table too!
RIGHT NOW I HAVE MY EASTER COLORING AND ACTIVITY BOOKS IN MY SHOP FOR ONLY $1

Printable Easter Bunny Letters
There are several printable Easter Bunny letters to choose from.
There's a ready to print one that will work for any child or there are bunny shaped editable ones that you can add in your child's name and change the message to say anything you'd like.
The bunny shaped ones come in different colors. You're sure to find just the right printable Easter Bunny letter for your little one.
GO TO THE PRINTABLE EASTER BUNNY LETTERS.

Free Printable Bunny Templates
There are lots of printable bunny templates to choose from here.
There are bunny ears, bunny faces, Peeps bunnies, bunny feet, a bunny butt, bunny silhouettes and many more in all different sizes.
These printable bunny templates are perfect for Easter crafts or coloring pages.
GO TO THE FREE PRINTABLE BUNNY TEMPLATES.

Free Printable Easter Basket Templates
These printable Easter basket templates are a fun activity for the classroom or a quiet time activity.
Kids can color in or draw on their own design.
There is a bunny shaped basket with a face or a blank one so kids can draw their own bunny face.
There's also a simple square printable Easter basket with coloring images on each side or a blank one so kids can draw their own Easter pictures.
These are great Easter coloring pages and Easter art activities.
GO TO THE PRINTABLE EASTER BASKETS.

Printable Egg Templates
These printable egg templates come in all sizes. There are blank eggs, decorated Easter eggs, a chick in an egg, a cracked egg and even a dinosaur egg!
What's shown in the picture below is only a few of the egg templates available.
These make cute Easter coloring pages too!
There are 19 different options.
GO TO THE FREE PRINTABLE EGG TEMPLATES.

Printable Easter I Spy
These printable Easter I spy games are a fun classroom activity or for your kids to enjoy at home.
There are two Easter I spy puzzles that are coloring pages and one in full color.
On two of them, the kids have to count the amount of each item they find and on one the numbers are given.
These would also be cute to give as an Easter party favor for an Easter egg hunt or to use for a Sunday School class.
GO TO THE EASTER I SPY PUZZLES.

Free Printable Easter Tags
If you're giving Easter gifts at school, work, or to friends and family, these printable Easter tags are super cute to attach to a gift bag or goodie bag.
There are 20 different designs. I'm sure you'll find at least one that you love.
I've even made some from the Easter Bunny to attach to your child's Easter basket as a special surprise from the Easter Bunny.
GO TO THE FREE PRINTABLE EASTER TAGS.

You've Been Egged Printable
This is a fun way to surprise neighbors or friends with an Easter gift.
The post will tell you all about it, but the basic idea is that you leave eggs hidden in their yard or an Easter basket by their door anonymously with this door hanger on their door.
They do the same for one of their friends or neighbors and it keeps going.
The poem is my own original. I hope you like it.
There are two different You've Been Egged printables. One is for hidden Easter eggs and the other is for a general Easter gift.
GO TO THE YOU'VE BEEN EGGED PRINTABLES.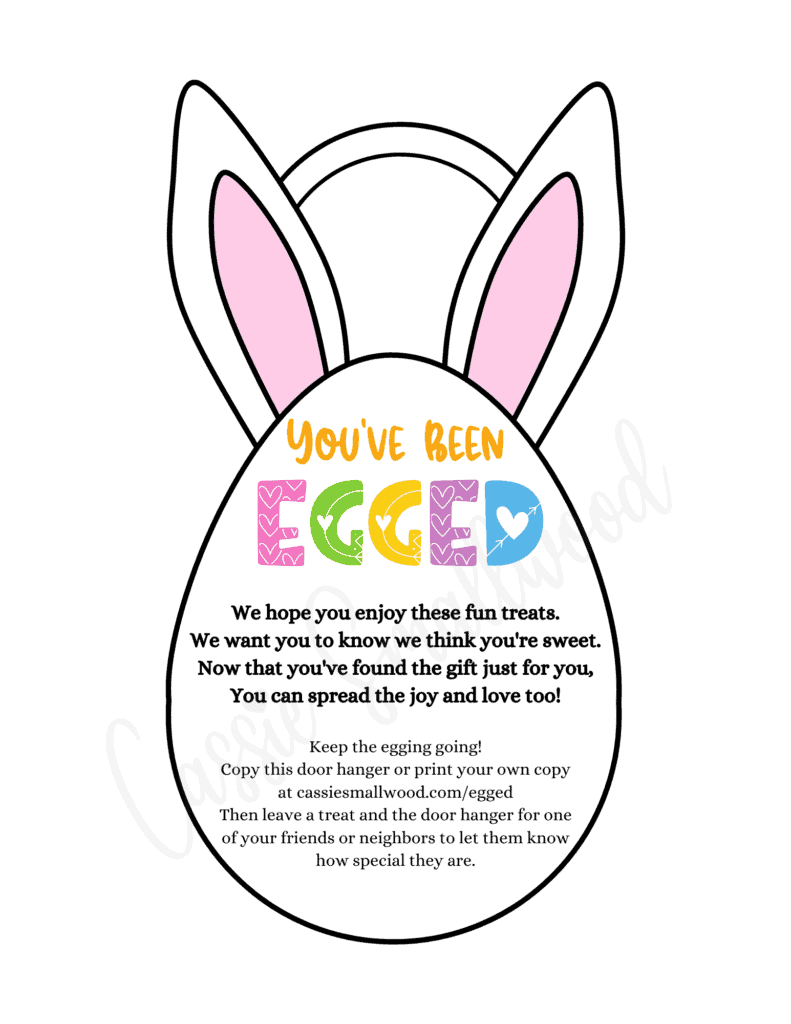 Free Printable Easter Word Searches
These printable Easter word searches are a great quiet time activity for the classroom or at home.
Some of these have longer words and some have short words making them great for all different grade levels.
I've made some in black and white to use as a coloring page in addition to the word search when you want to keep kids busy for a little longer or for those kids that love to color.
There are 7 different Easter word search puzzles.
GO TO THE PRINTABLE EASTER WORD SEARCHES.

Easter Bunny Footprint Stencil
Surprise your kids with Easter Bunny footprints going from the door to their Easter basket or put the Easter Bunny footprints all around outside when they go out for the Easter egg hunt.
I designed this with just the pads of the feet that would show as prints.
You can use baby powder, cornstarch, flour or glitter to make the Easter Bunny footprints with the stencil.
All you have to do is cut out the pink circles, then lay the sheet of paper with the holes on the ground and sprinkle on your powder or glitter.
GO TO THE PRINTABLE EASTER BUNNY FOOTPRINT STENCIL.

Free Printable Easter Coloring Pages
You'll find 76 different free printable Easter coloring pages to print out and color in.
There are plenty to choose from with varying difficulty from easy Easter coloring pages for preschool and kindergarten all the way up to very detailed difficult Easter coloring sheets for adults and older kids.
GO TO THE FREE PRINTABLE EASTER COLORING PAGES.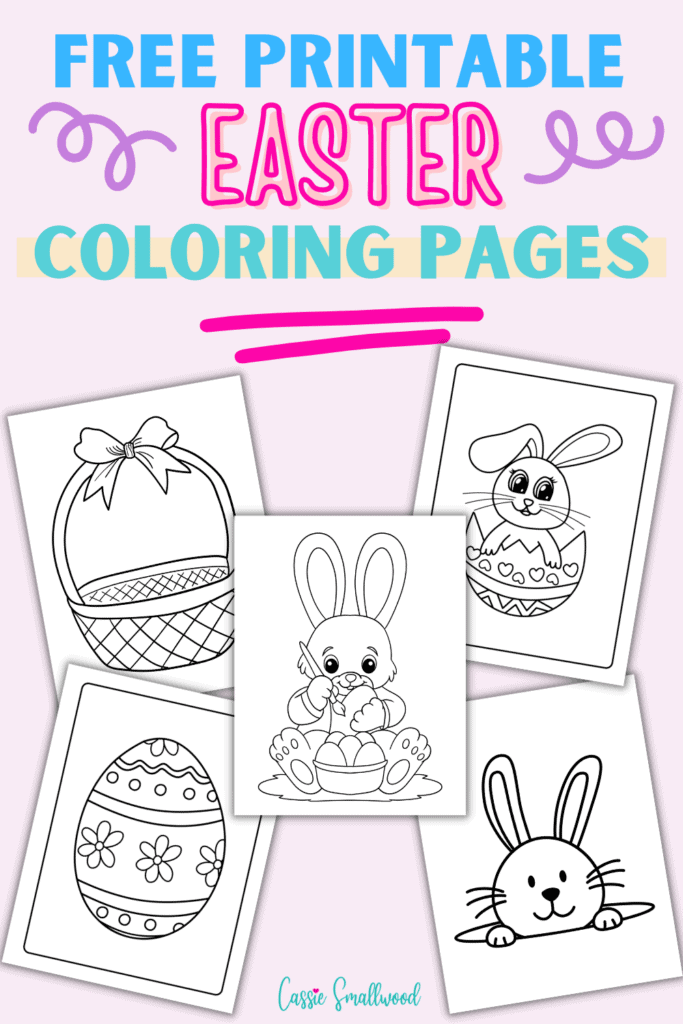 Free Printable Peeps Bunny Template
This Peeps bunny template is part of a post I made to make a Peeps bunny banner for my fireplace, but you can use it for so many arts and crafts.
Just print it, cut it out and use it to trace onto colored paper, fabric, felt, craft foam and more.
GO TO THE FREE PRINTABLE PEEPS BUNNY TEMPLATE.