I absolutely love Christmas and it's so fun to make your own unique Christmas decorations that you can use over and over each year to remember the holidays past.
That's why I created these cute printable Christmas ornaments for you to print out for free.
There are some ornaments on this list that are in full color so all you need to do is print them out and cut around the edge before putting them on your Christmas tree.
Other printable Christmas ornaments on this list are for coloring in and making your own DIY fun paper ornament designs.
If you want to make your printable Christmas ornaments last for years, I recommend laminating them.
The great thing is you don't need a laminating machine. You can get these self laminating sheets that work exactly the same

without the expense of a laminating machine.
This post contains affiliate links. See my disclosure here

.
I also made this fun photo Christmas ornament tutorial

that make a great personalized gift.
To print out one of the printable Christmas ornaments, click the link for the ornament page you want to print and then click the print icon in the top right corner.
MY PRINTABLE CHRISTMAS ACTIVITY BOOK MAKES A PERFECT STOCKING STUFFER OR GIFT FOR KIDS.

Large Printable Christmas Ornaments To Color
You can use these big full page printable Christmas ornament coloring pages to decorate your home or classroom with free printable Christmas decorations.
The large size of these ornaments makes them perfect for bulletin boards at school or a large wall display at home.
Kids will have fun coloring in the cute ornament designs and these ornaments are big which makes them easy to color for younger kids like preschool and kindergarten.
These are round printable ornaments with cute Christmas designs on them.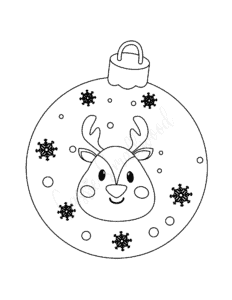 These printable Christmas ornaments to color are perfectly sized for your Christmas tree. If you'd like to make mini printable ornaments from this page, there are instructions near the end of the post to print a mini version.
There's an elf for everyone in your family when you print these adorable Christmas tree ornaments. You'll have fun deciding who gets which elf name.
These are full color printable Christmas ornaments that are ready to print, cut and hang on the tree.
Blank Printable Ornament Templates
These simple blank ornament templates are great for crafts and activities to allow kids to create their own ornament designs.
These blank printable Christmas ornaments allow kids to express their creativity by coloring in and using their imagination to make their own unique ornament.
Besides coloring, these free printable ornament templates are great to use with paint and glitter too.
Use them as a printable Christmas ornament pattern to cut out ornaments from colored paper or fabric for even more creativity.
These printable blank ornaments are sized perfectly for the Christmas tree. They print 4 per page.
This is a full page printable blank ornament template to use on larger craft projects like bulletin boards. It's also great to use as an ornament stencil or pattern.
How To Make Any Of These Printable Christmas Ornaments Mini Sized
If you need mini printable Christmas ornaments, you can print these in a small size by choosing a smaller paper size in your print menu.
To do this, go to "More Settings" when your print menu pops up, then select a smaller paper size like 5″x7″ and then choose "Fit To Printable Area".
This will make the full sheet of printable Christmas ornaments print into a 5″x7″ space rather than the full page and create mini printable Christmas ornaments for your mini Christmas tree.
To surprise your little one on Christmas morning, grab these free printable Santa footprint stencils to make Santa tracks on your floor.