I always loved exchanging Valentine cards at school, but sometimes it was hard to find just the right ones at the store.
Back then there weren't any printable Valentine cards (or the internet!)
I remember making the cute Valentine mailboxes in class during the week before and then on Valentine's Day we would exchange cards with our classmates by putting them in the little mailbox.
I must be a romantic at heart because Valentine's Day has always seemed magical to me.  But I guess I'm like that with all of the holidays.
I just love the traditions around each holiday, decorating and celebrating.
If you're having a party you don't want to miss these free printable Valentine banners

and heart cupcake wrappers.

Anyway, I made these free printable Valentine cards for kids so you can find just the right ones for your little ones to exchange with their friends in the classroom.
There are 7 different printable Valentine card designs to choose from that are fun for boys and girls.  I think you'll find something for everyone.
I enjoy a good pun, so these Valentine cards have funny puns that your kids will love.
If you're making Valentine crafts and need some heart templates, I made TONS of different shapes and sizes here.
And my free lips templates are perfect for adding a kiss mark

to any Valentine card or craft project.
Printing Tips For These Printable Valentine Cards For Kids
To print one of the pages of Valentine cards, just click the link for the one you like and a PDF file will open.  Use the icons in the top right corner to print or download to your device.
Printing these Valentine cards on cardstock is what I recommend to get a nice sturdy Valentine.
If you want a Valentine card alternative, I also made these free printable Valentine bookmarks

that can fill in for a Valentine card for kids.
And if you're making treat bags, I have some really cute printable Happy Valentine's Day tags that will be the perfect touch to your sweet treat.
These Valentine word searches

and Valentine's Day word scrambles make a great extra gift or a fun activity for Valentine parties or classroom activity.
These mermaid Valentines are perfect for mermaid lovers to give their friends.
They have fun mermaid puns and are mostly pink and purple designs.
Aren't they adorable?!
I also have mermaid coloring pages here.

If you're planning a mermaid birthday party, these free printable mermaid thank you tags are great for favor bags.
These mermaid templates make awesome decorations for a party or for mermaid crafts.

These koala Valentine's Day cards are great for girls or boys to give.
I used a fun heart font for the pun words to make them extra cute and festive.
The koala bears are so adorable.
If your little one is into race cars or matchbox cars, they're going to love these car Valentine's Day cards.
And of course they have Valentine car puns.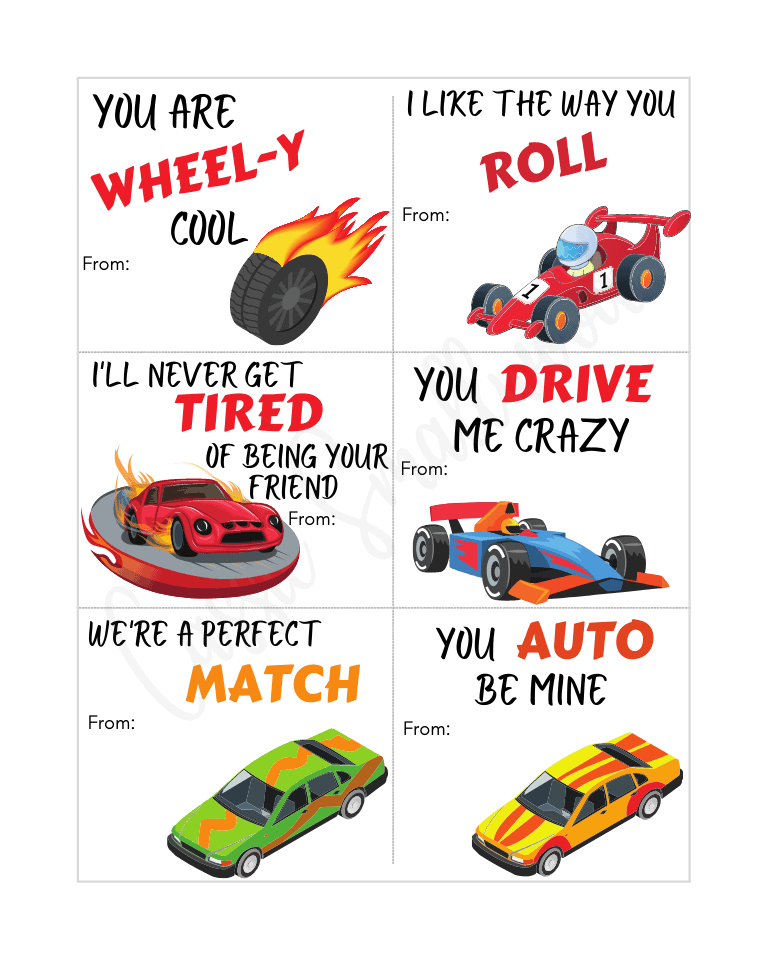 Everyone loves puppies!  Any kid would love to give these adorable dog Valentines to their friends.
These pugs and bulldog Valentine's Day cards will make your heart melt.
It's so fun to see unicorns have made a comeback.
I was into unicorns when I was little so these unicorn Valentines Day cards were really fun for me to make.
I hope your kids love them too.
Be sure to check out my free unicorn cupcake coloring pages too.

Kittens are another animal that most people can't get enough of and these cute cat Valentine cards will not disappoint.
If your kids are into kitties, print out this one.
With Jurassic World being so popular, I know lots of kids are into dinosaurs.
That's why I wanted to make some free printable dinosaur Valentines cards for the dino lovers.
These are cute and colorful cartoon dino Valentines with dinosaur puns.
I also have some fun T Rex Coloring Pages.

SOME OTHER VALENTINE PRINTABLES YOU MIGHT LIKE