I'm so happy to share these free printable heart templates that I created.
I love all things heart shaped and I love making crafts with hearts so I wanted to make a bunch of templates that could be used for different craft projects and decorating ideas for all things love inspired like Valentine's Day, Sweetest Day, anniversaries, and weddings.
As you get closer to the end of the post you'll see printable colored hearts in pink, red and rainbow.
For the blank heart templates, you can use them as a coloring page and make your own colored hearts or print them on white or colored cardstock to make your own unique heart cutouts.
I tried to cover all the different size heart templates so there's heart template for everything you need one for.
And I hope you love all the different shapes. I wanted a variety of different ones because we all have different preferences.
If you're looking for other printables for Valentine's Day, be sure to check these out.
How To Print The Free Printable Hearts Templates
To print out your heart templates, just click the link or image of the heart template you want to print.
Once the PDF file opens, click the print icon in the top right corner.
If for some reason you need even smaller hearts, you can make a mini heart template by choosing a smaller paper size in the print menu and then choosing "Fit To Printable Area".
DON'T MISS MY VALENTINE CRAFT PROJECTS!
Small Heart Templates
You can use these small heart templates for so many crafts. They're great for weddings and Valentine's Day projects. I like how these small heart outlines have a rounded bottom and are bit more wide.
These are 2 inch printable hearts for Valentine's Day or any day.
This small heart template page has hearts that are little skinnier and very pointy bottoms. These heart stencils are great if you like a more traditional looking heart shape.
The printable hearts look as if they've been drawn in pencil and are 2 inches.

Medium Heart Templates
This medium heart template is 3 inches wide with a very pointy bottom.
The lines on these printable Valentine hearts are thin so it may be challenging to cut out for younger kids.
This 3 inch heart template prints 6 per page with plenty of room for cutting around the thick heart outlines which makes it easy for kids to cut out these heart stencils.
These make the perfect printable hearts for Valentine craft projects or art class.
These printable hearts are bubbly looking with a full heart shape.
This heart template has 3 hearts that are 4 inches wide each with thinner lines that are great for adults but may be more challenging for children to cut out.
These printable hearts are 4 inches wide for a printable heart template page with 3 hearts. I like how these heart stencils look like they're hand drawn.
These are cute to use if you need a skinny Valentine heart template.
Large Heart Templates
These large printable hearts have thick lines for kids to cut out easily and the bottoms are rounded for a unique look.
Use them as a heart stencil for craft projects or to print out and color in as a heart coloring page.
There are two 5 inch hearts on each page with plenty of room to get the scissors around in between the printable hearts.
If your Valentine project requires wide large hearts, these 5 inch heart templates are perfect.
The lines are thinner to save on ink.
These printable hearts are great for bulletin boards and Valentine craft projects.
I used this 6 inch heart template as a stencil to cut out hearts from red and pink cardstock and hung them from the ceiling on a string to surprise my guy for Valentine's Day. They turned out so cute!
This would also make a fun heart coloring page or writing activity sheet for kids.
This large printable heart is 7 inches and has a very thick line.
This heart template would be great to use for young children like preschoolers who are trying to learn to use scissors.
Printable Valentine Hearts
These small double heart stencils will print 6 per page and are perfect for Valentine crafts and decorating.
You'll get 2 per page of these medium double heart templates.
These printable double hearts would make a fun coloring page for kids.
You can also use each heart as a stencil and have kids put them together like puzzle pieces.
These double heart printables have thick lines to make them easy to cut out or color in.
A full page double heart template for large craft projects or decorating for Valentine's Day or anytime.
This large double heart stencil is great for decorating walls, doors, or bulletin boards.
Printable Colored Hearts
Printable Red Hearts
These printable little red hearts are 2 inches wide and perfect to print and cut out for crafts and decorating.
You'll get 3 medium sized red heart printables per page. Each heart measures 4 inches wide.
One big full page red heart template that measures 7 inches wide.
These printable red hearts are perfect to hang as Valentine's Day decorations at home, the office, or the classroom.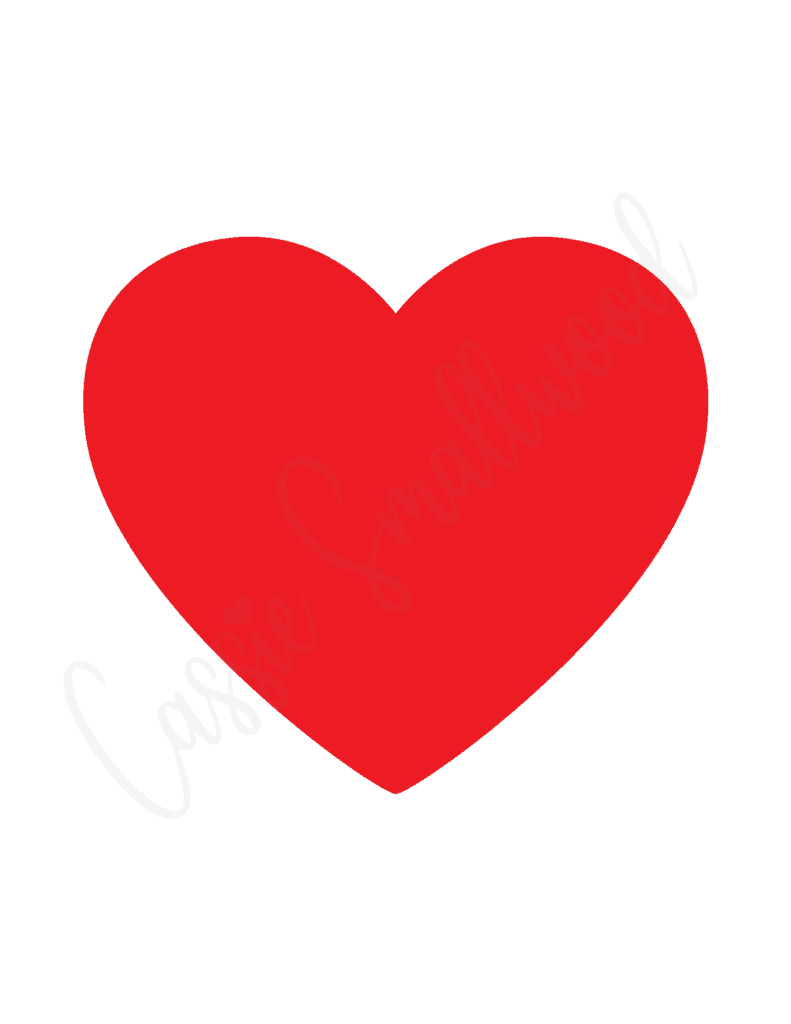 Pink Heart Templates
These cute little printable pink hearts are 2 inches wide and print 12 hearts per page.
This is my favorite heart shape. I like the bubbly pointy look that these pink heart printables have.
These printable pink hearts are 4 inches wide and print 3 hearts per page.
These would make the perfect size Valentine ornaments for a Valentine's Day tree.
Use this big printable pink heart for crafts and decorations. It's a 7 inch heart template that prints one per full page.
This large printable pink heart is perfect to pair with the large red printable heart above and create some fun Valentine's Day decorations.
Rainbow Heart Templates
These adorable little printable rainbow hearts will add a colorful pop to crafts and decorations. Each heart is 2 inches wide and print 12 per page.
These rainbow hearts are great to use for pride month activities.
These fun free printable rainbow hearts are 5 inches wide and print 2 per page.
Use these rainbow heart printables to decorate for Valentine's Day, spring and summer, or pride month.
This big printable rainbow heart is 7 inches wide and prints on a full page.
This large rainbow heart template is great for decorating walls or a bulletin board.
Love Heart Templates
These love heart templates can be printed on white or colored paper or cardstock to create your own unique color of love heart decorations. You can also use them as a coloring page and color them in with your choice of color.
These small love hearts are approximately 2 inches wide each and print 15 per page.
These printable love hearts would be cute to use as Valentine bingo markers.
These love hearts to print out are approximately 4 inches wide with a pretty script font for the word "Love".
These printable hearts are great for Valentine craft projects and decorating.
This printable large love heart is 7 inches wide and works great for so many projects.
You can also use it as a love heart coloring page for kids.