I spy games help kids gain the ability to tell the differences between different shapes which helps them with reading when they can determine the differences between letters that look similar. Plus I spy games are just fun 🙂
I designed three different Easter I spy free printables for you to use as an Easter activity at an Easter egg hunt, Easter party, in the classroom, or for a fun quiet time activity to keep kids busy.
There are two black and white Easter I spy coloring pages and one full color Easter I spy worksheet.
DON'T MISS OUT ON THIS DEAL! MY EASTER COLORING AND ACTIVITY BOOKS ARE ONLY $1 IN MY SHOP.
BE SURE TO CHECK OUT MY OTHER EASTER POSTS TOO!
How To Print the Easter I Spy Free Printables
Click the link for the Easter I spy game that you want to print out.
A PDF file will open. Please note that I share my free printables on Google Drive. If you are on a school or office network, they may block file sharing. If you have any problems, try a different network at home or somewhere else.
Once the Easter I spy PDF has opened, you can use the icons in the top right corner to download or print. The down arrow is to download and the printer icon is to print.
Easter I Spy Coloring Pages
These Easter I spy coloring pages are great if you need an Easter activity that will keep kids occupied a little longer since they'll be coloring in all of the I spy pictures.
They're great to use as a worksheet in the classroom when kids get done with their regular work early.
These Easter I spy coloring pages also make a cute Easter basket stuffer. Pair them with a pack of crayons for a cute idea from the Easter Bunny.
I Spy Easter Activity Coloring Page
For this Easter I spy coloring page, the number of each item is given.
The kids need to find the items and color them.
I recommend having them color each one the same. For example, use the same colors on all of the carrots as well as the matching one in the key below the game.
This I spy Easter activity worksheet will keep kids busy for quite a while with the many items they have to color.
DOWNLOAD THE I SPY EASTER ACTIVITY COLORING PAGE.

Easter I Spy Worksheet
Kids will have fun working this printable Easter puzzle.
This Easter I spy worksheet has plenty of fun pictures to color in.
Kids also need to count the number of each item and write it in at the bottom.
This will help them with counting skills as well as identifying differences in images.
PRINT OUT THE EASTER I SPY WORKSHEET.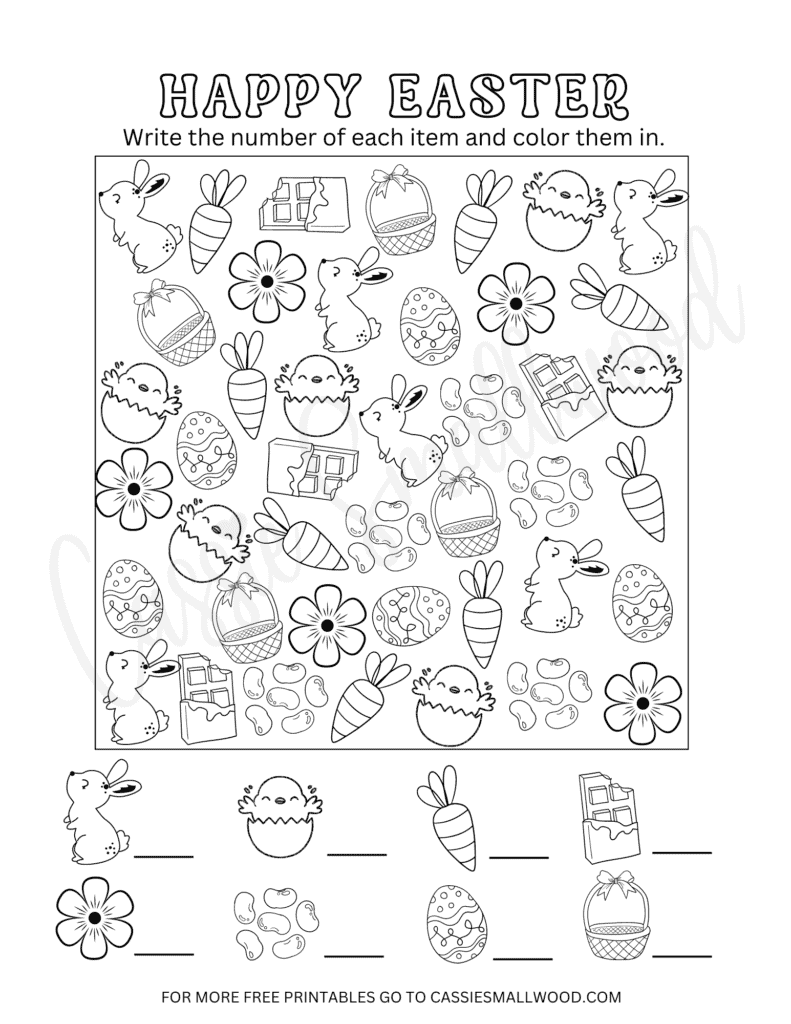 Easter I Spy Game
This Easter I spy game is in full color.
Kids can circle or mark an "X" over each item as they find it.
They'll write in the number of each item that they counted at the bottom next to the image.
There are lots of fun Easter images on this one. Kids will enjoy the Easter Bunny gnome, Peeps bunny, Easter eggs, Easter basket, rainbow, bows, flowers, carrots, and chicks in bright and cheerful Easter pastels.
GET THE FREE PRINTABLE EASTER I SPY GAME PDF.