Whether you want to make your own DIY paper eyeglasses or decorate your bulletin board with cute sunglasses, I've got you covered with these free printable glasses templates.
I have a few different types of glasses templates below.
There are templates to make DIY sunglasses and eyeglasses which have the arms to attach to the sides so they can actually be worn.
I also made some glasses templates in large and small sizes and some that already show the arms in case you need those too.
You'll find all different shapes of glasses templates to suit your needs including different types of sunglasses templates and eyeglass templates.
The sunglass templates make a fun summer craft for kids for summer programs, summer camp or to beat the summer boredom at home when it sets in.
These glasses templates can be used for personal or classroom use, but may not be distributed in any other way or sold in part or in full.
IF YOU WANT TO KEEP YOUR KIDS BUSY THIS SUMMER, MY SUMMER ACTIVITY BOOK IS ONLY $1 AND HAS PUZZLES AND GAMES THAT WILL LAST FOR HOURS!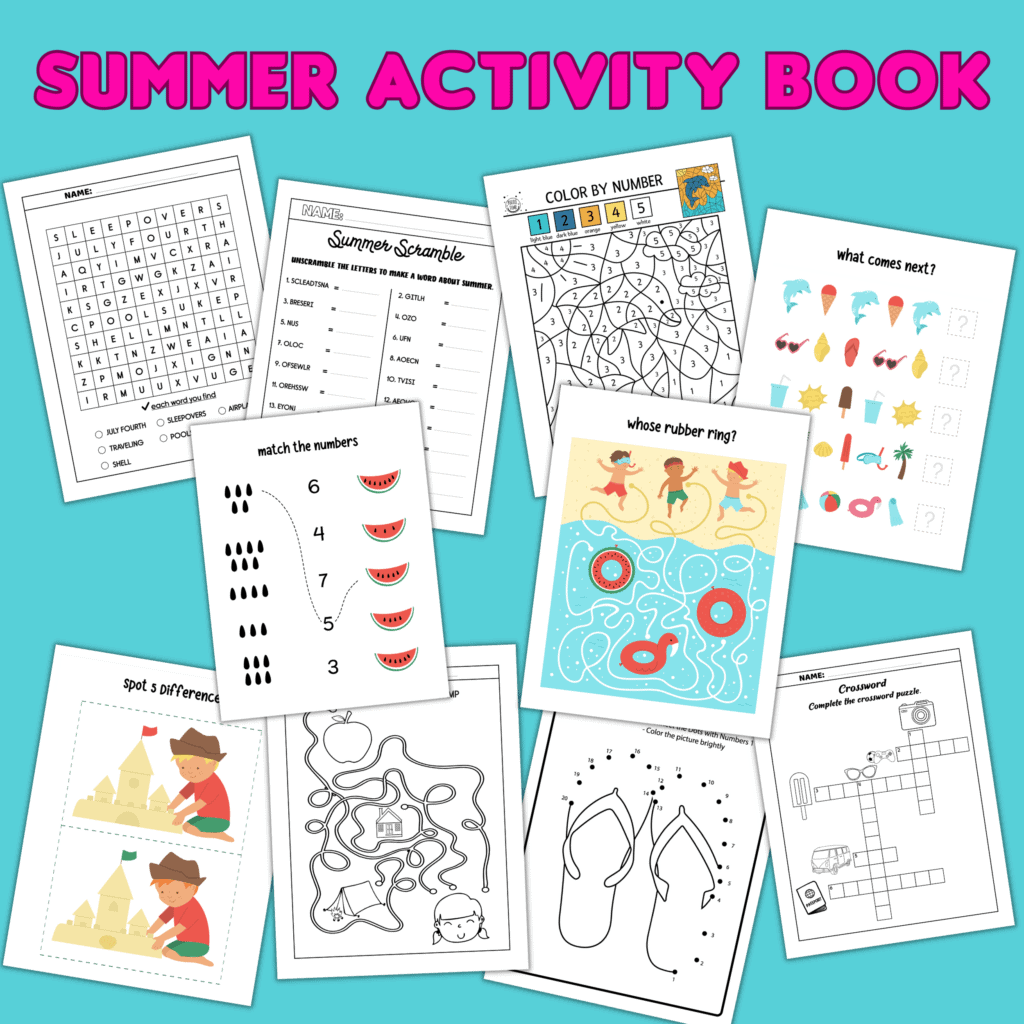 How To Print The Glasses Templates
Click the link for the glasses template you'd like to print or download.
A PDF file will open. I share my files through Google Drive. If you have trouble accessing the template and you're on a school or work network, your school or office may be blocking the file sharing. If this happens, try on a different network.
Once the glasses template PDF file has opened, use the icons in the top right corner to print or download to your device.
Glasses Template
This pointy glasses template with stars makes an adorable pair of paper glasses for kids.
Glue or tape the arms to the glasses to make a wearable pair of glasses.
Let kids use markers, colored pencils or crayons to color in the glasses and then cut out the eye holes to wear them.
PRINT OUT THE GLASSES TEMPLATE

Sunglasses Template
This sunglasses template is like the classic police glasses.
DOWNLOAD THE SUNGLASSES TEMPLATE

BE SURE TO CHECK OUT MY OTHER SUMMER PRINTABLES
Flower Paper Glasses Template
Kids will have so much fun with this flower glasses template.
Let them use it as a sunglasses coloring page.
This is a fun one to add embellishments like rhinestones to also!
They'll love making their own pair of crazy or silly glasses.
PRINT OUT THE FLOWER PAPER GLASSES TEMPLATE

Sunglasses Template Printable
This printable glasses template makes a great pair of classic sunglasses or eyeglasses.
Make them colorful or a classic black.
You can color in the glasses or use this as a stencil to cut out your own glasses from colored paper, cardboard, or craft foam.
PRINT OUT THE SUNGLASSES TEMPLATE

Sunglass Template
This square framed sunglass template can also be used to make eyeglasses.
Add some stickers around the frame to make these extra fun.
PRINT OUT THE SUNGLASS TEMPLATE

Heart Glasses Template
This heart glasses template is one that kids will have a lot of fun making their own silly pair of paper glasses with.
Use it as a coloring page or a stencil to cut out your own heart shaped glasses from other materials.
Add some rhinestones, pearls, stickers and other embellishments for a super fun summer craft project.
DOWNLOAD THE HEART GLASSES TEMPLATE PDF

Star Glasses Template
Who doesn't love a pair of fancy star sunglasses?
This star sunglasses template allows kids to get creative and silly designing their own pair of Hollywood star glasses.
DOWNLOAD THE START GLASSES TEMPLATE

Round Glasses Template
Harry Potter anyone?
This round glasses template is perfect for Harry Potter themed crafts and decorations.
DOWNLOAD THE ROUND GLASSES TEMPLATE

Small Glasses Template Printable
These small glasses templates can be used to make glasses for dolls or as a pattern for smaller crafts.
Or use it as a coloring page and let kids designs 6 pairs of fancy glasses.
PRINT OUT THE SMALL GLASSES TEMPLATE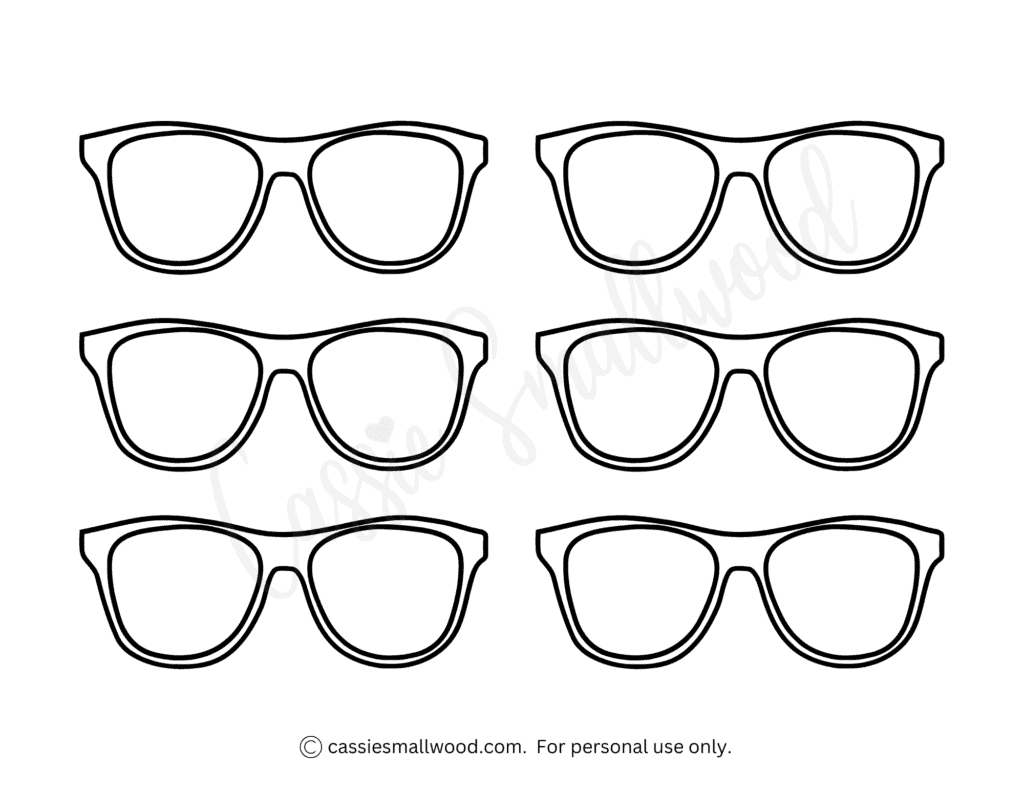 Small Eyeglasses Template
This is a basic eyeglass template to use for your smaller craft project needs.
Since this one is all black, it's best used as a stencil or pattern for other materials.
PRINT OUT THE SMALL EYEGLASSES TEMPLATE

Large Summer Glasses Template
If you want a sunglasses template with the arms attached, this one is for you.
This is a large full page pair of oversized glasses.
PRINT OUT THE LARGE SUMMER GLASSES TEMPLATE

Small Beach Glasses Template
These small sunglasses templates are great to use for small summer craft projects.
This is a classic style of sunglasses with the arms attached.
DOWNLOAD THE SMALL BEACH GLASSES TEMPLATE