These cute gingerbread man templates are going to help you create the cutest holiday crafts! I'm so excited to see what you make with them.
There are not only gingerbread men templates here, but also gingerbread woman and gingerbread girl templates so you can make something unique.
Some of these printable gingerbread cut outs are black and white outlines so they can be used as a coloring page, pattern or stencil and some are full color so you can print them and use them right in your crafts.
All you have to do is click the link of the gingerbread person template that you want to print and a pdf will open that you can either download or print out.
Be sure to check out my other Christmas templates and coloring pages!
GIVE YOUR KIDS SOMETHING FUN TO DO OVER CHRISTMAS BREAK WITH MY PRINTABLE CHRISTMAS ACTIVITY BOOK!

This gingerbread man template with a blank face allows you to create your own cute gingerbread man.
Customize your own small gingerbread men using these gingerbread man printable patterns with a blank face.
This large blank gingerbread man template is your canvas to decorate your own gingerbread man any way you want. Makes a great craft template or coloring and drawing page for kids.
Make custom little gingerbread men by using this printable small ginger bread man outline. Make each one a little different for a cute coloring page.
This full color gingerbread cookie stencil is a gingerbread woman that is decorated with pretty icing and candy details.
This colorful small gingerbread girl craft template can be used right in your projects. Print and cut out these gingerbread girls to use as a stencil or as a part of your craft.
This full page gingerbread woman with clothes template is great to use as a coloring page or stencil pattern.
Print and cut out these small gingerbread girls with clothes and a hair bow. They're so cute to use for coloring in or as a stencil.
This full page gingerbread girl black and white outline can be used as a coloring page or craft template. She has a cute dress and hairbows on her pigtails.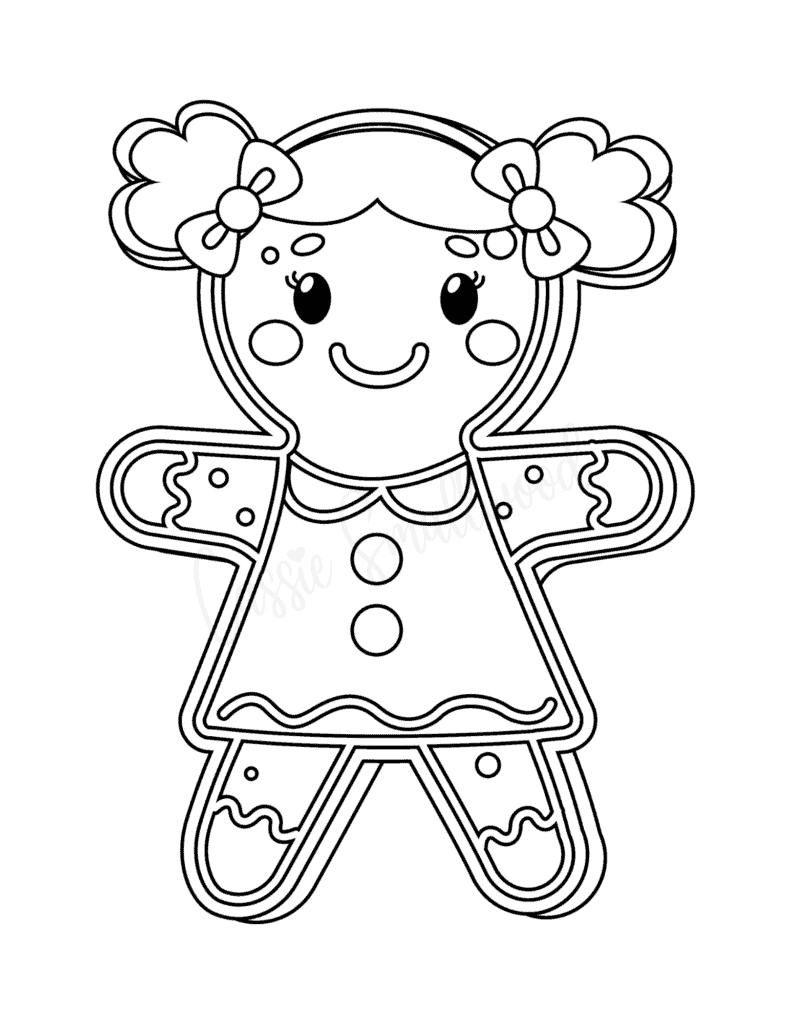 These cute little gingerbread girl patterns are going to look so cute on your Christmas craft display!
Use this large gingerbread man with clothes template as a cute coloring page or craft stencil.
You can make each of these gingerbread men templates unique by coloring in their clothing different colors.
This is a simple basic gingerbread man template in a brown cookie color.
A small simple gingerbread cookie template for crafts, bulletin boards, and so much more.
This cute Christmas gingerbread man template is dressed in a Santa suit and has the most adorable face in a sort of kawaii style.
Use these cute little Santa gingerbread men templates to make fun crafts for the holidays.
This full size gingerbread man can be used as a coloring page or stencil to trace and make your own gingerbread man crafts. He has a cute jumper and bow tie.
A smaller version of the gingerbread man in clothing pattern. Make each one unique to add some fun to your craft projects.
This is a super easy and simple gingerbread man template that can be used by younger kids like preschoolers or if you just need a very basic gingerbread man stencil for the shape.
Make simple little gingerbread cookie cut outs with this easy small gingerbread man template.
Use this large full page colored gingerbread man template as part of a cookie plate craft or a fun addition to your gingerbread display.
Adorable little gingerbread men cut outs to use in Christmas and holiday crafts.