We're getting ready for Easter around here! Spring has sprung for sure. I figured I'd better get some Easter decorations up before it passes me by.
Today's project is a Peeps decoration banner that I bought the supplies for last year around Easter and then never got around to making. That seems to happen a lot since I have crafting A.D.D. 😜
Below you'll find the full tutorial to make this no sew peeps banner for Easter decorating as well as a Peeps template you can use for this project and other Easter crafts.
Those little Peeps bunnies are so cute! So I figured why not make a cute, colorful bunny banner for our fireplace.
I don't like to sew so I improvised with hot glue!
This super easy Peeps craft tutorial is going to make decorating for Easter simple. You can use the free printable Peeps template to create your own Peeps crafts and decorations or make the banner in this tutorial.
This banner makes the perfect Peeps party decoration or fireplace decoration for Easter.
BE SURE TO CHECK OUT MY FREE EASTER PRINTABLES TOO!

IF YOU NEED A CUTE LAST MINUTE KID GIFT, MY EASTER ACTIVITY BOOKS ARE ONLY $1 RIGHT NOW IN MY SHOP!

This post contains affiliate links. Please see my disclosure

for more info.
DIY Peeps Decoration Supplies List
Peeps Decoration Tutorial
I printed mine on cardstock so it was a little easier to trace around.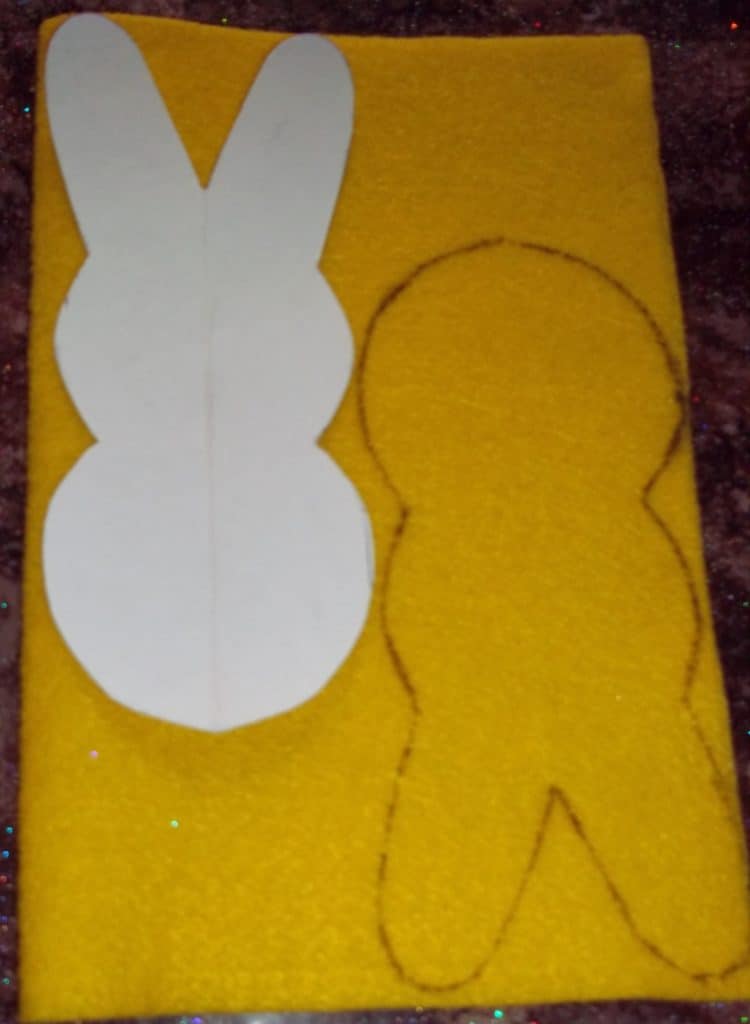 Fold your piece of felt in half and trace 2 Peeps bunnies on each one using the Peeps template.
When you cut it out you will cut through 2 layers at once and have a front and back for your bunny.
After you have all of your Peeps bunnies cut out, use something round to make the eyes and nose.
I used the end of a paint brush. You could also use the round tip of a bobby pin, a pencil eraser or a dotting tool.
It's best to unstack the layers when painting the faces on so that your paint doesn't bleed through to your second layer.
Hot glue around the edge of your felt Peeps.
Once your paint has dried, separate your two layers of felt and hot glue just around the edge of the inside of the bottom layer leaving a small (1 inch) opening at the bottom for the stuffing. Then place the layer with the face on top and press around the edges.
Stuff the Peeps bunnies.
Take a small amount of Poly-fil and stuff it inside the opening. Then hot glue the opening and press the edges together. The stuffing makes them look a bit more like the real marshmallow Peeps Bunnies 😊.
Measure your length of ribbon for your Peeps banner.
Next measure out your ribbon to the length you need for your space with a little extra to allow it to swag a little.
Lay the ribbon out on your work surface and space your bunnies how you like them. You can always measure it out so they're all equally spaced, but I just eyeballed it because I have no interest in doing math when I'm crafting 😂.
Hot glue the very tips of the Peeps bunny ears to the ribbon.
Now hang that cute little Peeps decoration so everyone can admire it! It makes Easter decorating so easy. If you use the free printable Peeps template to make your own Peeps crafts or decorations, I would love to hear how it went and what you made! Tag me on Instagram @hunnyboocreations
Other Fun Easter Ideas