Your child just lost a tooth and you have the pressure of trying to make the Tooth Fairy visit as magical as possible. Use these cute Tooth Fairy receipts to create a personalized experience for your little one.
Whether they've lost their first tooth, 2nd tooth, or swallowed their tooth, I've got you covered with the perfect printable Tooth Fairy receipt especially for them.
There are Tooth Fairy receipt templates for boys and girls both.
These are fillable PDFs that you can personalize right on your computer so your child won't recognize your handwriting.
Print out your mini Tooth Fairy receipt in the size I've designed ( 3.75″x 2.5″) or choose a smaller paper size in your print menu and make a really tiny one.
If you'd like a customizable tiny tooth shaped Tooth Fairy letter to leave a special message for your child from the Tooth Fairy, I have one that I think you'll love.
This post contains affiliate links. See my disclosure here

.
How To Edit And Print The Tooth Fairy Receipts
Click the link or image of the Tooth Fairy receipt template you'd like to download.
Once the PDF opens, use the light blue text boxes to fill in your customized information. Click on the box next to the tooth condition to add a check mark. You can also remove check marks by clicking on them.
After you'll filled in and personalized your Tooth Fairy receipt, click the print icon in the top right corner.
If you want to print the receipt in the normal size, go ahead and click "Print". If you want to make it even more mini sized, click "More Settings" and choose a smaller paper size than 8.5″x11″.
When it has printed out, cut around the edge and let the Tooth Fairy deliver it.
BE SURE TO ALSO CHECK OUT MY TOOTH FAIRY GIFT GUIDE.

This cute Tooth Fairy receipt is for the kids who have just lost their first tooth. It's perfect for boys or girls and has a sparkly tooth design with an official barcode and Tooth Fairy stamp.
You can also get my free printable first tooth Tooth Fairy letter here.

Oh no! Your child swallowed their tooth and now wonder if the Tooth Fairy is even going to show up. This swallowed tooth Tooth Fairy receipt will be just the surprise they need to wake up to.
This Tooth Fairy receipt goes perfectly with my editable swallowed tooth letter.

It's harder to find cute Tooth Fairy printables for boys. It seems like since it's a fairy everything tends to be girlish looking. I created this Tooth Fairy receipt for boys to be able to enjoy the Tooth Fairy traditions too.
Be sure to get the matching free printable Tooth Fairy letter too.

If your little girl is into pink an frilly, this Tooth Fairy receipt template is going to be the perfect way to make her day. If you want to make it really awesome, use some spray adhesive

and extra fine glitter

to make the receipt sparkly. The spray adhesive doesn't cause the paper to become stiff.
Speaking of money, if you don't happen to have any cash on hand when your little one loses their tooth, this editable Tooth Fairy envelope and play money that made will smooth things over and take the stress out of what to do.

These fairy dust necklaces are a really fun gift for the Tooth Fairy to leave in addition to or instead of money.

It's a tiny bottle filled with glitter with a fairy charm. You get to choose the color of fairy dust too! I always love supporting other handmade sellers and these are a handmade item on Amazon.
You can get the matching Tooth Fairy letter for girls here.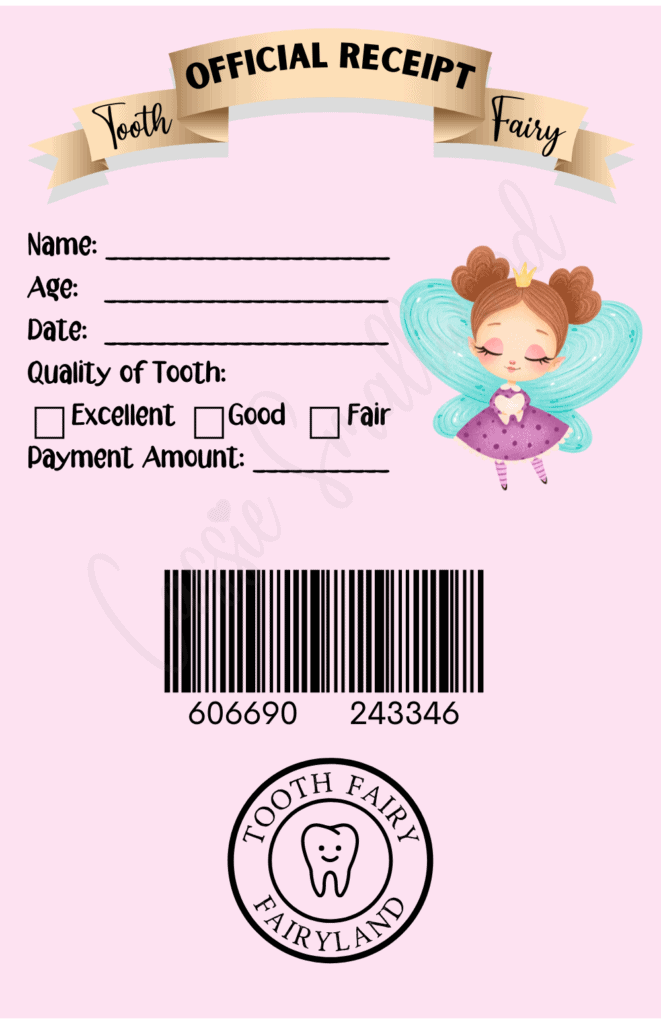 This one will work great for girls or boys with a more neutral design. Your kids will love waking up to this cute Tooth Fairy receipt in the morning.
I made a matching Tooth Fairy letter for you too.

I hope you find the perfect Tooth Fairy receipt for your little one on this list. I made them all with love and hope they make your child's day magical.
My Other Tooth Fairy Free Printables