You can make these Easy DIY Curtain Tie Backs in no time!
We just bought new curtains for our bedroom and they didn't come with curtain tie backs.  We've been using all sorts of things to keep them back which looks less than appealing 😄.  So I set out to create something that would look really cute, add a pop of color, and be simple to make.  I have to tell you I'm obsessed with what I created.  These easy DIY curtain tie backs look so awesome on our windows!  Our bedroom is black and white chevron print with little pops of red (In case you haven't noticed I'm a fan of bold colors and prints 😊).  I chose red for the curtain tie backs since we didn't really have a lot of red in the room yet.  It turned out just perfect!
Here's what you need to make your easy DIY curtain tie backs:
Felt
2 1/4-Inch x 9-Feet Ribbon
Hot glue gun and glue sticks
Scissors
Start out by cutting your felt into approximately 4×4 squares.  For each of the easy DIY curtain tie backs you'll need about 22 squares.
Cut one of the squares in half.  You will use this to make a couple of smaller petals for the very inside part of the flower.
Cut the corners off of one of the squares to make a circle.  This will be the base for your petals.
To create your petals, you will fold a square of felt in half.  Cut the top part pointy and the bottom part rounded to make a leaf shape.
Cut all of your squares into petals.
Scrunch up the bottom of the petal to create dimension and hot glue between each fold to hold it together.
Put a small line of hot glue near the bottom on the back side of the petal and glue around the outer edge of your felt circle to create your first layer of petals.  To make a larger flower, place the petals right at the edge.  If you want a little smaller flower, you can place them inward a little.
Make a second layer of petals more toward the center trying to position these Petals in between the petals of the first layer.
For the third layer, you will want them to stand up.  So when you glue them, place the glue right on the bottom of the petal.  You should only need 3 petals for this layer.  Make them so they cup in toward the center.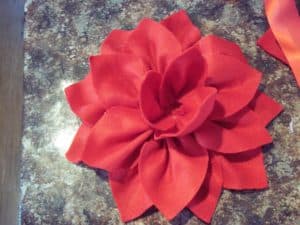 Next, you'll use your 2 small petals you made from your squares that you cut in half.  These will also stand like the third layer.  Place them right in the middle of the cup your third layer makes.
Cut a piece of ribbon to 2 feet ( you may want more or less depending on how thick your curtains are).  This will wrap around your curtains and tie in the back.
Place a line of glue across the back of your felt circle and glue the ribbon on making sure to put the center of the ribbon at the center of the circle so you have even amounts of ribbon on each side.
Let it dry for a few minutes and you're all set! You've created your own easy DIY curtain tie backs!
Other Posts You Might Like
These go really great with the Pretty Light Switch Covers

 that I made.
Want to make some extra money from your own blog?  Check out this post where I give you step-by-step instructions on how you can set up your blog in just a few minutes.