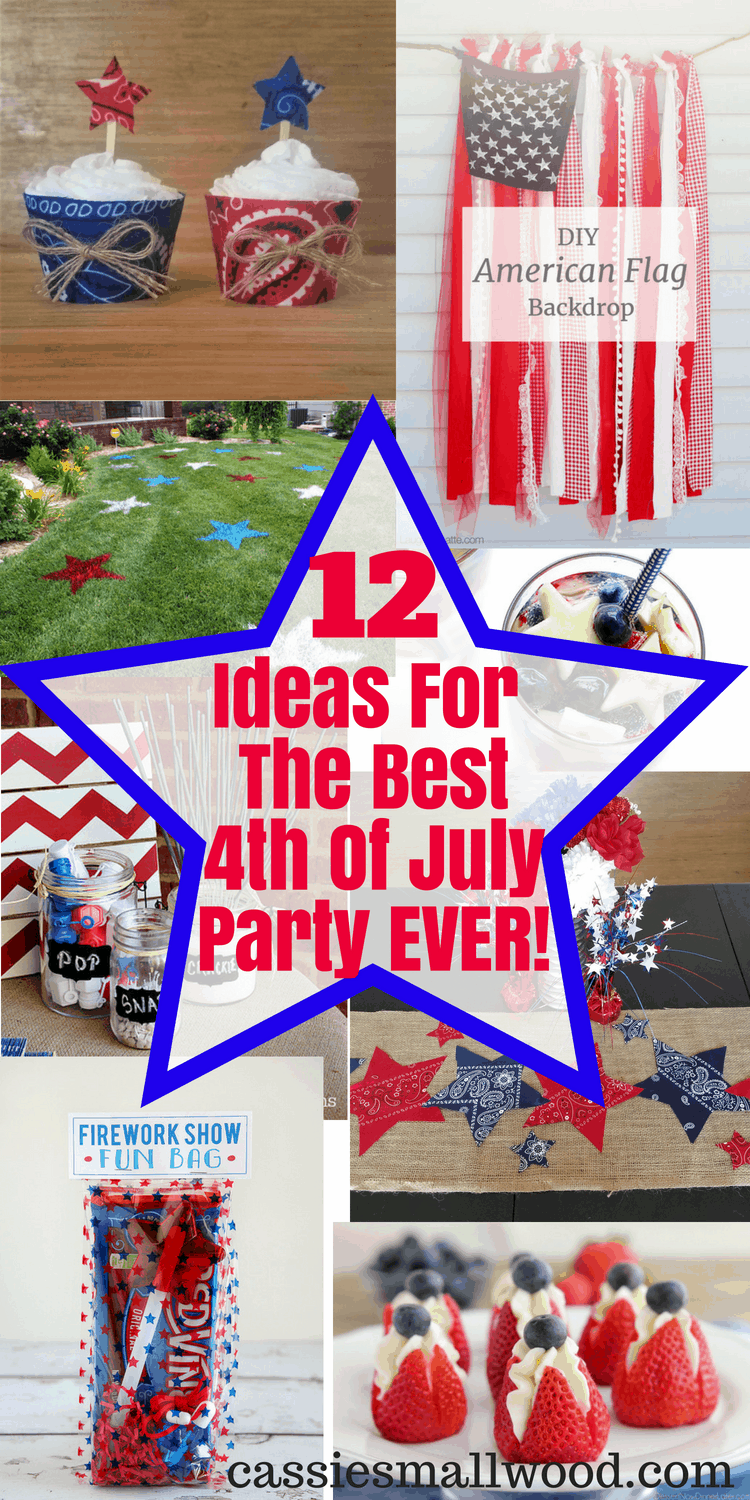 I love celebrating the 4th of July! The decorations are so bright and colorful and the parties are so fun!
I found some of the most amazing 4th of July party ideas and just knew I had to share.
If you want to see how to throw the best 4th of July party EVER, keep reading!
The Best 4th Of July Party Ideas EVER!
This post contains affiliate links. See my disclosure here

.
Free Printable 4th of July Party Invitations
This list has to start with the 4th of July BBQ invites

because that's the first thing you need to do…invite your guests.
These Independence Day party invitations are editable so you can fill in all your custom information.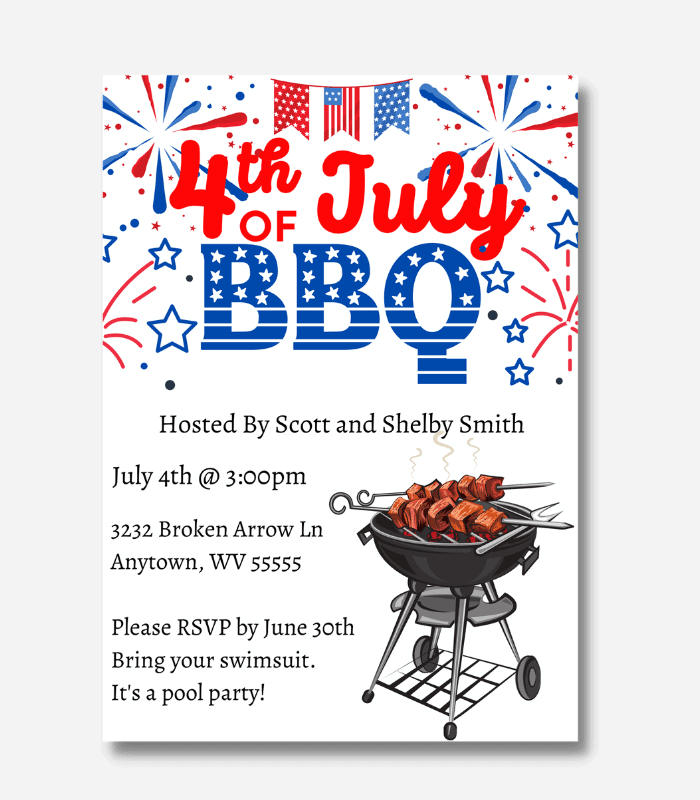 Free Printable 4th of July Favor Tags
These free printable 4th of July gift tags

will add the perfect little touch to your party favors or sparklers.
They're super easy to print out and cut.
Put them on treat bags full of candy, smores, or fun little toys and stickers.
4th of July Party Painted Lawn Decorations
One of my favorite 4th of July party ideas are these amazing DIY Painted Lawn Stars

by the Concrete Cottage!
I think this is one of the best 4th of July party ideas I have ever seen.
I've never seen it at any party I've been to. I think your guests will be impressed.
I love that they use red, white and blue. It makes it so festive!
You could even do it as a yard decoration if you're not hosting a party. It's the cutest!
4th of July Coloring Pages
Kids always need some fun activities to do at the 4th of July party.
These 4th of July coloring pages are a fun way to keep them entertained.

There are 25 coloring pages to choose from.
You can also use them as a party favor for kids to take home with them.
4th of July Star Templates Party Decoration Idea
Make your own 4th of July party decorations with these star templates in all different sizes.

You can use them as a stencil to cut out red, white and blue stars to hang from the patio ceiling or all around the house to make it feel festive and patriotic for your Fourth of July party.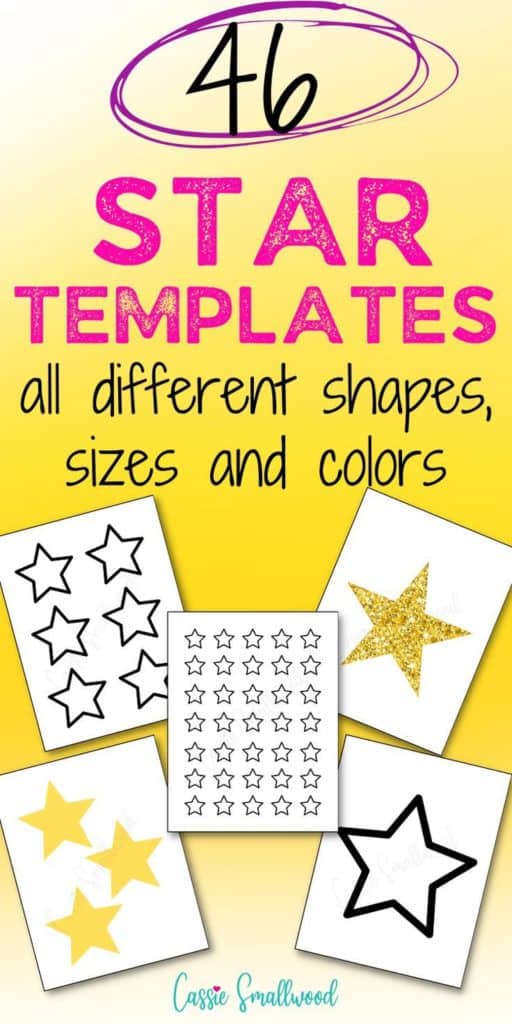 Fourth of July Drink Idea
This sparkling red white and blue sangria

recipe from Gimme Some Oven is to die for!
I'll admit I'm a sucker for sangria. I'm not a wine drinker normally, but sangria is a whole other story.
If you have adults who drink coming to your party, you've got to try this recipe.
I also totally love how she cut the apple slices with a star cookie cutter! It makes the drinks look so festive paired with the berries!
Patriotic Flag 4th of July Photo Booth Idea
I found this set of photo booth props that look like so much fun!
I seriously love photo booths at parties. You can usually find me in about a million pictures with different props in each one.
My sister's wedding had the best photo booth. They had more props than you could count. Everyone had a great time dressing up and acting silly.
The best part is kids and adults both will have fun with it.
They also used an app that would email the picture to whoever was in the photo. That was a really cool feature so the host doesn't have to send the pictures to each person individually!
This DIY American Flag Backdrop

from Laughing Latte would be awesome for a photo booth backdrop! This is one of the 4th of July party ideas you don't want to skip.
4th of July Party Fireworks Station
This Fun & Games Station

from Uncommon Goods is a great way to display fireworks for your guests.
I love the use of snap, crackle, pop for the display.
This would be so easy to do with just a few jars and any kind of labels. And you can't have a 4th of July party without sparklers!
Pair this display with the 4th of July table runner

below and your table will look so cute
!
Fourth of July Party Table Decoration Idea
Of course you have to have your tables decorated for your 4th of July party!
This table runner is great for indoors or outdoors.
If you haven't already seen my DIY 4th of July Table Runner

, you need to check it out!
It's a super easy DIY that is so cute! It is very inexpensive to make and your guests are going to love it.
Delicious Patriotic 4th of July Dessert Idea
What's a Fourth Of July party without an amazing dessert?
These cheesecake stuffed strawberries

from Dessert Now Dinner Later are delicious!
And keeping with the patriotic theme, they fit right in! Berries are in season which makes these taste even more flavorful. They look amazing on display too!
Fourth Of July Fireworks Fun Bags
Last but definitely not least, you're going to want to make these Fireworks Fun Bags

from Eighteen 25 for when you go watch fireworks.
If you really want to impress your guests, this will be the thing!
It's like movie snacks for the fireworks show.
It would be fun to have some cute glow in the dark things in there or glow sticks.
I hope you've found my 4th of July party ideas for how to throw the best 4th of July party ever helpful!
If you use even a few of these ideas, your party is going to be so awesome!
I can't wait to hear how it goes! I hope you have a great time with your family and friends. Happy 4th of July!!!
Are you interested in starting your own blog, but feel like you don't know where to start? Check out my step-by-step tutorial that shows you exactly how to get started in just a few minutes!

Other posts you might like: