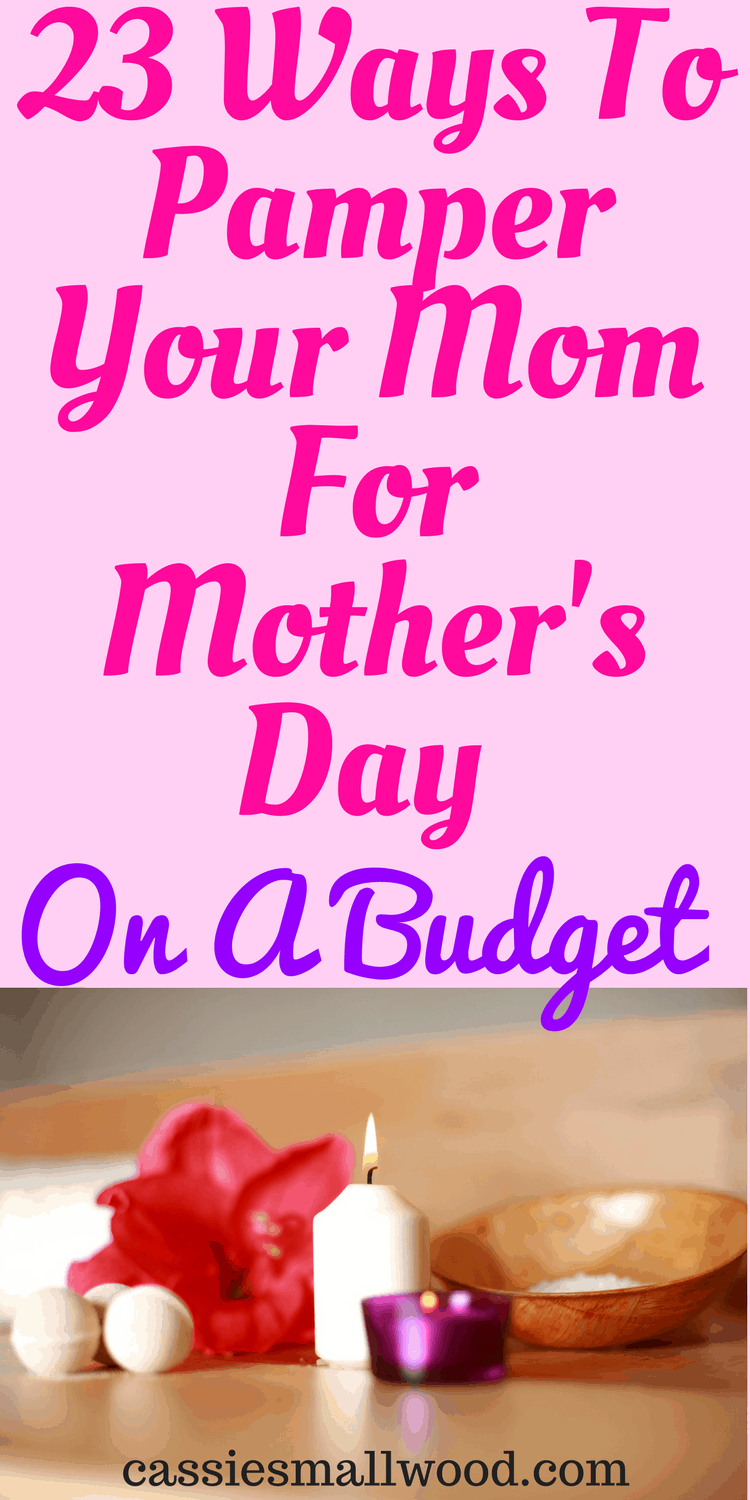 Mother's Day is fast approaching!  It's hard enough to find Mother's Day activities and gifts that your mom will love, but if you're on a budget, it can be especially challenging.  I have some ideas for you today for inexpensive Mother's Day activities and gifts that your mom will truly enjoy and you won't go broke!
We all want to make mom feel special on Mother's Day and really for moms that means spending time with her family.  I've put together some inexpensive Mother's Day activities and gift ideas that will bring the family together and bring a smile to your mom's face.  All moms have different interests, so it's difficult to speak for all mothers on what they like to do, but I think something on this list will delight just about any mother and allow you to stay within your budget.
This post contains affiliate links.  See my disclosure here.

Inexpensive Mother's Day Activities Ideas
Breakfast in bed–Make your mom a beautiful tray of her favorite breakfast foods.
 Make brunch and invite the family–You can make this a Mother's Day party for all the moms in the family so everyone can celebrate together if your mom has brothers and sisters.
Make dinner–My mom doesn't really enjoy cooking.  So she's always happy when there's a night she doesn't have to cook dinner.  Make her favorite meal and decorate the table.
Give her a manicure and pedicure–Mom deserves a little pampering, but you don't have to pay someone else to do it.  You just need a few basic supplies like a nail file, buffer, nail polish, lotion and a foot file to make her feel like a pampered princess.  Don't forget the hand and foot massage!
Go on a picnic–If the weather is nice where you live, take your mom to a beautiful, quiet place or even a park and have a picnic.
Photo Shoot–I'm not talking about a professional photo shoot because of course that would not be an inexpensive idea.  Have fun getting ready together and have someone take photos of the two of you or your family.  It doesn't need to be a professional.  You can do this at home or find a beautiful outdoor location.  Make or buy her a photo frame and print out the pictures as a gift.
Have a tea party–You can make little cucumber sandwiches and be fancy for an afternoon.
Play cards, board games or bingo–Invite the family over for a game day or night or take mom out to play bingo somewhere.  Our family always has a great time playing games together.  There's usually lots of laughing involved.
Go for a walk or hike–If your mom enjoys getting out for a little exercise and the weather is nice, take her to your favorite hiking trail, find a walking path, or just go for a stroll around the neighborhood.
Scavenger Hunt–Make a scavenger hunt for you mom.  You can go as big or small as you want on this.  It could be just around the neighborhood or throughout the city you're in.  Have the last place be where her gift is or where you'll spend the rest of the day.
Movie Day–Get some popcorn and spend the day watching movies.  If it's just a mother and daughter, you can watch the latest chick flicks.  If you have a Fire Stick, you can watch new releases on your own TV for free.  If you want to know more about watching TV and movies for free or really cheap, be sure to see my post about how we saved $928 on our cable bill in a year.
Make a craft together–Find something cute that you and your mom can make together if she's crafty.  I have some great projects here that you can make together that are cheap to make.
Volunteer–If your mom has a cause she supports, find a way you can volunteer for the day.  Or find a local soup kitchen and serve Mother's Day dinner to those in need.
Now that you have some ideas for inexpensive Mother's Day activities to do with your mom, let's get the ideas rolling for some awesome frugal Mother's Day gifts you can give that will make her feel really loved and special.
Inexpensive Mother's Day Gift Ideas
Fabric Flowers–Real flowers are beautiful but can really be a waste of money.  Make your mom a bouquet of everlasting flowers.  There are quite a few ways to make fabric flowers.  This is one of my favorites.
Cupcakes–Make your mom some pretty cupcakes as her Mother's Day gift.  This tutorial will show you how to decorate them beautifully and you can get a decorating set here for super cheap and it has a reusable pastry bag so you can reduce waste and the expense of  buying pastry bags!  If you really want to make them fancy, these cupcake wrappers will make your cupcakes an extra special gift.
Car Wash and Detail–I don't know anyone who doesn't love a clean car.  You can pay to have this done or take the cheap way and do it yourself.
Coffee Bar Placemat–If your mom is a coffee lover, she will absolutely love this placemat to decorate her coffee bar!
Clean Mom's House–Most moms can think of other things they'd rather do than clean.  Surprise her when she gets home from work with a clean house or have someone take her out for the day while you clean her house.
DIY Wood Sign–Wood signs are a beautiful decoration for walls.  You can make a beautiful DIY wood sign for just a few dollars.  Put a special saying about mothers or family on it to make it super special.  You can even make a sign out of an old cabinet door to make it look like it is framed!
$5 Meal Plan–If you want to make your mom's life a lot easier, you can get her $5 Meal Plan.  Your mom will get a full meal plan with recipes each week and a complete grocery list to download or print out.  And the meal plans are designed to save money on groceries.  I have a full post about $5 Meal Plan here, so you can learn more.  It makes a great gift for busy moms.
Cake and Cake Stand–Bake your mom a cake and put it on this beautiful DIY cake stand.  You can make it whatever colors you want and put a special saying on it.  She can use it as a fruit stand or tray in her kitchen after the cake is gone.
Printable Card and Certificate–Make your mom a card for free.  You can get  free printable card designs here.  I recommend printing it on cardstock.  Print out my free Mother's Day Best Mom Certificate.
Flip Flop Wreath—You can make this cute wreath for your mom for only a few dollars.  It's perfect for summer which will be here before you know it!
Travel Fund Jar—Make one of these cute DIY travel fund jars and if you have a couple of extra dollars, put them in to get her fund started.
I hope I have given you some inexpensive ideas that you can use to make your mom's Mother's Day truly special.  And remember that the best gift for a mom is time spent with her child.
Other posts you might like: