Mother's Day is coming around again and if you're anything like me, it's always a struggle to figure out a heartfelt gift for Mom when she already has everything she could ever want. Or maybe you're on a budget this year but still want to give your mom something really special.
So I'm going to show you how to make a tear out coupon book for Mother's Day to give your mom this year! The best part is that this diy coupon booklet will make a great gift idea for mom for Christmas or birthdays too! And moms always love homemade gifts 🙂
I made the printable Mother's Day coupons so that you can write in the things you want to give your mom. I felt like this would make the coupon book perfect for kids or adults to give their moms.
What's really great about a tear out coupon book is that your mom can tear off the coupons as she wants to use them without having to take the booklet apart like she would if you attach the coupons in any other way. It's like a notepad.
Last year I made printable Best Mom and Grandma Mother's Day Certificates that were so easy and inexpensive. They were a huge hit. So I wanted to make something that is still inexpensive, but also really meaningful.
If you want some inexpensive Mother's Day gift and activity ideas, check out this post.
I ALSO MADE THESE OTHER FREE PRINTABLES FOR MOTHER'S DAY THAT YOU MIGHT LIKE FOR YOUR MOM.
Let's make that tear off Mother's Day coupon book for mom!
This post contains affiliate links which means I get a small commission for products you buy through my links in this post at no additional cost to you. Thank you for supporting my blog! Please see my disclosure

here for more details.
Need a cute gift idea for your coffee lover mom? Check out my editable Thanks A Latte gift card holders to show your appreciation.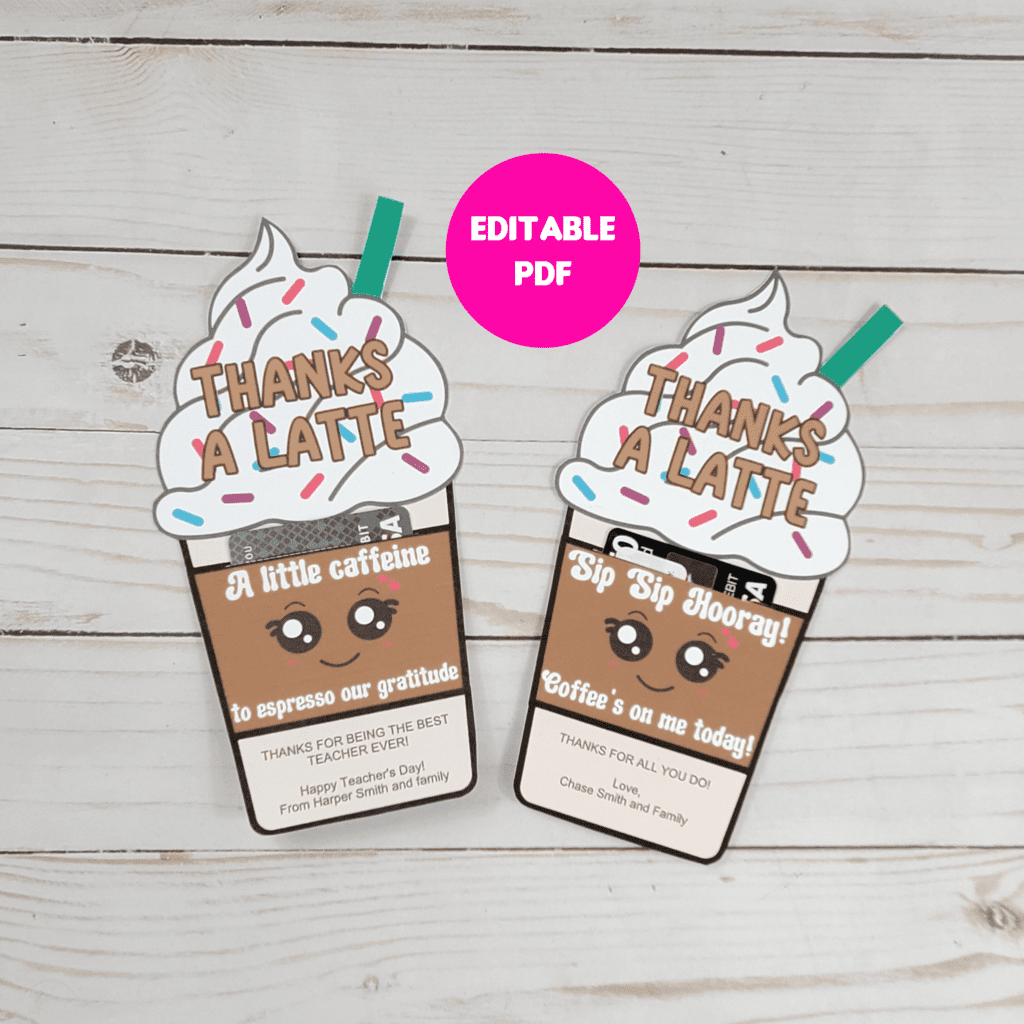 Supplies you'll need for your tear off coupon book for mom:
How To Make A Tear Out Coupon Book For Mother's Day
Print the Mother's Day coupons.
You can print out the coupons on the cardstock or paper.
Cut out the Mother's Day coupons.
Make them as straight as possible to make it easier to line up when you add the padding compound.
You can use a paper cutter like this one

to get perfectly straight lines.
Fill in your coupons for Mom.
Write what you would like to give your mom on each coupon (See below for a list of Mother's Day coupon ideas)
Stack the Mother's Day coupons.
Make sure the cover is on top and the edges are lined up.
Align the edges of the coupons for Mom.
Stand the stack on the left hand end against a counter or flat surface to get the edges in perfect alignment.
Secure the Mother's Day coupons.
While still holding the stack against the flat surface, clip the binder clips or clothespins one on each side to hold the stack in place.
Apply the padding compound the the edge of the coupons for mom.
Get your paint brush wet and remove excess water.
Dip your brush into the padding compound.
Working from the center to the edge, brush a generous coat of padding compound on the left hand edge of your coupon stack. Be careful not to let it go over the edges, but if it does, just wipe it with your finger or a paper towel to remove the excess.
Add a second coat of padding compound to the Mother's Day coupon book.
Allow to dry and then add a second coat and allow to dry again.
That's it! You're coupon booklet is finished!
Mother's Day Coupon Ideas
Here are some ideas that you can write on your printable coupons for your mom.
Massage
Foot massage
Manicure
Pedicure
Breakfast in bed
Laundry
Lunch date
Movie night
Dinner
Car Wash
Hug
Shopping Day
Take out the trash
Dishes
Vacuum
Dust
Clean bathrooms
Day off
Night off
Night out with friends
Day of no whining
You pick the TV show
Yard work
I hope you've loved this tutorial for how to make a tear out coupon book for Mother's Day! If you do, please share it on your favorite social media.
Want an inexpensive and cute idea for your mom or grandma who is a coffee lover?! Check out these burlap coffee bar mats in my handmade shop!

Click the image to get your free printable coupons for mom.
Other Posts You Might Like