Santa has always been the most magical part of Christmas for me so I wanted to make some cute Santa coloring pages for you to print so your little ones can experience some Santa magic too!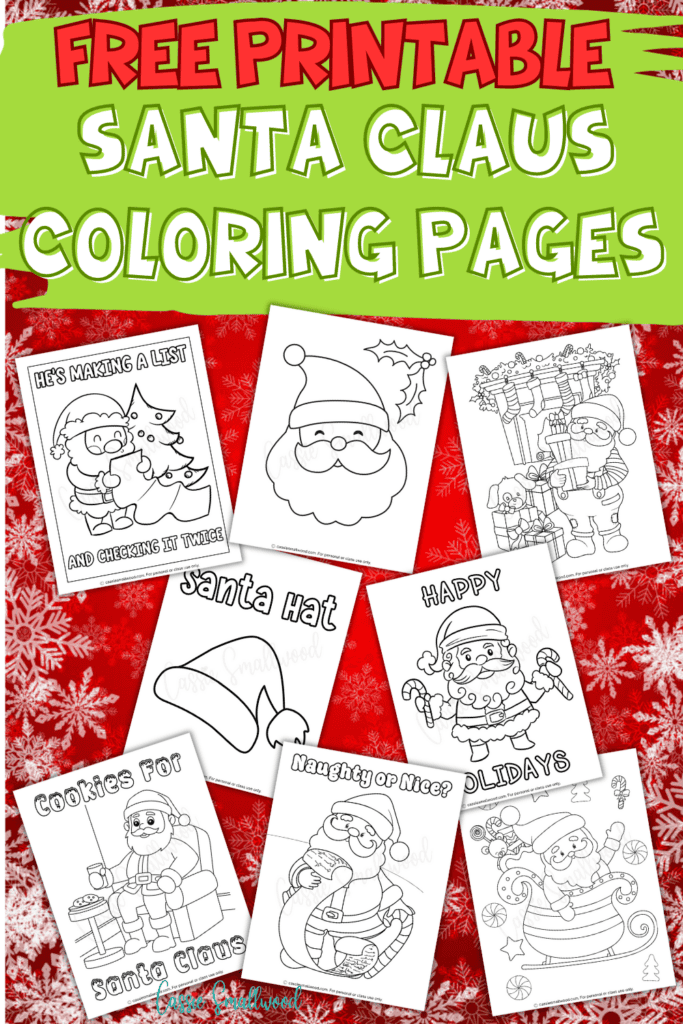 You'll find lots of different Santa Claus pictures to color with Santa doing different things like going down the chimney, checking his list or riding in his sleigh.
There are also many different versions of Santa in these coloring sheets from cartoon characters to more realistic Santa coloring pictures.
I've organized them into sections so you can find just the right Santa coloring page for your needs.
There are general Santa Claus coloring pages, Santa and reindeer coloring sheets, Santa in chimney coloring pictures, Santa face pictures to color, Santa and Mrs. Claus coloring pages, Santa hat coloring sheets, Santa in his sleigh images to color, and even a Santa color by number at the end of the post.
IF YOU WOULD LIKE TO HAVE ALL 91 SANTA COLORING PAGES IN ONE PDF WITHOUT MY BRANDING AT THE BOTTOM, YOU CAN GET THAT HERE FOR JUST $1.

How To Print The Santa Coloring Pages
Click the picture for the Santa coloring page you'd like to print.
A PDF file will open. I share my files with Google Drive. If you have trouble opening the files, your network may block this type of file sharing. Some workplaces and schools do this. Simply try from a network at home or on your mobile device.
Once the PDF has opened, use the icons in the top right corner to print or download the Santa coloring sheet.
YOUR KIDS WILL ALSO LOVE MY PRINTABLE CHRISTMAS ACTIVITY BOOK!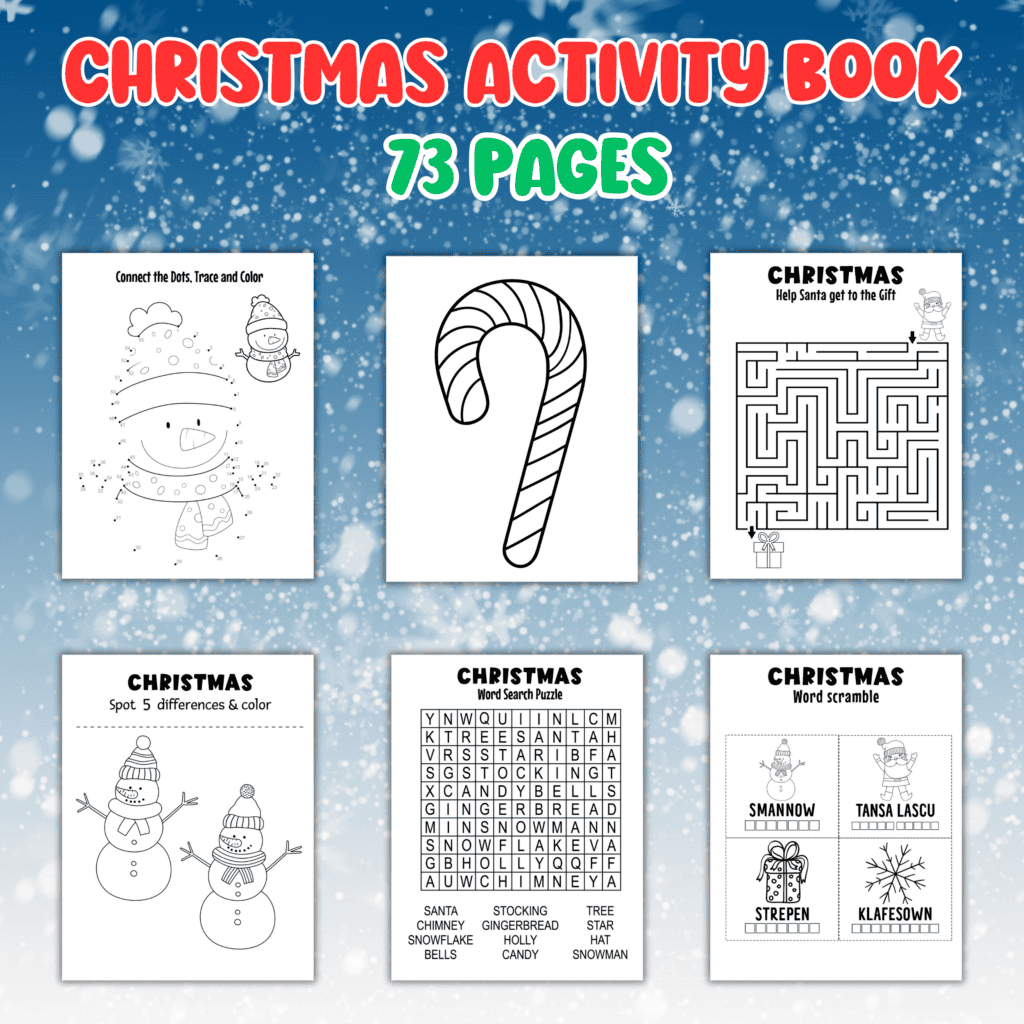 Santa Claus Coloring Pages
These Santa coloring pages are mostly Santa by himself with gifts, checking his list or smiling and waving.
They're great to use as a classroom holiday coloring activity sheet or at home as a fun way to get ready for Christmas.
If your kids love coloring, they might also like to color some cute Christmas cards for loved ones

or color a letter for Santa.
HERE ARE SOME OF MY OTHER CHRISTMAS POSTS YOU MIGHT LIKE!
Santa Hat Coloring Pages
You can use these cute Santa hat coloring pages as a fun coloring activity or as a santa hat template for craft projects.
These easy Santa hat coloring sheets are perfect for kids of all ages, even preschool and toddlers because they're simple and large.
If you need Christmas templates and stencils, check out all of my Christmas stencils for your crafts!

Santa Sleigh Coloring Pages
These Santa sleigh coloring pages make a fun activity to do in anticipation of Santa's arrival on Christmas Eve.
Kids can color their choice of cute Santa in his sleigh coloring sheets and leave it for Santa to find.
Santa And Reindeer Coloring Pages
Let's celebrate Santa's reindeer with these cute Santa and reindeer coloring pages!
They bring the magic to the sleigh.
There are easy Santa sleigh coloring pages for preschool and kindergarten all the way to difficult detailed Santa and sleigh pictures to color for adults and older kids.
Santa And Mrs. Claus Coloring Pages
Of course we can't forget Mrs. Claus!
Kids will love coloring in these cute Santa and Mrs. Claus coloring pages.
There's even an easy one for younger kids.
Easy Santa Coloring Pages
If you have a young child like a toddler, preschooler, or kindergartener, then you'll love these easy Santa coloring sheets!
They have bigger coloring areas and darker lines so little ones can color them in easily.
Santa In Chimney Coloring Pages
These cute Santa in chimney coloring sheets will get kids feeling festive and excited for Santa to arrive.
Choose the one that best suits your little one's skill level.
Santa Face Coloring Pages
There are so many cute Santa face coloring sheets to choose from!
Many of them are large Santa heads to color.
There's even an easy Santa face coloring page for toddlers and preschool kids.
Santa And Snowman Coloring Pages
We all dream of a white Christmas and with that comes snowmen!
Celebrate the snowy days of Christmas with these cute Santa and snowman coloring pages.
Santa And Christmas Tree Coloring Pages
All kids would like to sneak a peek at Santa by the Christmas tree.
These cute Santa and Christmas tree coloring pages are the next best thing.
I also have a bunch of other free printable Christmas tree coloring pages too.
Santa Color By Number
I always loved color by number and paint by number pages when I was a kid so I wanted to include a Santa color by number for your kiddos too.
Kids will need to be of an age that they can read or you can read the colors to them so they can have fun coloring in this cute Christmas color by number.
MORE FREE PRINTABLE CHRISTMAS COLORING PAGES