Whether your kids need a boost in confidence or you want to set them up with a growth mindset to be successful in life, these cute positive affirmations for kids will be a great start to a routine of daily affirmations for your children.
You can even start using these affirmations with children as young as babies and toddlers.
This post may contain affiliate links. See my disclosure here

.
IF YOU LOVE THESE AFFIRMATION CARDS, YOU'LL ALSO LOVE MY FREE PRINTABLE LUNCH BOX NOTES

TO ENCOURAGE YOUR KIDS.
What are affirmation cards?
Affirmation cards are a deck of cards that each have a positive message on them and are used to increase self-esteem, self-love, lower anxiety, and promote positive thinking.
Should kids do positive affirmations?
Yes! Positive affirmations used daily with kids can help boost confidence, promote self-love and self-esteem as well as positive thinking and a growth mindset that will last their lifetime. Using daily affirmations will provide encouragement and inspiration for children to believe in themselves and reach for their goals in life.
How To Do Daily Affirmations With Kids
There are several ways your kids can do daily affirmations using these printable positive affirmation cards.
Print out the affirmation cards and hang them on the bathroom mirror where your kids brush their teeth and get ready for the day. Have your children read them out loud or to themselves as they get ready for school.
Print out the affirmation cards and put them next to your child's bed. Have them read the positive statements before going to sleep. Doing daily affirmations right before sleep is great way to get these positive messages into your child's subconscious mind.
Print out the affirmation cards and place them in fun places for your kids to find throughout the day. You can put them in their lunchbox, next to their favorite snack in the fridge or pantry, or in their backpack.
If your children are too young to read the positive affirmations themselves, you can read each affirmation to them daily. If you do it this way, I would say it as if you are affirming it to them. So instead of saying "I am…", say " You are…".
If you really want to help your kids become more positive, my coloring gratitude journal for kids

has daily gratitude and reflection sheets, a positive affirmation coloring page for each week, weekly reflection pages, a main goal setting page, and 18 coloring affirmation cards.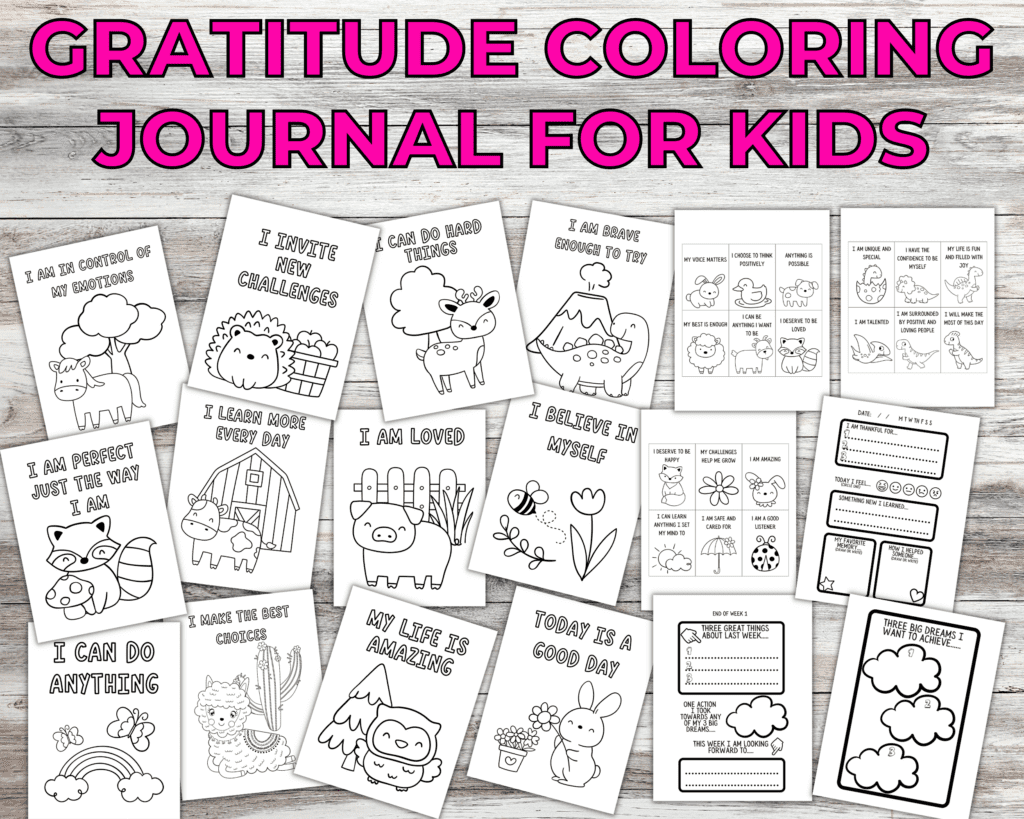 Do affirmations work for kids?
Affirmations work very well for kids. Children's minds are very moldable. We do most of our learning as kids. Putting positive messages into kids' minds sets them up for success in life.
How To Print The Positive Affirmation Cards For Kids
Click the link below the affirmation card deck that you would like to print out.
A PDF file will open.
Use the icons in the top right corner to download or print out your daily affirmation cards.
Cut around each card.
If you want them to last a long time, you can laminate them with peel and stick laminating sheets like these.

You won't need a laminating machine to use these.
Animal Affirmation Cards For Kids
Your kids are going to love the cute watercolor animals on these positive affirmation cards.
These cards each have an affirmation to help increase self-esteem and self-belief.
As kids read these words of affirmation each day, they will begin to believe every statement about themselves.
Imagine how successful and confident your child can be in their life when they believe that they are enough, they are confident, they believe in themself, they're capable of great things, and they're beautiful and brave!
DOWNLOAD THE ANIMAL AFFIRMATION CARDS FOR KIDS HERE.

Positive Affirmations For Kids
These positive affirmation cards for kids have fun pictures for girls and boys.
I only wish I had used affirmations like these as a child.
These affirmation cards are great to use as morning affirmations for a great start to the day.
Your kids will begin to believe they are worthy, valuable, and perfect just the way they are.
This type of positive thinking will allow them to shine throughout the day and have a wonderful day at school or at home.
When they feel inspired and encouraged by these self-love cards, they'll start to become more outgoing, make friends easier and excel in the classroom.
PRINT OUT THE POSITIVE AFFIRMATION CARDS FOR KIDS.

Positivity Cards For Children
These watercolor sea animal positivity cards for children contain some I AM affirmations as well as an affirmation for forgiveness.
Some children struggle with making mistakes and feel that they need to be perfect. This puts an immense amount of pressure on a child. If they can use this forgiveness affirmation and realize that they're already perfect and we all make mistakes, they can begin to relax and be their true self without the extra pressure.
GET THE POSITIVITY CARDS FOR CHILDREN HERE.