I can't believe I've gone my whole life not realizing there's a difference between a shamrock and a four leaf clover! As I was making these shamrock templates for you, I came across that information.
Apparently shamrocks only have three leaves. Maybe I'm the only one who didn't know this. I guess I'm not very observant sometimes.
If you want four leaf clover templates, I have a bunch of those here.

If you're decorating for St. Patrick's Day or any Irish themed event, I hope you'll find these free printable shamrock templates helpful.
This post is sponsored by Customsticker.com
You can make these Shamrock templates into Shamrock stickers at Customsticker.com. When you use them to decorate things, you don't need to prepare extra tools like glue, just lightly stick these shamrock stickers on the surface of the object. Click here

to customize shamrock stickers with these templates I listed below!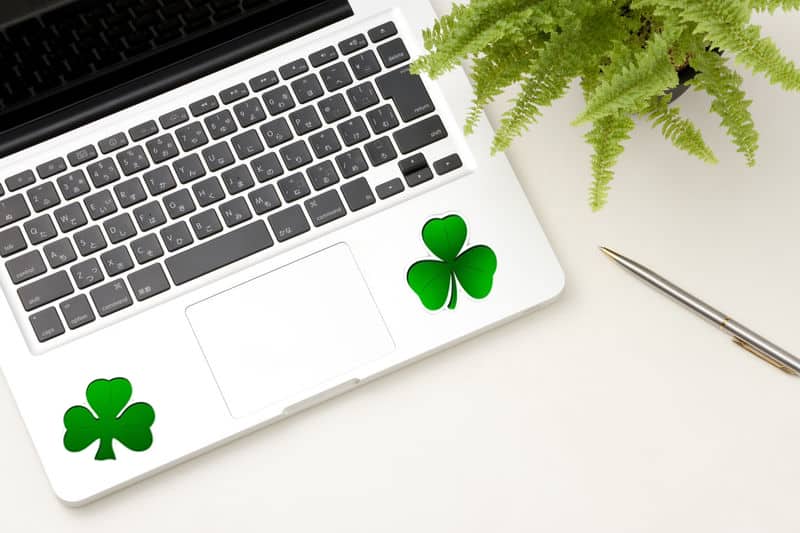 I created lots of full page shamrock templates in black and white outlines and green.
Then there are a couple of medium size shamrock patterns and a couple of small shamrock templates.
There's even a four leaf clover template at the end (even though it's not technically the same thing).
To download one of the shamrock templates, just click the link of the one you like and a PDF file will open. Use the icons in the top right corner to download or print your shamrock stencil.
I also have a cute St. Paddy's Day coloring and activity book that kids will love for only $1. It makes a cute gift and is also perfect for classroom use.
Are your kids trying to catch a leprechaun in a trap on St. Patrick's Day? This cute leprechaun letter is the perfect response to surprise your kids with when the leprechaun escapes!
BE SURE TO ALSO CHECK OUT MY OTHER ST. PATRICK'S DAY FREE PRINTABLES:
This full page shamrock template is a black and white outline so you can use it as a pattern or to color in.
A little bit smaller shamrock outline for those projects that aren't so big. Use this basic shamrock shape pattern to cut out shamrocks from paper, fabric, felt, craft foam and so much more.
These small shamrock templates are perfect to use as a coloring sheet before cutting them out or for little craft projects.
Check out my St. Patrick's Day coloring book and activity sheets too!
This full page green shamrock image is ready to print and cut out to use on any decorating or craft project.
Use these medium size green shamrock templates for St. Patrick's Day decorations or for arts and crafts.
Sometimes you just need a little shamrock for that perfect craft. These small shamrock patterns make it easy to create something special.
This unique shamrock template is a fun stencil to use because it has a green outline.
A pretty green shamrock template to print off and use with your St. Patrick's Day leprechaun decorations.
These cute leaves on this large shamrock template look like hearts for a fun 3 leaf clover shape stencil.
This is a very basic free printable shamrock template that you can use as a stencil or coloring page to print out and then cut out.

The pretty shades of green on this 3 leaf clover template make this one really stand out. I love that this one has an extra long stem for a unique touch to your shamrock crafts.
Even though a four leaf clover and a shamrock aren't the same, I wanted to include a four leaf clover printable here in case you were confused like me.
This cute green outline has a unique shape.