Finding the right gift for your Dad can be really difficult. Dads always seem to already have what they need and coming up with a unique and thoughtful gift is a challenge at every holiday.
I've created these free printable best dad awards so you have a thoughtful personalized gift for dad this year.
The best part is that it will take you less than five minutes to make!
There's a printable certificate for your grandpa too! This one is also great for Grandparent's Day, but I do have a specific one for Grandparents Day too!

How To Print The Best Dad Awards
Just click on the picture of the printable best dad award that you want to print and it will take you to the printable PDF format.
*You may need to select "Fit To Page" in your print menu before printing if the page cuts off any edge. Selecting this will make the margins a bit bigger and fits the image within the margins to ensure the entire image prints on the page.
SOME OTHER PERSONALIZED GIFTS FOR DAD
If your dad or grandpa is a golfer, this cute DIY golf jar is a fun gift idea to make for them.

These DIY painted mugs

are also another cute way for kids to make something special for their daddy.
I've also made these All About Dad printables that make a super cute gift for kids to give. They'll probably even make dad laugh at some of the answers kids come up with.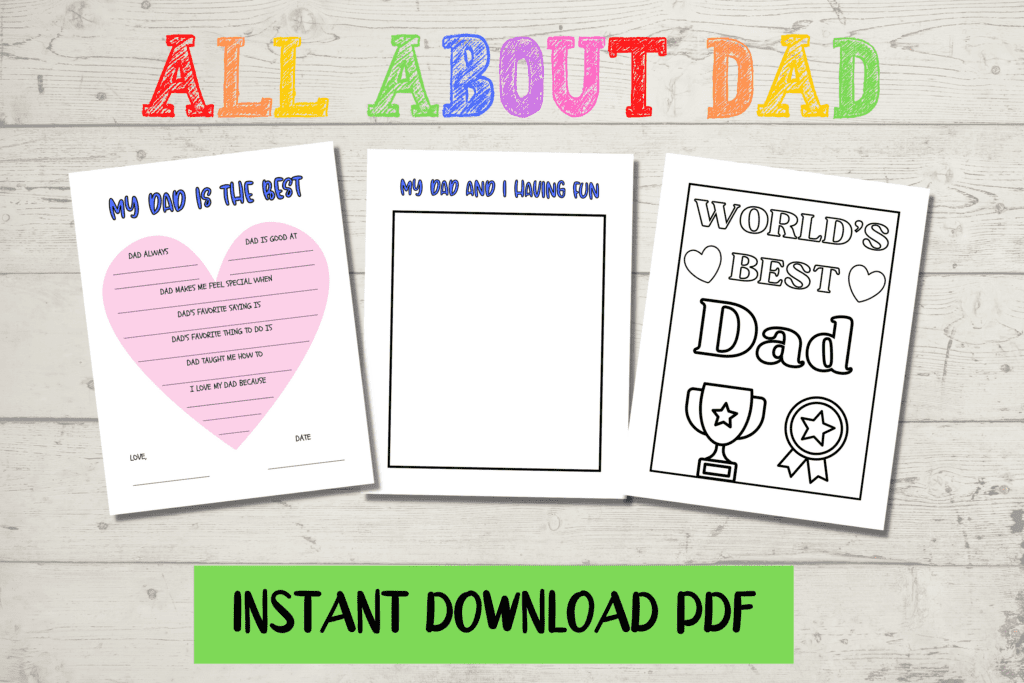 I hope your Dad & Grandpa love their gifts!
The printable version will not have my blog's watermark.
This post may contain affiliate links. See my disclosure here

.
An Amazon Prime Membership makes a great Father's Day gift! It allows free access to movies, tv shows and music, plus free 2 day shipping.
Try Amazon Prime 30-Day Free Trial

Best Dad Award Certificate
If your dad is the world's best, this Best Dad award certificate is a great way to let him know.
It has a sentimental message as well as a picture of a dad holding up his child.
Just fill in your dad's name, the names of the children giving the best dad award and the date.
Then you can grab a frame and frame the best dad certificate to make it an extra special Father's Day, birthday or Christmas gift.
DOWNLOAD THE BEST DAD CERTIFICATE

Super Dad Award Certificate
If your dad is not only the best, but super, this super dad award will be perfect for him.
Print out this super dad certificate and let your dad know he's your superhero.
The heartfelt message on the certificate has wording that can be used for almost any dad.
Just fill in the blanks and frame it up for an awesome personalized gift for dad.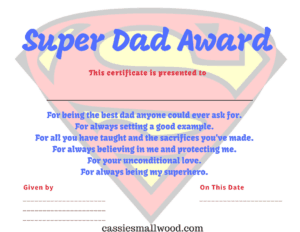 PRINT OUT THE SUPER DAD CERTIFICATE

Best Grandpa Certificate
Of course we can't leave out grandpa.
I had the best grandpa and would have loved to be able to give him this printable best grandpa award certificate to let him know how much I appreciated him.
The wording is perfect for those thoughtful grandpas that are always there for you.
Just click the link below and print out the best grandpa certificate. Fill it in with his name, the kids' names that are giving the award, and the date.
Frame it for an extra nice personalized gift for grandpa for Father's Day, his birthday, or Christmas.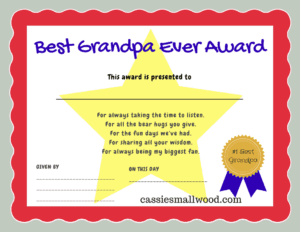 DOWNLOAD THE BEST GRANDPA CERTIFIFICATE

Here are the printable Father's Day certificates of appreciation for your Dad & Grandpa
I also have some free printable coloring cards for Dad, Grandpa, and Papa for Father's Day or birthdays.
THESE FATHER'S DAY COLORING PAGES make a cute gift for kids to give.
IF YOUR KINDERGARTENER OR PRESCHOOLER IS GRADUATING THIS YEAR, BE SURE TO GRAB THESE FREE PRINTABLE DIPLOMAS TO CELEBRATE.

Other posts you might like