We're already onto our second month of the DIY Blog Challenge. Our theme for this month is Father's Day and I can't wait to show you the Golf Gift For Dad that I made!
It can be difficult to find the right gifts for men. Most golfers seem like they have everything they need for the sport already. Sometimes a cute and simple gift is the only way to go. This unique money jar is a fun present to give your dad, grandpa or even the women golf fanatics in your life.
Father's Day Money Jar Golf Gift For Dad
I've seen these cute little DIY candy or gumball machines on Pinterest and my dogs have one for their treats, but I searched and searched and didn't see any for golfers that had a tutorial. I decided to create my own to give my dad and share with you how to do it so you can make your own diy golf gift for your dad. My dad loves golf and spends a lot of his free time playing or practicing. This little container will work great for candy or he can save his change in it for green fees.
These printable All About Dad questionnaire sets are a cute idea for kids to give their dad for Father's Day, his birthday or Christmas.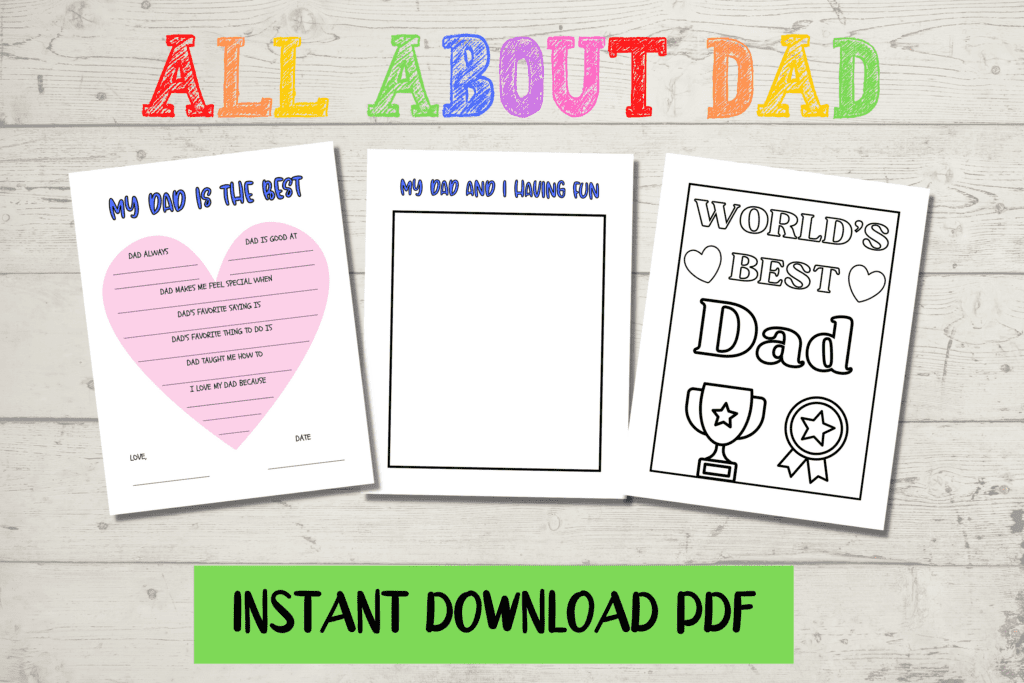 Let's get going on our golf gift for dad!
This post contains affiliate links. Please see my disclosure

here.
Here's what you'll need:
3.875 inch Glass Bowl (I picked mine up at Dollar Tree in the candle holder area)
4 inch Terra Cotta Pot and Saucer (Home Depot or Michaels)
White Spray Paint
bobby pin
pen or pencil
small detailing paint brush
rubbing alcohol
Here's how to make your golf money jar diy gift for dad:
Before you paint, wipe your glass bowl down with rubbing alcohol to get any oils off. Start out by spray painting the glass bowl and wooden knob with your white spray paint and the terra cotta pot and saucer with the green spray paint. I actually used chalk paint on mine, but do yourself a favor and spray paint it. It will be a thousand times easier and you won't have the brush marks and the added step of sealing it to make it shiny.
After your paint has dried, use your Gorilla Glue to glue the knob to the center on the bottom side of the saucer. This will be the lid to the golf money jar. Also glue the glass bowl with the opening upward onto the terra cotta pot that is turned upside down. You're gluing the bottom of the glass bowl to the bottom of the pot. Be sure not to use too much of the glue or it will seep out. Gorilla Glue expands as it dries. Most other glue will not work on glass. So this is the only glue I would recommend. Hot glue will seem like it's working at first, but it only holds temporarily. Be sure to get the Gorilla Glue!
Let the glue dry for a couple of hours.
Once the glue is dry, mix a little white craft paint with a tiny drop of black craft paint to make a very light gray. This will be used to make the dots on the golf ball. Use the end of a pen or a pencil eraser to make dots around the golf ball. You want the dots to be very close together and the second row should be staggered in between the first row. Go row by row until the whole glass bowl is covered. Mine are by no means perfect. Don't stress about perfection on this part. It will still look good if every dot isn't exactly the same or lined up perfectly. Just do the best you can. This part is a little time consuming, but the end result is worth it!

After all the dots were painted on.

Do the same process on the knob, but use the end of a bobby pin to make the dots.
Add your words to the base by using letter stickers or if you have a Cricut, you can cut them from vinyl. I used my Cricut and the font DK Jambo that I downloaded for free from dafont.
On the base, paint a golf club and a golf flag. The club is just a line with an oval at the bottom. The flag is a line with a triangle at the top and a circle at the bottom. I'm no painter, but if you break things down, most things are just a series of lines and circles in some form. If you don't want to attempt painting your own club and flag, you could use Golf Stickers.

My hand painted flag

My hand painted golf club
You can fill the golf money jar with your dad's favorite candy or throw in a few dollars for his next round of golf and there you have your golf gift for dad this Father's Day!
I hope you find this unique golf gift helpful for finding a gift for the golfer who has everything!
IF YOU WANT A PRINTABLE CARD FOR DAD FOR FATHER'S DAY OR HIS BIRTHDAY, I HAVE SOME FREE COLORING CARDS FOR DAD.
Amazon Prime is also an awesome Father's Day gift idea! Give your dad free access to thousands of movies and tv shows, books, and music plus free 2 day shipping when he shops on Amazon. Who wouldn't love that gift?! Give the Gift of Amazon Prime

Other posts you might like
Now be sure to check out what my friends made for the DIY Blog Challenge! There are lots of great DIY Father's Day gift ideas.
Makes Bakes and Decor

Eps and Amy

Hale and Harlow

Makings of Mine

Doodle and Stitch

Gifts and Blab

Hapiness Wherever

If you missed last month's DIY Blog Challenge, you can see it here

. We created beautiful things from thrift store items!