My sister mentioned when we were in a craft store one day that she wanted to get a Cricut.  I didn't know that moment would change my life forever.
A Cricut is a cutting machine that can cut materials like vinyl, paper, fabric and wood using a blade and rotary cutter.  It can also write on materials using a pen and score materials using a scoring tool.
I had no clue what a Cricut machine was that day in the craft store.
I had seen the name on things in the craft store but it was in the scrapbook section.  I assumed it was some fancy machine for people who were crazy about scrapbooking.
I enjoy scrapbooking but I'm not super into it.  So I never paid any attention to the Cricut
or its accessories.
I decided I wanted to check into it and try to get one for my sis for her birthday.
After finding out what this baby could do, I knew I had to have a Cricut too!
This is not a scrapbooking machine.  It's a make anything you can dream up machine!
That's what I would say if I had to answer the question "What is a Cricut
machine?".  Let your imagination go wild!
This post contains affiliate links.  See my disclosure here

.
What can you do with a Cricut?
The possibilities of what you can do with a Cricut are almost endless, but here's a list of some of the things a Cricut machine can be used for:
Design your own T-shirts

Make signs and wall decor

Make banners

Make cards

Make window clings

Make party decorations and favors

Make vinyl designs for glasses, mugs and tumblers

Make paper flowers

Make felt flowers

Make gift tags

Make wall decals

Decorate shadow boxes

Create your own designs for canvas bags

Make gift boxes

Decorate glass blocks

Make paper bows

Decorate can koozies

Make your own stencils

Make your own nail decals
The list could go on and on.
When my sister got married.  I made her shower and bachelorette invites, favors for the shower and bachelorette, centerpieces for the shower, decorations for both parties, and a Bride hanger for her dress.
There are some photos at the end of the post of my creations for her shower.
I've also used it to make a shadow box for my mom for Mother's Day, cards for birthdays, signs for our house, T-shirts for an event, car window decals, coffee mugs, and lots more.  I've definitely got my money's worth out of my machine.
Now that I've given you some ideas of what you can make with the Cricut, let's talk about the functions and materials you can use with the machine.
Materials you can cut with the Cricut:
These are some materials you can cut using the Cricut machine, but there are tons more.  The Maker can cut way more materials than the other machines.
You can see all the materials that Cricut sells here.

Paper (all different types)
Cardstock (all different thicknesses and varieties)
Vinyl
Heat transfer vinyl
Balsa wood
Acetate
Adhesive foil
Adhesive wood
Aluminum
Aluminum foil
Birch
Bonded fabric
Bonded felt
Burlap
Canvas
Cereal box
Chipboard
Cork board
Craft foam
Duct tape
Fabric (with the Cricut Maker)
Faux leather
Freezer paper
Leather
Poster board
Vellum
Photos
Washi tape
Wax paper
Window cling
Wood veneer
Wrapping paper
This is just a basic list.
The Cricut Maker 3

can cut 300 different materials.
The Cricut Explore 3

can cut 100 different materials.
The Cricut Joy

can cut 50 different materials.
How Does A Cricut Work?
Once you get your Cricut machine, you will use Cricut Design Space to design your creations.
You can either make your own designs, upload designs you buy from other places online, or use the designs in Cricut Access which is a monthly fee, but well worth the money.
If you use Cricut Access, they have TONS of premade designs that you can use on your Cricut projects.

Once you have a design on your screen in Cricut Design Space, you can use the different functions of the software to make changes to it or use it just as it is.
You place whatever material on your Cricut mat (you get one with your machine) and load it into the Cricut.
Then you press the go button and your design will be cut out of your material.
You can also design something in Design Space, print it on your printer and then cut it out on the Cricut.  This is called Print & Cut.   This feature works great for cards and invitations.
You can also put a Pen
into the Cricut and it will write or draw what you've designed.  I use this feature to make cupcake toppers that I sell in my Etsy shop.
As you can see, there are so many different things you can do with a Cricut.  If you're a crafter, you are going to want one!
I've used mine so much!  I started with the original Cricut Explore (which is an old version that they no longer sell).  I used it so much that I decided to buy the Cricut Maker 3 as well.
Keep in mind I use my Cricut for my business every single day.  Now I have a backup Cricut machine if one ever breaks down.
Cricut Machine Comparison
This is my breakdown of the difference between Cricut machines.
When I was about to buy my Cricut it was overwhelming trying to figure out which Cricut I should buy as a beginner.
I didn't really understand what exactly the Cricut even was so it was hard to understand the different functions and tools I was reading about.
I hope I can make this simple for you to understand so you know which Cricut is right for you.
I was on a strict budget when I got my first Cricut, so the Explore was the best option for me.
Now that I have the Cricut Maker too, I would always recommend that machine if you have the budget to buy it.
The Explore is great for most things, but having the option to cut heavier materials and soft fabric is well worth the extra money if you plan to use it a lot.
You never know what you'll decide to make with your Cricut.
If you'd like to see the comparison chart on Cricut's website of the Cricut machines, you can see that here.
Cricut Maker 3 vs. Explore 3
The latest and greatest Cricut machine is the Cricut Maker 3

.  The fantastic thing about this model is that it cuts fabric without stiffening it or putting any sort of backing on it!
I'm going to tell you this is a game changer and definitely worth the extra money.
I've run into the problem with my Explore that I want to cut fabric but I don't want it stiff or any adhesive on it many times.  This machine eliminates those troubles and cuts the fabric as it is.
The first time I tried to cut stiffened material with my Explore, the blade kept getting stuck.
The Maker is different because it has a rotary blade which can turn and cut smoothly on fabric.  The Explore 3

only has a regular blade which can get snagged on fabric.
The Maker 3 is great if you want to make your own patterns and cut the fabric pieces on your Cricut for sewing or quilting projects.
The other awesome thing that stands out about the Cricut Maker 3 is that you can cut soft wood with it.
The Maker 3 has a knife blade that can cut through thicker, tougher materials that the Explore 3 can't.
Both Cricut machines have the ability to use Smart Materials made by Cricut that you can cut without a mat.  These materials allow you to cut something up to 12 feet in length.  This would be great for large signs or wall decals.
The Maker 3 has a much stronger cutting capability than the Explore.  As I mentioned above, the Cricut Maker 3 has the ability to cut over 300 materials while the Explore can cut about 100 different materials.
Cricut Explore 3 vs. Air 2
The older version of the Explore machine is called the Air 2.  Cricut seems to be phasing this machine out, but at this time you can still buy it.

The Air 2 will cost you a little less if you're a beginner wanting to get started with a Cricut, but don't want to spend the money for one of the newer machines.
The difference between the Cricut Explore 3 and the Cricut Air 2 is that the Explore 3 is able to cut faster and can use the Cricut Smart Materials.  This means you can cut longer projects because you don't have to use a mat with the Smart Materials on the Explore 3.
Cricut Maker vs. Cricut Maker 3
If you want the Cricut Maker, but still need to keep your budget down, the older model of Cricut Maker could be right for you.
The main difference between the Cricut Maker (original model) and the Maker 3 is that the Maker 3 can use the Cricut Smart Materials without a mat to cut longer projects.
The Maker 3 also has a more powerful power cord to allow for higher speeds and stronger cutting.
Cricut Joy
Cricut Joy is a compact cutting machine

that can fit in the palm of your hand.  It's great for making smaller projects like cards and labels.
It can only cut 5.5 inches wide but can cut up to 20 feet in length with the Cricut Smart Materials while the full size machines can only cut 12 feet in length and 12 inches wide.
With a price point of about half of the price of the regular size machine, the Cricut Joy could be a great place to get started if you want to make smaller projects.
It's also perfect for those that want a cutting machine but don't have a lot of extra space to store one.
I have a dedicated craft room where my Cricut machines are always set up and ready to use, but I know many people don't have that luxury.
If you're short on space and don't mind that this machine can only cut up to 5.5 inches wide materials, then the Cricut Joy might be right for you.
I also want to mention that the Cricut Joy can only cut about 50 different materials because it's cutting power isn't as strong as the regular machines.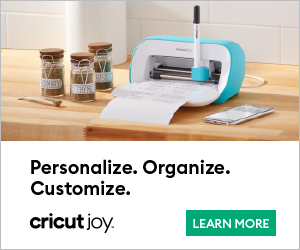 What is the best Cricut for beginners?
The Cricut Maker, Explore and Joy are equally simple to use for a beginner.
If you want to cut fabric, wood or other thicker materials, the Cricut Maker 3

is the way to go even if you're a beginner.
For newbies who don't care about cutting wood or fabric or are on a tight budget, the Cricut Explore 3 is a great option.

For beginners with limited space, a limited budget, or that only need to make small projects, the Cricut Joy would be perfect.

If you're a beginner on a budget but still want a full size machine for less money, the Air 2

would be an amazing place to start.
Do you need a computer to use a Cricut?
You will need a computer or mobile device to use a Cricut machine.  In order to cut any design on the Cricut, you must use Cricut Design Space to create or upload your design.
There is a Cricut Design Space app you can put on your phone or tablet so you can work on designs from any device.
What all do you need for a Cricut?
Your Cricut machine will come with the basic supplies you need to get started with a sample project, but you'll need some other tools as you go along to continue making crafts.
Some additional things that beginner Cricut users might want to buy would be tools like a spatula, scraper, weeding tool, additional pens, knife blade, and additional materials like vinyl.  You can buy the basic tools in a set here.

Or check out the Cricut machine bundles that come with extra tools and materials for a better value.

Spatula
The Cricut spatula helps you lift pieces of material off of the mat without crinkling them up.
Scraper
The Cricut scraper gets off little bits of paper and other materials that are stuck to your mat after finishing a project.
Weeding Tool
The Cricut weeding tool removes pieces of vinyl that you don't want on your project to create the empty spaces.  For instance in the letter A, a weeding tool would help you remove the center part of the A that is blank.
Scoring Tool
The Cricut scoring tool is used for making fold lines.  For example, if you were making a greeting card, the line down the center where the card folds can be scored with your Cricut to make a precise straight fold.
Vinyl and Other Cutting Materials
Cricut has their own vinyl, but my favorite vinyl company is Expressions.

  They have the absolute coolest designed vinyl that I've ever seen for really good prices.  I bought red and black buffalo check vinyl for some Christmas projects and it is so adorable!
You can see all the Cricut Materials here.

The Best Cricut For Making Shirts
If making shirts is what you want to do with a Cricut, any of the machines will work great. They all have the capability to cut the vinyl for shirt making.
You'll need heat transfer vinyl (HTV) to make shirts with your Cricut.
Here is Cricut's selection of HTV.
And here is the amazing selection of HTV from my favorite company.

  The patterned designs turn out so cute on crafts!
I would also recommend getting the Cricut Easy Press

if you plan to make shirts regularly or if you want to start a business selling shirts made with your Cricut.  If you use an iron to try to put HTV on shirts, the results are not great in my experience.
An iron's temperature fluctuates too much and is too difficult to control.  This can result in crinkled designs if the heat is too high and if the heat has been applied for too long at too high of a temperature, the vinyl won't stick at all anymore.
The Easy Press has a temperature control so you can set the temperature in 5 degree increments and a timer so you apply the heat for the correct amount of time.
Your HTV will have a specific temperature and time that it needs to be pressed for maximum adhesion.
How To Start A Cricut Business
Once I saw the possibilities of what I could make with my Cricut, I decided to start a business selling my Cricut items on Etsy.
I have to tell you that owning a Cricut has been life changing for me because I've been able to make a full time income with my Cricut business for the last 3 years.
The key to making money with a Cricut is coming up with creative ideas of what you can make with your Cricut to sell.  So many people sell the same old things like glasses, mugs, and T shirts, but there are so many other things you can create with a Cricut.
I have a list of unique ideas to make and sell with your Cricut.

And if you're interested in starting your own Cricut business on Etsy, I have my Etsy Shop Setup Toolkit

that comes with everything you need to get your Etsy shop set up and ready for business.
Cricut Projects For Beginners
Once you have your Cricut machine and are ready to start making, I have a few Cricut projects you can try.
Here are a few projects I've made with my Cricut for a little inspiration.  I hope you like my projects and feel inspired to make your own Cricut projects!