If you want to put a smile on your little one's face at lunchtime, these printable cute lunch box notes will have them grinning from ear to ear.
I made lots of different ones so you can find the ones that are the right fit for your kids or print them all out and have a variety to last through much of the school year.
There's a lunch box note for the first day of school, a Happy Birthday lunch note, a feel better soon lunch box card in addition to all the other encouraging, inspirational, and funny lunch box notes on the printable pages.
Near the end of the post I've also included some lunch box notes for non-readers like preschoolers and kindergarteners as well as some blank lunch box cards that you can make your own handwritten lunch box messages on.
I hope your littles are so happy to find these when they open their lunch bag at school!
IF YOU LOVE INSPIRING YOUR KIDS TO BE POSITIVE, YOU'LL LOVE MY GRATITUDE JOURNAL COLORING BOOK FOR KIDS.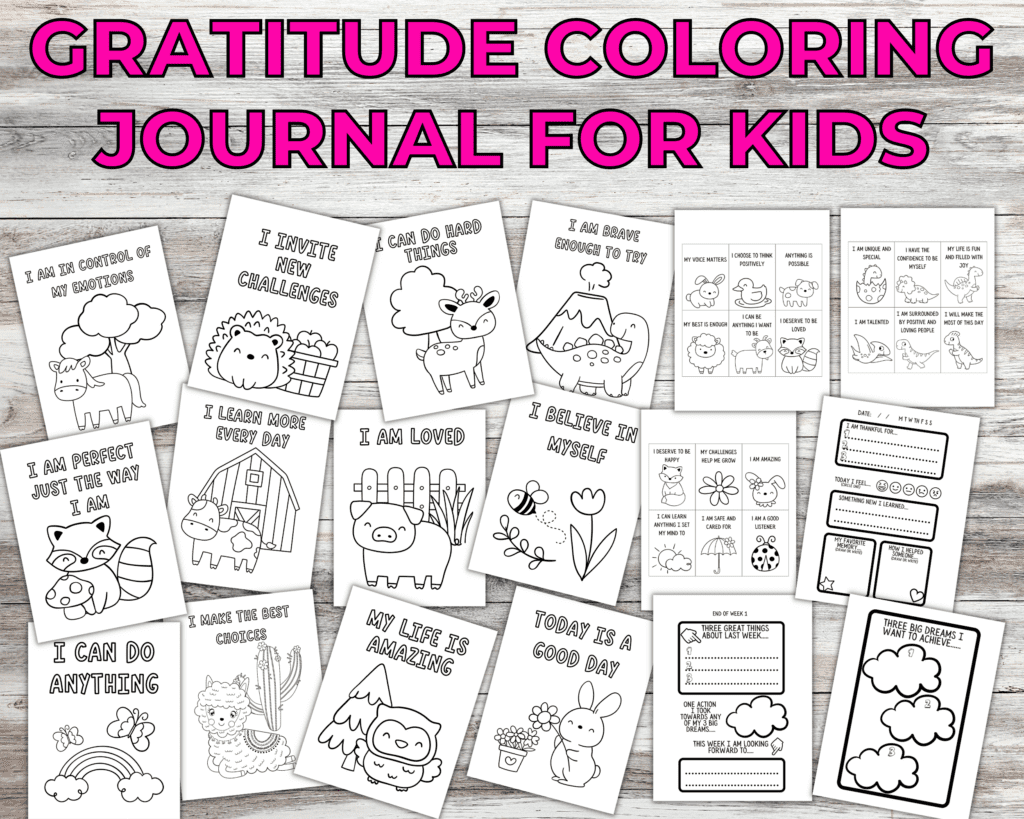 How To Print The Lunch Box Notes
Click the link for the set of lunch box notes you'd like to print.
A PDF file will open. I share my free files through Google Drive. If you have trouble opening the files it may be because you're on a school or office network that blocks file sharing. Try from your mobile network or at home.
Once the lunch box notes PDF has opened, use the icons in the top right corner to print or download.
Cut out each card along the lines and place in your child's lunch box or bag.
OTHER POSTS YOU MIGHT LIKE
Encouraging Lunch Box Notes
If your kids need a little encouragement and inspiration to get through the school day, these cute lunch notes will get them in a great mood.
These lunch box cards are a fantastic way to let them know how special they are, how proud you are of them and in general make them feel good all day at school.
It's amazing how far a little positivity can go and completely turn a child's day around.
PRINT OUT THE ENCOURAGING LUNCH BOX NOTES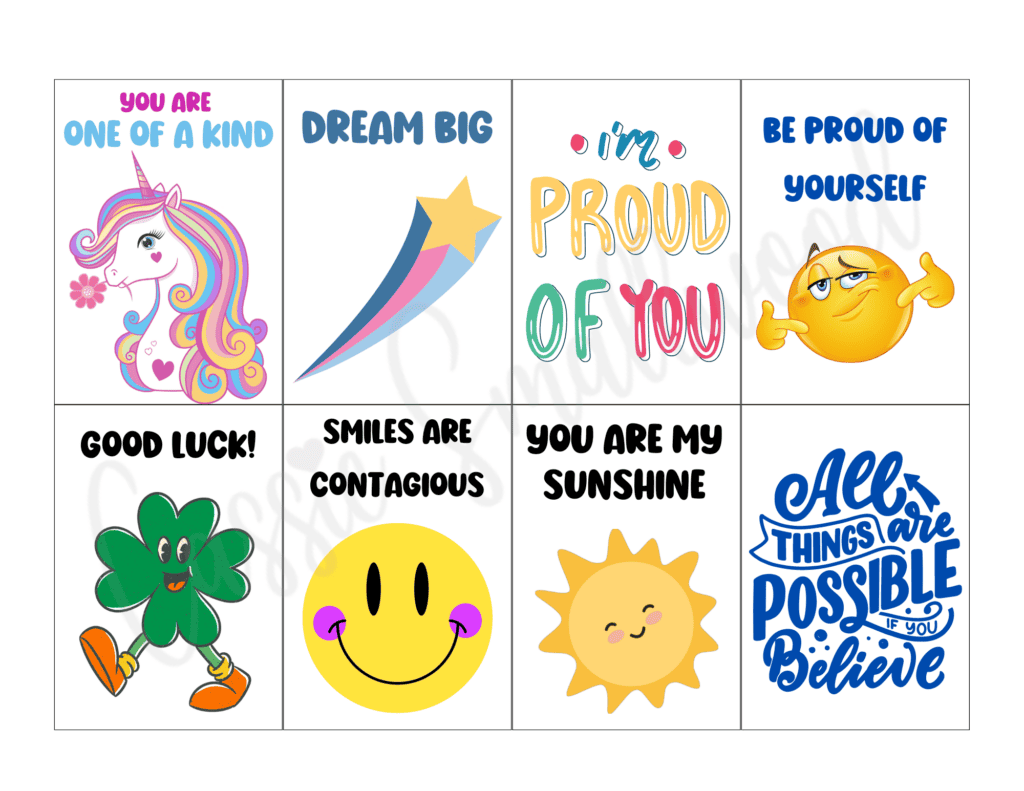 Lunch Box Notes From Mom
These printable inspirational lunch notes are perfect for mom or dad to put in their child's lunchbox.
They have lunch box messages that express things that a parent would want to say to their kid to help them have a great day and push them to do hard things.
PRINT THE LUNCH BOX NOTES FROM MOM

Funny Lunch Notes
These lunch box notes have fun sayings and funny puns that will make kids smile and laugh.
Kids will love the cute graphics and characters on these lunch box notes.
DOWNLOAD THE FUNNY LUNCH NOTES

Cute Lunch Notes
Here are some more encouraging and inspirational lunch box notes that also have some funny puns on them as well.
Imagine how excited they'll be to find these adorable lunch box cards each day when they get to the cafeteria.
These will help if they had a bad start to the morning, to get them on track for a great rest of the day.
DOWNLOAD THE CUTE LUNCH NOTES

Cute Lunch Notes For Daughter Or Son
These lunch box notes are great for kids that are a little older that might find the graphics on some of the other ones childish.
These are mostly just words of encouragement for kids without so many cutesy pictures.
They're great for boys or girls.
PRINT THE CUTE LUNCH NOTES FOR DAUGHTER OR SON

Inspiring And Funny Lunch Box Notes
These lunch notes are a mix of encouraging and funny messages for kids.
Some days you need serious lunch box messages and some days call for a little fun and laughter.
You can mix it up and surprise your little one. They'll look forward to seeing if they get a funny or inspiring lunch box card each day.
PRINT THE INSPIRING AND FUNNY LUNCH BOX NOTES

Printable Lunch Box Notes
Ii wanted to add in a Happy Birthday lunch box note so you can give your kids a birthday surprise in their lunch bag or box.
Also, there's a feel better soon lunch box note for those days when they aren't feeling 100% awesome.
And of course there are more encouraging and inspiring lunch notes.
DOWNLOAD THE PRINTABLE LUNCH BOX NOTES

Lunch Box Messages
These lunch box notes are another set that even older kids will love.
They aren't so childish looking and have inspiring and encouraging messages on them.
The "you are enough" one is powerful because we all need to know that sometimes.
PRINT OUT THE LUNCH BOX MESSAGES

Encouragement Inspirational Lunch Box Notes
Most of this set of lunch notes is appropriate for younger or older kids.
If they're already having a great day, these will give them an extra boost of positivity.
And if their day isn't going so great, these lunch messages will give them the extra encouragement to keep going and make the rest of the day better.
PRINT THE ENCOURAGEMENT INSPIRATIONAL LUNCH BOX NOTES


Lunch Notes For Kindergarteners
These lunch box notes are for the little ones who are non-readers.
They just have pictures that are showing love through adorable characters and animals.
These are great for toddlers, preschoolers, and kindergarteners to make them smile at lunchtime.
PRINT THE LUNCH NOTES FOR KINDERGARTENERS

Lunch Box Notes For Preschoolers
This is another set of lunch notes for preschool, kindergarten or toddlers with only images to show them how much you love them and brighten their day.
If your kids are beginning to learn to read, you can write your own message on the back.
PRINT THE LUNCH BOX NOTES FOR PRESCHOOLERS

Blank Lunch Box Love Notes
These blank lunch notes are perfect for you to write your own message on.
There's a simple design on the bottom that is appropriate for kids of all ages as well as adults.
PRINT OUT THE BLANK LUNCH BOX LOVE NOTES