Time just seems to be going so fast this year so far. I just got back from our vacation in Colorado and it's already time for another DIY Blog Challenge. Our theme for this month is pom poms and who doesn't love a cute pom pom project?!
I decided to make a tutorial for pom pom flowers and to show you how to make faux fur pom poms the easy way.
Remember the book and movie The Lorax? These flowers totally remind me of that!
They'll be so cute as a subtle decoration in your home if you choose a neutral color, but will also be so fun in bright colors for a kid's room or to add a pop of color to a neutral room.
Of course, you don't have to make flowers with your furry pom poms that you make.  You can use them as a fur pom pom for a hat or a pom pom garland.
So the first thing I want to do is show you how to make a furry pom pom with this quick and easy method.  Then I'll get into the tutorial for pom pom flowers.
This post contains affiliate links.  See my disclosure here

.
Supplies You'll Need To Make Faux Fur Pom Poms:
Thread in a color that matches your fur (I used pink so you could see what I was doing, but I recommend using the color that matches your fur)
Sewing Needle
Pen or Marker
Branches
Hot Glue
Hot Glue Gun (I like this one because it has high and low temperature)
Circle Stencil or something round to trace
Sharp Scissors
Easy way to make faux fur pom poms:
Trace your circles onto the back side of your Faux Fur and cut them out.
The size you need will depend on what you're using your pom poms for.  I have 17 different sizes of circle templates here.


Thread your needle and double the thread so it's stronger.
You'll be pulling it tight so you need a little extra strength.  You could also use embroidery floss if you have some on hand since it's stronger to make sure your thread doesn't break.
Sew a running stitch around the edge of the circle and pull a little to create a sort of cup shape.
A running stitch is where you go through the top and then come up through the bottom after skipping a little space.  This type of stitching allows the faux fur to bunch up when pulled.
Place a little Poly-Fil inside the faux fur and pull the thread tight to close up the pom pom.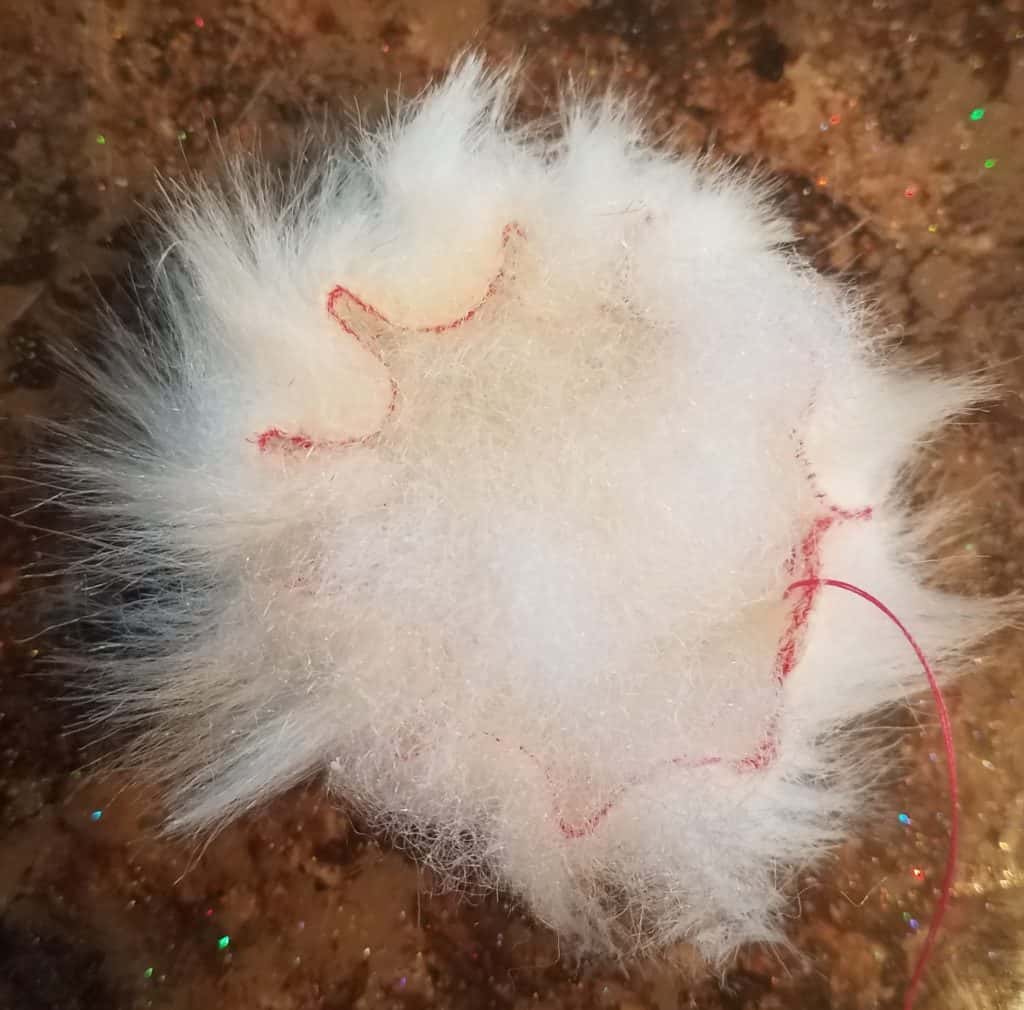 Stitch across the opening in an "X" shape several times to close the opening.
If you're making the pom pom flowers, you'll want to leave a little bit of an opening for the stick to fit inside.  If you're using your furry pom poms for another project, make sure to fully seal the opening so your Poly-Fil doesn't start to come out eventually.
Fluff up your fluffy fur pom pom and trim any pieces that look out of place.
If you want to make pom pom flowers with your faux fur pom poms, keep reading.
Making the flowers with your fluffy fur pom poms is so easy! You're going to love it!
How To Make Pom Pom Flowers:
Heat up your Hot Glue Gun.

Take a branch and find a small opening where you stitched up your faux fur pom pom.

Gently push the branch inside the pom pom being careful not to rip your stitching.

Use your Hot Glue Gun to put a little glue all around the tip of the branch while it is in the pom pom and squeeze to be sure it is attached.

Place your pom pom flowers in a Mason Jar or vase with marbles or pebbles if you choose to use them.
These furry pom pom flowers will make an amazing simple centerpiece for your farmhouse décor or make really cute decorations for anywhere in your house.
Don't forget to check out what my friend made for the pom pom challenge too.
Aging Like A Fine Wine