If you're planning a fun July 4th party, these free printable 4th of July party invitations are the perfect way to invite your friends and family to join you for your barbecue in celebration of Independence Day.
This 4th of July invitation is an editable template so you can your own wording. Add the hosts' names, address, phone number, date and time, and any other details your guests need to know.
These printable July 4th invites are specifically for a 4th of July BBQ. I hope you and your party guests love the cute design I created in red, white and blue.
This post contains affiliate links. See my disclosure here

.
The 4th of July invites can be printed out on cardstock, regular printer paper, or photo paper.
If you're mailing your DIY 4th of July party invitations, I recommend printing them in a 5″ x 7″ size so you can mail them without folding in envelopes that fit 5″x7″ cards like these red ones or these blue ones.

DON'T MISS MY OTHER 4TH OF JULY POSTS!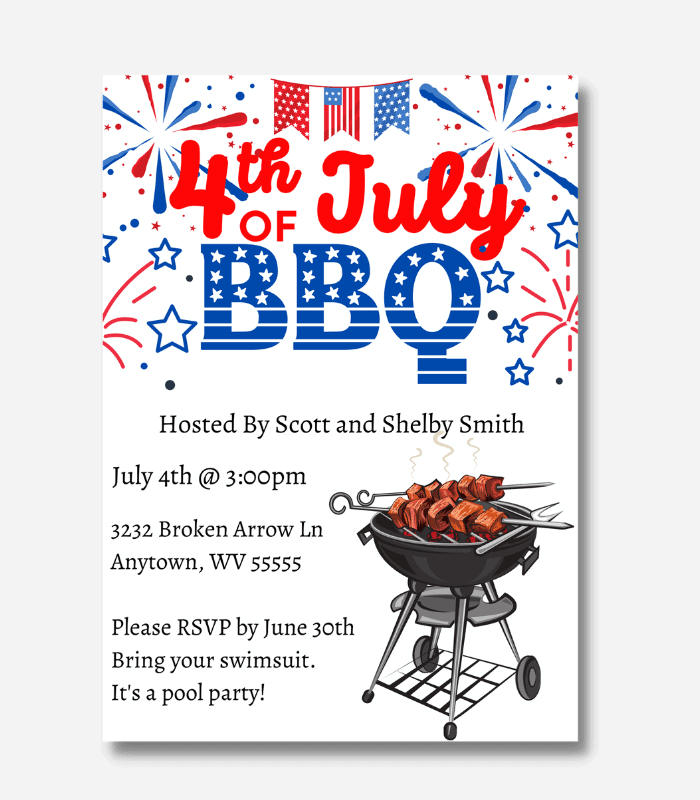 HOW TO USE THE FREE PRINTABLE 4TH OF JULY PARTY INVITATIONS TEMPLATE
These Independence Day invitations come as an editable fillable PDF file template.
Download the free PDF and open it.
Once the file is opened you will see some blank light blue boxes. These are the fillable PDF areas where you can add your custom details and personalize the invites.
Fill in the 4th of July invitation template with any text you like.
Load your paper or cardstock into your printer.
You can make these as a printable 4th of July flyer on printer paper to invite friends to your July 4th cookout or on cardstock for a smaller more formal invitation.
Click the print icon and set the size you want to make your 4th of July invitations in the printer menu under "Paper Size". I recommend 5 inches by 7 inches, but you can make a full page 4th of July party flyer if you want something bigger.
You can also save your edited copy if you want to be able to access it again for additional invitation printing.
If your text isn't centered or lined up the way you want, try hitting the space bar or backspace key to move the text where you like.
These free Fourth Of July party invites make it easy and affordable to invite your guests in a cute and fun way.
Don't miss these other 4th of July posts!