Hey there!  Today I wanted to share some of the coolest, cutest, most helpful FREE PRINTABLES that I've found!  I'm super excited about this post because I know you're going to absolutely love each and every one of these and they're going to help you organize your life and decorate your home!
Here's The Ultimate List Of Free Printables!
Just click on the picture or link for each one to be taken directly to the page.
This post contains affiliate links.  Please see my disclosure here

.
Home Organization Printables from DIY Home Sweet Home

–I love these free printables because they are so colorful and cute!  There are pages for keeping track of so many of your household needs.  Plus, she shows you how she put together her own binder with some great ideas.
Weight Loss Tracker from Curves Cardio and Cupcakes

–You're going to L-O-V-E the hearts on this one to mark off your pounds lost!  Plus there's a page for setting your goals and a monthly picture to track your progress.
Achieve Your Goals Workbook from Shining Mom

–I love goal setting and this workbook is just perfect for achieving your goals.
Password Keeper from Savor+Savvy

–Ok now, if you're anything like me, you have no record of any of your passwords so you're constantly changing them and having to go through a whole painful process to log in.  I have a password I like to use for everything but I always run into those sites that say you have to have a capital letter, symbol, number, etc.  I always end up forgetting those passwords.  This is a super cute page to keep track of all of those crazy passwords and avoid scrambling around every time you need to log in!
Household Binder Printables from Sarah Titus

–This one has so much to offer!  Babysitter Information, Important Dates, Grocery List, Contact Information, Freezer Inventory, Fridge Inventory, Pantry Inventory, Weekly Meal Plan, Bill Payment Tracker, Debt Payment Tracker, Bible Reading Plan, and Medical Information.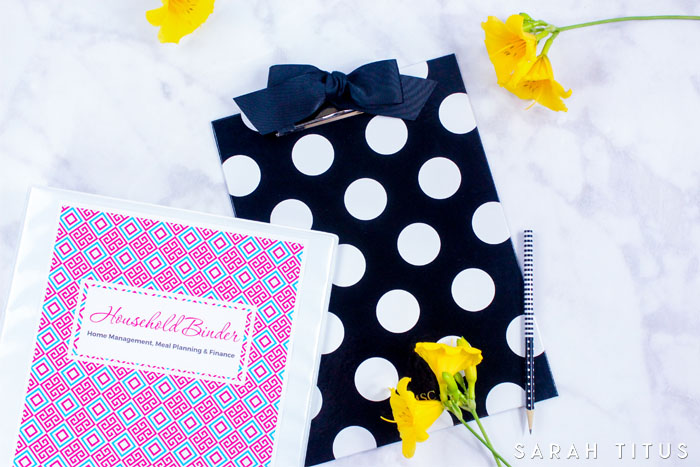 Bullet Journal Printables from Life Is Messy And Brilliant

–Lots of really cute printables for your bullet journal to keep track of pretty much everything!
Budget Binder from Blooming Homestead

–These free printables are SO PRETTY!  Perfect for keeping track of your finances each month.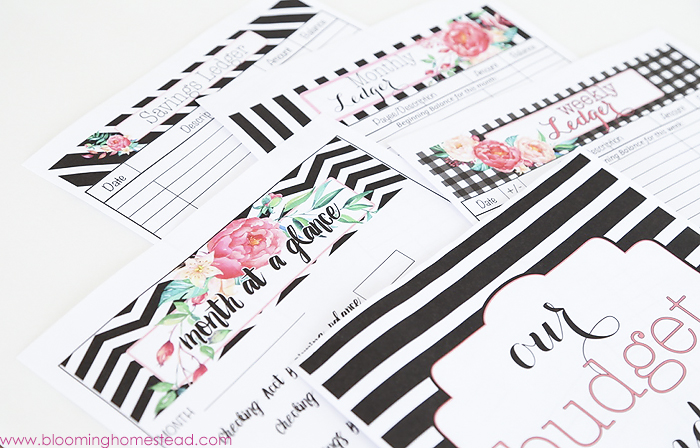 Meal Planner from The Cottage Market

–Keep your meals for the week and month organized with these pretty pages!
Free Printable Wall Art from Cassie Smallwood at Hunnyboo Creations

–decorate every room in your home with this printable wall art.  There's also a tutorial for printing on burlap with a simple ink jet printer!
Organizing Labels from In My Own Style

–Perfect little labels for organizing everything!
Habit Trackers from The Petite Planner

–These are great for keeping track of just about anything!
Law of Attraction Worksheets from Pig & Dac

–Since I read The Secret

and The Magic

I love using the Law of Attraction to bring good things into my life!  These sheets will help you practice it with a little more ease so you can start attracting great things to yourself!
Printable Invitations from Paper Trail Design

–I love, love, love these printable invitations for a cost effective beautiful option for your party invites!
Laundry Room Printables from Postcards from the Ridge

–Take your laundry room from drab to fab with these vintage laundry room printables.
Everyday Gift Tags from Dawn Nicole

–Seriously!  Aren't these the cutest?!  I love making my gift wrapping look beautiful and these would add that extra little touch to make them just perfect!
Greeting Cards from Pumpkins and Posies

–There are lots of different ones for every occasion!  And they are all amazing!  I love giving personalized greeting cards!  Let's be honest, most people throw away the card you spent $5 on.  Save yourself some money and give an even better card than you'd find in the store!
Farmhouse Printables from Buy This Cook That

–These free printables are perfect for filling in those empty spaces on your walls or decorating a shelf or mantle!  Love them!
I hope you've loved my list of amazing free printables and have some inspiration for organizing and decorating your life!
I'd love to see how you've used these!  Tag me on Instagram @hunnyboocreations and show me what you're doing with these!