Since I was making fake marshmallow Peeps ghosts for my fake baking YouTube channel, I thought I would share my templates that I put together to make four different sizes of Peeps Ghosts.
This stencil is the general shape of a Peeps Ghost.  The ghosts on the template have a cute face, but it's not the Peeps Ghost face.  You'll have to make your own dots to make it look like a Peeps Ghost.
I hope you enjoy it!
THESE HALLOWEEN BOOKMARKS MAKE THE PERFECT PARTY FAVOR OR TRICK OR TREAT GIFT FOR KIDS.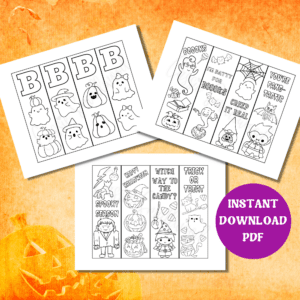 I also have a ghost coloring page

that you might like.
How To Print Out The Peeps Ghost Templates
I share my printables through Google Drive.  If you're trying to download and having issues, it may be because you're using a school or work network.  Try printing from a different network if this happens.
Click the link below to open the Peeps Ghost PDF file.
From there you can use the icons in the top right corner to download or print the Peeps ghost stencil.
DOWNLOAD THE FREE PEEPS GHOST TEMPLATES.