Want to let trick or treaters know you're handing out candy this Halloween?  This free Trick Or Treaters Welcome sign printable is just the thing to tell them you're open for trick or treating.
We used to live in a neighborhood where a lot of our neighbors had their lights out on Halloween and we wanted the kids to know we were ready for trick or treaters and had lots of candy.
We also lived at the end of a cul de sac and the kids didn't even come down our street.
So I made this printable trick or treat sign for our door so they didn't have to wonder if we welcomed trick or treaters before knocking on our door.
I also put our Halloween sign at the end of the street so the trick or treaters would know to come down our way.
This pumpkin Halloween sign for trick or treaters is great if you're going to be at home handing out candy.
If you're going out and plan to leave a candy bowl on your porch, be sure to get this Please Take One Halloween sign

to put next to your candy bowl.  It even has a cute poem on it 😊.
IF YOU NEED AN EASY NON-CANDY TRICK OR TREAT GIFT OR PARTY FAVOR FOR KIDS, MY HALLOWEEN COLORING BOOKMARKS ARE SUPER SIMPLE TO PRINT AND CUT OUT.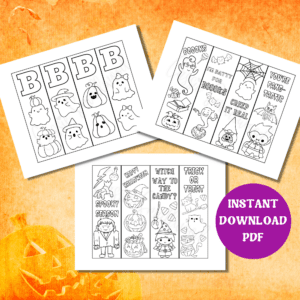 Ideas To Use This Trick Or Treaters Welcome Sign To Let Trick Or Treaters Know You Have Candy
Put the trick or treat sign in your yard.  You can attach the printed sign to a piece of poster board or cardboard and attach to a wooden stake to put in your front lawn.
Print out the trick or treating welcome sign on your front door so kids know it's safe to knock.
Print the welcome trick or treaters sign and place in a frame on a table near your door on the porch.
Attach the printable trick or treaters welcome sign to cardboard and put it at the end of your street.
How To Print The Sign For Trick Or Treaters
Click the link near the end of this post to access the free printable Trick or Treaters Welcome sign.
When the PDF has opened, click the printer icon in the top right corner.
Once the print menu opens, click "More Settings" and then choose 8″x10″ and then "Fit To Printable Area".  Choosing these settings will allow this to print to fit into an 8×10 frame.
If you'd like to print this Halloween sign as a full letter size page, you can go to "More Settings" and then "Fit To Page".  This will print out the sign over the whole page.
Trim off the white margins around the edge.
Hang or frame your Trick Or Treaters Welcome Sign.
Here are some other free Halloween printables I think you'll like: