If you're in charge of the Secret Santa at work or for your family, you've come to the right place! I've made 3 different free printable Secret Santa questionnaire templates for you to use.
These all have a vintage Santa design and are great for adults.
What is Secret Santa?
Secret Santa is a Christmas gift exchange game where each participant draws a name from a bowl. They are then responsible for surprising the person whose name is on the slip with small gifts up until the last day when they can reveal who they are.
Whether you're doing Secret Santa with coworkers, family, or friends, you can determine the amount of days or gifts each person will give as well as putting a maximum dollar amount on each gift.
Sometimes the final gift will be a higher value gift than the ones leading up to the last day.
If you want to make your Secret Santa gifts extra special, my Secret Santa tags are a cute way to keep your gift recipient guessing who you are until the last day when the final tag has a space to write in your name.

How do you ask someone what they want for Secret Santa?
Since you're keeping your identity a secret, it can be difficult to find out the likes and dislikes of the person you're buying gifts for. If the person you drew from the bowl is someone you don't know well, it can be challenging to decide what to buy them.
That's why I designed these Secret Santa question surveys.
Each person participating in the Secret Santa gift exchange fills out one of the questionnaires and then it is given to the person who has drawn their name.
The questions on the Secret Santa questionnaires are designed to help you find the perfect gifts so you know they'll enjoy what you get them.
What do you put in a Secret Santa questionnaire?
I have pre-designed Secret Santa question templates below, but if you want to make your own Secret Santa questionnaire, here are some ideas that you can copy and paste.
Favorite Color
Favorite Snack
Favorite Movie
Favorite Music
Favorite Hobby
Favorite Team
Favorite Drink
Favorite Restaurant
Favorite Scent
Favorite Store
Favorite Collectibles
Do you prefer to go out or stay in?
Do you like coffee or tea?
Do you like to go to the movies or dancing?
Do you like chocolate or fruit candy?
Do you like bright colors or neutrals?
Do you drink alcohol?
Do you prefer paper books or digital books?
Do you like sweet or salty foods?
Do you like to shop online or in the store?
Do you prefer to take out or dine in?
Do you have any food allergies or dislikes?
What's one thing you really want or need?
Other things you like
How To Print the Secret Santa Question Templates
Downloading and printing these Secret Santa questionnaires is super easy!
Click the link for the Secret Santa survey you want to print.
Once the PDF file opens, you can use the icons in the top right corner to download or print out your Secret Santa questionnaire.
Free Printable Secret Santa Questionnaire
This free printable Secret Santa questionnaire has a classic buffalo plaid design with a cute vintage Santa.
It's perfect to use for coworkers, friends or family Secret Santa gift exchanges.
DOWNLOAD THE SECRET SANTA QUESTIONNAIRE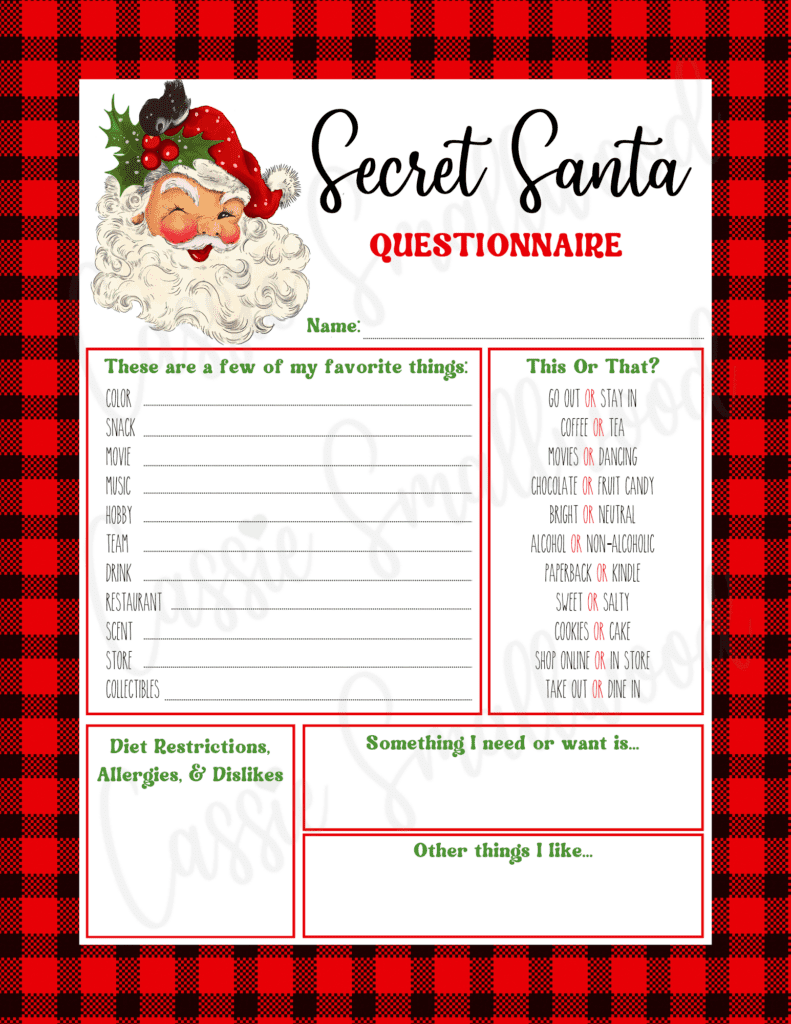 You can also get the matching Secret Santa sign up sheet and drawing cards too!

Secret Santa Questions
Candy cane stripes are a must for the Christmas season and this Secret Santa question template doesn't disappoint.
Get all the information you need to know to buy the perfect gifts.
PRINT THE FREE PRINTABLE SECRET SANTA QUESTIONS

The matching Secret Santa sign up sheet and drawing cards are available here.

Printable Secret Santa Survey Template
The whimsical and fun candy background and cute vintage Santa on this printable Secret Santa survey form is perfect to use for your work Secret Santa at the office.
GET THE PRINTABLE SECRET SANTA SURVEY TEMPLATE

You can get the matching Secret Santa sign up list and drawing cards here.

OTHER CHRISTMAS PRINTABLES YOU MIGHT LIKE:
Editable Letter From Santa

Naughty List Letters From Santa

Ugly Sweater Templates