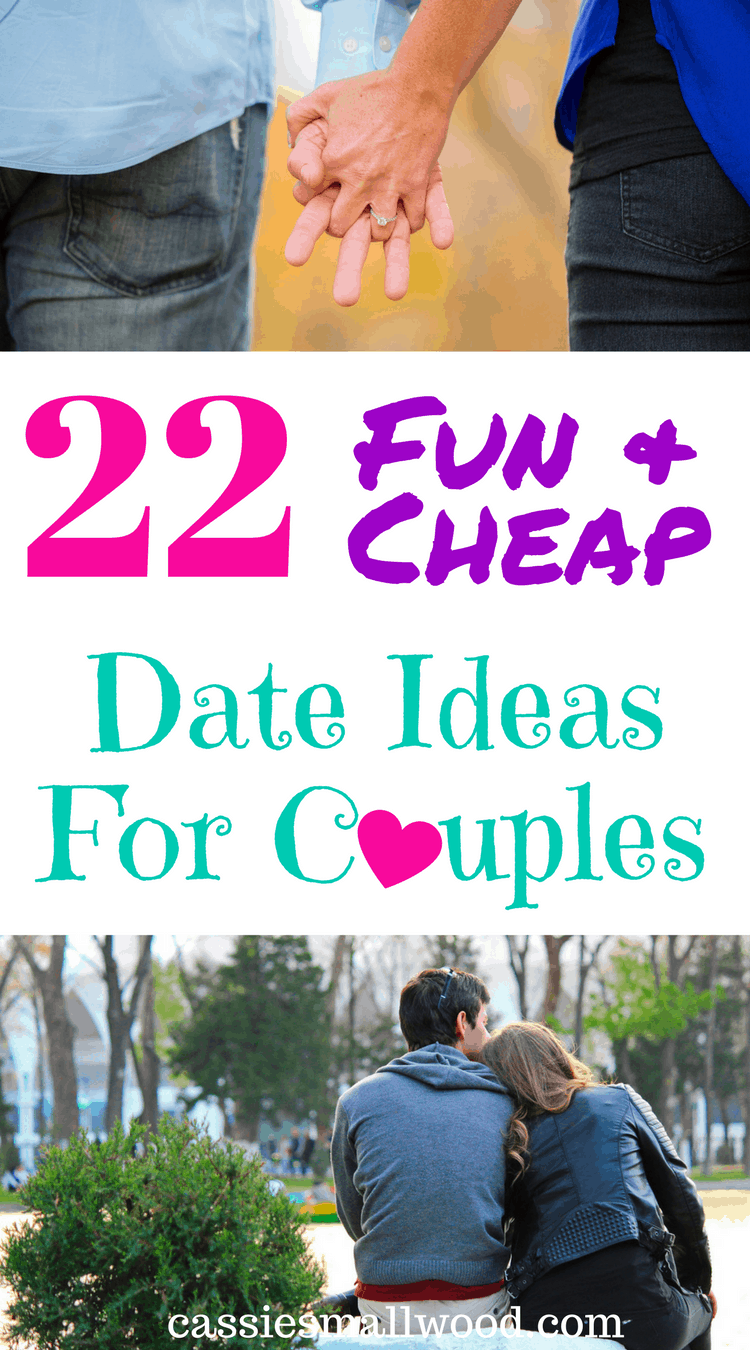 22 Cheap Date Ideas For Couples
Date nights can get really expensive, but we all need some alone time or some time away from the house as a couple. I have some creative cheap date ideas for couples who like to have fun on a budget.
This post may contain affiliate links.  Please see my disclosure here.

The classic dinner and a movie is nothing new, but I have some tips so you can make this a cheap date idea because this date can get pretty expensive.  Start your date early if you're going to a movie.  If you can get to the movies before the evening showings start, you can usually save a few dollars per person.  See a movie first and then go to dinner or make it a day time date and do lunch and a movie.  Depending on the day of the week, you may be able to get a lunch special at the restaurant and a cheaper rate at the movies.  Some areas even have cheaper movie rates on certain days of the week.  Where I live, Tuesdays are significantly cheaper than any other day of the week.  They offer the same price for the entire day and night on Tuesday.  Check out your local theaters and see if they have any special rate days if you have flexibility on the day you go out.  Check for online coupons for the restaurant you choose, especially if it's a chain.
A romantic picnic under the stars is a great cheap date idea for couples!  Find a spot where you can lay out a blanket.  Bring some candles and your own food.  This would also make an awesome day time date if you have a favorite scenic place where you can do this or even a park would work if it's not too busy.  If you live near the beach, that would be the perfect spot!
Have a movie night in.  If you have kids, you'll need to find somewhere for them to go.  You can rent a movie.  Redbox offers some coupon codes if you sign up for their email list and you can earn free movies if you rent often.  We have a Fire Stick and are able to watch movies for free (even ones that are in the theaters).  If you want to know more about how we watch tv  and movies for free,  you can learn all about it here.  Pop some popcorn and relax.  I enjoy watching movies at home so much more than in the theater because I can kick back and be comfortable.  So this is my favorite cheap date night. If you have an Amazon Prime membership you also have free access to thousands of movies.  You can get a 30 day free trial here.
Try Amazon Prime 30-Day Free Trial

Look on Groupon for some fun activities.  This is the best way to find some really cheap deals and activities that you would never think of or know about to have a cheap date.  I've found some really unusual ideas on Groupon that were super fun and awesome cheap date ideas for couples.
Go for a walk or a hike.  Go to a park, your favorite hiking trail, or just around the neighborhood.  Make it a picnic too if you like!
Find a free concert.  Many cities have a free concert tour in the summer.  Check into it and see if there's one you might enjoy.  This is a great way to have a free date if you're really on a budget that week.
Stay in and play cards and have drinks.  Look up some fun cocktail recipes.  I have a bunch here if you need some ideas.  Mix up some concoctions and play your favorite card game or board game.
Find a cheap or free class that you would both enjoy.  Groupon and Living Social are great places  to look for these or you can check your local community center.
Go to the gym together.  If you don't have a gym membership, some gyms offer a free week trial period.
Create your own photo shoot.  Get dressed up and take photos of each other or you could do a boudoir photo shoot and take sexy photos of each other.
Do something seasonal.  If it's near a holiday like Christmas, go look at Christmas lights and drink hot chocolate or decorate the tree.  In fall, carve pumpkins.  Near 4th of July, go see fireworks.  For Easter, color eggs.
Stay in and treat each other to a massage.  You don't have to spend a ton of money at a spa.  Look up some basic massage techniques online.  I'd much rather get a massage from my partner than a stranger anyway.
Go camping.  I'm only suggesting this as a cheap option if you have all the equipment.  Camping can be quite expensive if you have to buy everything.  If you can't get away over night, you could even camp in your back yard. S'mores anyone?
Test drive a car you've always wanted to drive.  Don't buy it or this will be an expensive date! 🙂
Skip the movie and dinner and just go out for dessert.  You can go to a restaurant for just dessert or go to an ice cream parlor or other dessert place.
Go to a karaoke bar.  If you love to sing, find a bar that has karaoke night and sing your heart out.  Go easy on the drinks or this could get expensive.
Make a time capsule.  You can write letters to each other to read in the future, letters to yourselves, put in photos and other fun stuff from the year.  Set a time you'll open it in the future.
Stay in and binge watch a tv show you never got the chance to watch.  The Fire Stick comes in really handy for this because you can literally access every season of any show for free!
Make a bucket list.  You can each make one of your own and then make one of things you'd love to do together.
Ask each other questions to get to know each other better and build a stronger, more trusting relationship. You may think you already know everything about your partner, but there are always things to learn about each other even if you've been a couple for years.  This is a great cheap date idea for couples who are just getting to know each other or have known each other a long time.  You can find over 200 questions here to get things started.
Make dinner at home together.  I usually always do the cooking in our house, but on occasion John will help me and it's something we enjoy doing together.  If your guy doesn't know the first thing about cooking, you can give him instructions and little things to do like cutting things up or browning meat in a skillet.  It really is a good bonding experience as long as you don't boss him around too much 🙂
Write out your goals for the year and the future and practice positive thinking and gratefulness.  You can tell each other the things you are thankful for. It might sound a little strange at first, but it's amazing how being thankful and grateful can change your life.   I've used this book to begin to turn negative situations into positive ones and get the things I want in life.  There are 28 days of activities to achieve your dreams.  You can choose one exercise out of the book to do for your date.
No matter what, just enjoy each other's company.  That's what dates are all about.  It's not about the money or what you're doing.  Just relax and unwind together and be present.  In the age of cell phones, we pay less and less attention to the people around us.  Give your partner your full attention and have fun!
I hope you like my cheap date ideas for couples.  If you have some other fun cheap date ideas that I've missed, I'd love to hear in the comments!
Other Posts You Might Like: